Robinson in Ruins |

reviews, news & interviews
Robinson in Ruins
Robinson in Ruins
Not entirely satisfying examination of the places we're not supposed to see
Thursday, 18 November 2010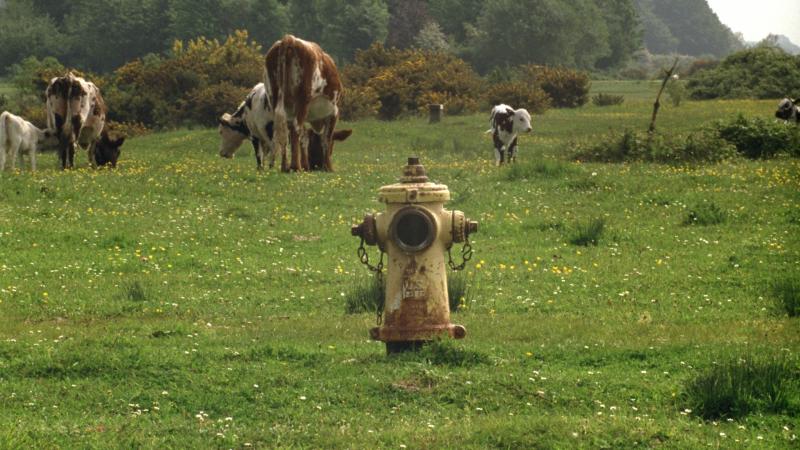 Nature, interrupted: 'Robinson in Ruins' features sights you won't find in any other film
"How many derelict gasworks can you shoot?" director Patrick Keiller asked almost in despair, at an early screening of his third psychogeographic amble through Britain. Not too many more may be the answer, as Robinson in Ruins significantly misses the mark set by its predecessors, the wonderful London (1994) and Robinson in Space (1997).
This long look at the landscapes of Oxfordshire and Berkshire does still find sharp moments of beauty and oppression in England's rolling hills.
Keiller's original conceit had Robinson, a fictional, shifty type, wandering obsessively through first London then suggestive aspects of England, from decrepit toy factories to Dracula's Whitby landing spot. These were narrated by Paul Scofield as Robinson's companion in tones of urbane amusement. Scofield's death should have been Robinson's too; Vanessa Redgrave's replacement narrator feels more distant from a character who has anyway vanished here, leaving behind reels that this film purports to be made from. He was a late addition by Keiller to the academic commission which sparked this film, on "The Future of Landscape and the Moving Image", and the result sorely lacks the fictive lightness he gave earlier speculations.
There are, though, sights and thoughts here you won't find in any other film. England's rustic landscape is still felt to be the key to its soul, like Iceland's interior or Australia's Outback. Keiller finds the nation's history and destiny can be read in the way this Arcadia has been paved and pathed. As with Keiller ally Iain Sinclair's tramp around the M25 in his book Edge of the Orizon, or J G Ballard and Brian Eno's love of airports, Keiller's camera stares at places we're not supposed to really see or experience, as if they're interruptions to landscapes they define: industrial estates, Tesco superstores, service stations. The code he cracks for this film finds a vast network of government oil pipelines running unremarked through sunny fields to extensive military and nuclear bases.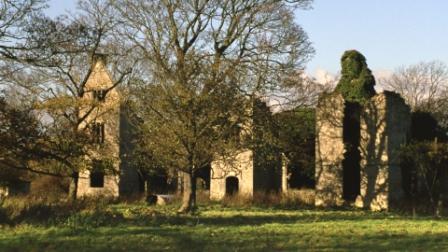 Robinson/Keiller peers unblinkingly at these places hoping to discern the "molecular basis of historical events". Before vanishing, it is also reported, Robinson was looking for "somewhere to haunt". As the camera lingers on the US fire hydrants which remain near Greenham Common, the field where Dr David Kelly killed himself, the sites of the meteorite which smashed into Launceston in 1830 and of 1950s Cold War rocket tests, and the abandoned villages around Hampton Gay, where 16th-century rebellion against the countryside's enclosure began, you feel the forces which charge these picturesque spots with enduring power.
Just as London's narration hung on Robinson's despair at the Tories' 1992 re-election, Robinson in Ruins is a diary of the economic catastrophe of 2008, crises running in parallel to the oil lines Keiller trails through the Chilterns. For once, though, whether over-exercised by disgust at events or distracted by his academic commission, Keiller's script groans with facts, crushing his images. One compensation is this stunning quote from the philosopher Fredric Jameson: "It seems easier for us today to imagine the thoroughgoing deterioration of the Earth and of nature than the breakdown of late capitalism; perhaps that is due to some weakness in our imaginations." In a week when the same banking system which caused the disaster we're reeling from effectively threatened to close Ireland as a bad risk, the idea feels rebelliously apt. Keiller's film entwines economic and ecological doom.
Its real pleasures, though, are not so much in revealing the MOD's colonising of southern England's beauty spots, but in meditations on the sublimity that remains. Keiller is a great cinematographer, finding aching beauty in the banal, and England's particular summer light. There is a long shot of many minutes' duration of a machine harvesting a field, and minutes more of swaying white flowers, accompanied only by birdsong. The longer these go on, the more you may be drawn towards rhythms of thought oppositional to the politically brutal mechanisms outlined elsewhere. Robinson in Ruins also reminds you that it is in this restorative paradise that those mechanisms are often played out.