Spider-Man: No Way Home review - The web-slinger returns |

reviews, news & interviews
Spider-Man: No Way Home review - The web-slinger returns
Spider-Man: No Way Home review - The web-slinger returns
Your friendly neighbourhood spider-man faces up to old nemeses
Thursday, 16 December 2021
A brief warning to readers: while effort is made to avoid spoilers, I would advise anyone who has somehow missed the massive amount of online speculation about the film's plot to not read on. See the film first, and please come back.
Right… on to business. In No Way Home Tom Holland makes his third outing as Spider-Man with returning director Jon Watts at the helm. In the film's opening credits, we are reminded that Peter Parker's identity has been exposed as Spider-Man and he has been framed for a crime by the FX wizard Mysterio (Jake Gyllenhaal). Struggling to come to terms with his newfound notoriety, and the impact it's having on his girlfriend, MJ, (Zendaya) and best friend Ned (Jacob Batalon), Parker visits Dr Strange (Benedict Cumberbatch) who casts a spell that goes wrong, causing an inter-dimensional rift.
Drawing on the Spider-Man films of the past 19 years, Watts cherry-picks characters from Sam Raimi's much-loved candy-colour films (not counting the rightly-maligned third) and the Amazing Spider-Man films that saw Andrew Garfield donning the blue and red spandex. If this sounds confusing or convoluted, Watts and screenwriters Chris McKenna and Erik Sommers, smooth it over by asking us to forgo any sense of reality and just enjoy the ride.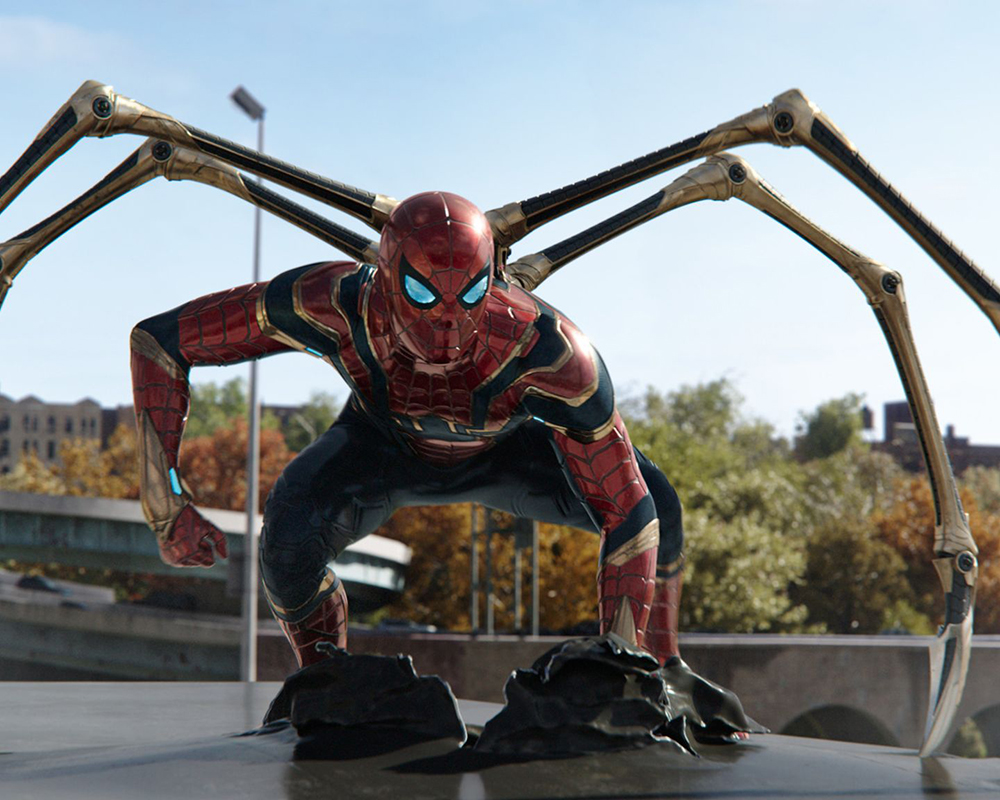 While the plot is over-stuffed, space is given to scenes of emotional poignancy, which includes a smart reworking of iconic lines of dialogue, offset by tongue-in-cheek humour at the expense of the ridiculousness of accident-prone villains who are transformed into super-powered villains.
The John Hughes' style humour is still present, but the small-scale drama that made the first two films such a success is abandoned in favour of a more typical universe-ending high-stakes story. Watts has proven to be a canny director when dealing with the franchise, making sure to balance the high drama with comedy, as well as scenes of surprising poignancy about the power of redemption. Parker decides that everyone deserves second chances, this includes everyone, good or bad, who has come through the rift. This rather thin piece of plotting will no doubt be shrugged off by most fans, eager to see the royal rumble of heroes and villains promised in the marketing campaign.
The central appeal of this film, much like the Avengers films, was fan service - seeing lots of big action sequences in which childhood favourites duke it out on screen. This can be fun, and in No Way Home it is, to an extent. It should come as no surprise that we get more bang for our buck in terms of a host of characters from the past two decades worth of Spider-man films. Some get short shrift, like Thomas Haden Church's Sandman, and Rhys Ifan's Lizard (the latter is literally left in the back of a truck because the plot doesn't know what to do with him).
However, the greatest shot of redemption, in every sense, is Willem Dafoe's Green Goblin. Laughably costumed in Raimi's version, here we get to see every line on Dafoe's face. He gives a splendidly maniacal performance, with an ear-to-ear grin that will give you nightmares. Alfred Molina, who was largely responsible for why Spider-Man 2 is so beloved, doesn't disappoint. Jamie Foxx's Electro meanwhile is given one of the best lines in the film, reminding us about where the franchise might go next. The only problem is that the fight scenes are a little disappointing, except for a world-bending battle between Strange and Parker that is a visual and comic delight.
Whilst all this fan-service of seeing returning characters is enjoyable enough, it's hard not to compare this latest offering with Spider-Man: Into The Spider-Verse – that gleefully, hypnotic animation that pushed the Spider-Man franchise in a new direction. Spider-Man: No Way Home, treads much of the same territory but in a lot less fun and visually appealing way.
For those who can accept fan-service driven plots, action sequences that look like cut scenes of a video game, and the inevitable set up for the next instalment, it's a fun, frothy superhero film, that has moments that shine amidst all the CG shenanigans.
Spider-Man: No Way Home is out now in cinemas