Tár review - a towering Cate Blanchett conducts a classic |

reviews, news & interviews
Tár review - a towering Cate Blanchett conducts a classic
Tár review - a towering Cate Blanchett conducts a classic
Blanchett is the classical superstar falling from grace, in Todd Field's superlative drama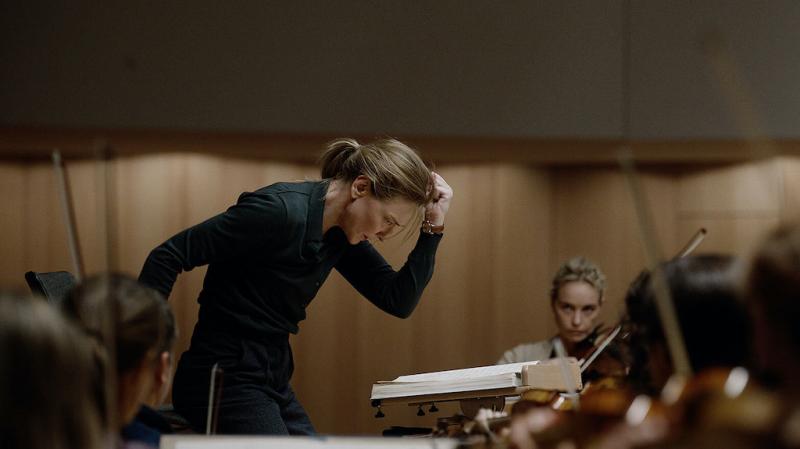 Taking a bow. Cate Blanchett as Tár
Perhaps Michael Haneke led the way with The Piano Teacher. But it's still surprising to find a film set in the rarefied world of classical music that can be taut and mysterious, while dealing with such urgent contemporary issues as workplace abuse and cancel culture, and introducing one of the most complex, compelling film characters in years.
But in just his third film in 20 years, writer/director Todd Field has achieved all of this, and more. Whatever you think you know about Tár, whatever boxes the film might seem to occupy, forget it. This is a slippery, sly piece of work, whose bold combination of world building, social critique and psychological investigation needs to be experienced, absorbed, pondered over, and even then will defy description.
In a way, given the film industry's propensity for rote, for tried and tested formula, it's a miracle that Tár has even seen the light. In truth, Field has Cate Blanchett to thank for that; he wrote the film for her, and while his script is a miracle and the supporting cast and crew offer uniformly excellent work, it's Blanchett's commitment (she learned German, piano and conducting) and phenomenal performance that bring this strange animal to life.
When we first encounter Lydia Tár, she's at the height of her career: a world-renowned conductor of a Berlin orchestra, a composer herself, philanthropist, and possibly a genius. The trouble is, she knows how good she is, and is completely in thrall to her own perfectionism. Tár's rampant ego – the sense that the world will march to her tune – will be her undoing.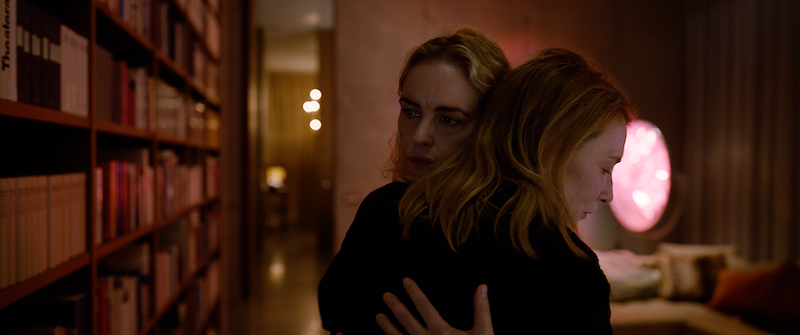 Field plants the downfall immediately: the very first image has Tár asleep on a plane, while someone is pointing their cell phone camera at her and keying stinging criticism that suggests a social media takedown.
Hereon, though, the director takes his time in bringing Tár's skeletons out of the closest. First, he establishes her rich, rewarding, lauded life: presiding over the fawning orchestra, with which she is preparing a performance of Mahler's Fifth Symphony with singular focus and bravura; a rock star's international profile; her stewardship of a foundation supporting young female conductors; the home life with her lover (Nina Hoss, pictured above with Blanchett), who's also her first violinist, and their adopted daughter in a gorgeous, minimalist Berlin apartment.
She's even got an autobiography coming out, titled Tár on Tár. Lydia is so up herself that it's hilarious. At the same time, she's genuinely ground-breaking, a massive female talent in a male-dominated world; one can only imagine the effort and will it took to get here. On stage, baton in hand, she's a whirl of dramatic, visceral, charismatic energy; when she delivers a theory on time as a key factor in the art of conducting, it is intoxicating.
Field and Blanchett are creating an extremely nuanced individual, at once haughty and inspiring, spikily likeable and cruel, with Shakespearean levels of hubris. Her classroom destruction of one of her students, because of their dislike of Bach, is both persuasively argued and deplorable, inevitably making its way onto social media; and then there are the rumours that begin to swirl around a former student's suicide. Finally, when she becomes enthralled by a talented young cellist (Sophie Kauer, pictured below), fast tracking her career, the cracks in Tár's rep begin to widen.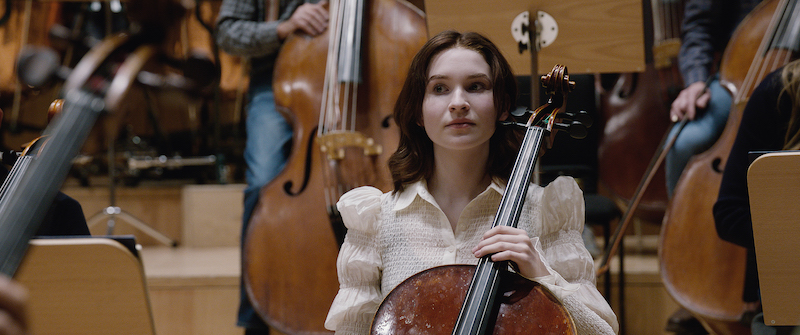 With his earlier films In the Bedroom (2001) and Little Children (2006), Field crafted intelligent, literate, morally complex dramas, which also featured subtle, non-judgemental, morally elusive scenarios, whether examining a middle-aged couple's response to grief, or observing the fault lines of middle-class suburbia.
This script is even more impressive: alongside the central, psychological portrait, Field creates a pattern of transactional relationships – between lovers, between Lydia and her foundation's oleaginous financier (Mark Strong), between Lydia her and her assistant and protégé (Noémie Merlant), and between the autocrat and key colleagues in the supposedly democratically run orchestra. All the while, his dialogue bristles with bitter barbs and buzzes with erudition.
Incidentally, it's very funny too, in an evil sort of way, as when Lydia deals with her daughter's playground bully, or responds to the neighbours' desire that she makes less noise while practising her piano – with an accordion.
Another aspect that rises Tár up a level is the immersive, visual and aural presentation of its world, whether the scenes on the concert stage, which bring the formulation of a classical performance thrillingly to life, or the interiors – the family home, the bolthole in a run-down apartment where Lydia works alone, the orchestra offices – in all of which her personality slowly wilts under the double pressure of social condemnation and inner demons. Cinematographer Florian Hoffmeister, production designer Marco Bittner Rosser, costume designer Bina Daigheler (Blanchett's wardrobe is to die for), editor Monika Willi and composer Hildur Gudnadóttir have crafted the most persuasive, intoxicating environment.
Tonally, it has much in common with the earlier films. Tár leaves the audience to work between the lines and determine its own view of this formidable, and formidably complicated woman. The coda is so staggeringly original, and so full of bizarre pathos, that it lingers long and hard – as does Blanchett's performance.