theartsdesk at Bergman Week - finding the spirit of the great Swedish filmmaker |

reviews, news & interviews
theartsdesk at Bergman Week - finding the spirit of the great Swedish filmmaker
theartsdesk at Bergman Week - finding the spirit of the great Swedish filmmaker
Every summer on the tiny island of Fårö, holidaymakers and film buffs are jointly cast in a celebration of one of cinema's master directors
Coming home. Ingmar Bergman amid Fårö's famous Rauks
In his biography The Magic Lantern, Ingmar Bergman recalls his first encounter with the Swedish island of Fårö, in 1960, when location scouting for his next film, Through A Glass Darkly.
A last, desperate bid by the film's producers to find a cheaper setting than Orkney turned out to be fortuitous in more ways than they could have imagined.
"If one wished to be solemn, it could be said that I had found my landscape, my real home," Bergman recalls; "if one wished to be funny, one could talk about love at first sight." He told his cameraman Sven Nykvist "that I wanted to live on the island for the rest of my life."
And so he did, eventually returning to build a home in 1966, where he remained until his death 10 years ago this month. He shot six films there, including the masterpiece Persona, and his acclaimed TV series Scenes from a Marriage. He is buried next to his last wife, Ingrid, in the Fårö Parish Churchyard.
Just off Gotland in the Baltic Sea, with a population of around 500, Fårö has a stark, constantly surprising beauty, low pine forests giving way to featureless wetlands, or a lake, or a sudden blanket of red flowers. And then there are the Rauks – giant, weathered rocks stranded on the northern shore, some with the form of gnarled faces, which Bergman had the good sense not to include in his frame, lest they steal the scene from the actors.
In 1960 the director was in his 40s and had already achieved worldwide fame with such films as Summer with Monika, The Virgin Spring, The Seventh Seal and Wild Strawberries. But now he found a place that "corresponds to [my] innermost imaginings of forms, proportions, colours, horizons, sounds, silences, lights and reflections." When on the island one can feel not just the sensibility, but also the physical landscape of many of this earlier films; it's as though he was shooting on Fårö even before he arrived.
And his spirit very much endures, both in a concrete legacy – his home and former properties now host a residency programme for artists and scholars – and in the celebration of his life and work.
The permanent form of that celebration is the Bergman Center, developed alongside the Fårö Museum in a converted school and featuring screenings, exhibitions and workshops. And then, every summer, comes the informative, inspiring, sometimes eccentric experience of Bergman Week.
It started in 2004, the brainchild of Jannike Åhlund, then artistic director of the Gothenburg Film Festival, in response to continued interest in Sweden's most famous filmmaker. Its modest beginnings involved a few talks held in the church. That first year no-one expected the famously reclusive director to sneak in unannounced and, true to his perfectionist reputation, correct one of his favourite actresses, Harriet Andersson, mid-sentence from the pews.
He died in 2007 but the event continued, becoming larger and more international, with a combination of films, masterclasses, themed talks, concerts and two signature events – the Bergman Quiz and the outlandishly titled but unmissable Bergman Safari.
The Bergman Center opened in 2012 and is now the focal part of this singular mini-festival. Children play at the outsized chess board out front, a permissibly cheesy nod to The Seventh Seal, the kids no doubt oblivious of the fact that they are playing with their lives. From here, visitors drive or cycle around the island for other screenings and events, the most precious location being Bergman's own little cinema, in a converted barn surrounded by farms, where he famously spent every summer afternoon watching films.
Alongside the Swedish holidaymakers (Gotland is a major summer destination for mainlanders) this year saw visitors from America, Canada, Brazil, Argentina, Scotland, Australia, Germany, Finland, Lithuania and France. These hardcore Bergman aficionados can be easily spotted, for they will be the ones cycling up and down the country roads on uniform rental bikes, ill-clothed for the unpredictable weather, possibly a little lost, but driven by their immersion in the Bergman-Fårö experience.
"Our visitors are mostly Swedish, some of whom aren't necessarily Bergman fans," says Helen Beltrame-Linné, who has headed both the Center and Bergman Week since 2015. "The Swedish people have a complicated relationship with Bergman. They understand he's huge, but at the same time they don't really understand why.
"But then there are these enthusiastic fans who come from all over the world. The attraction is that you can watch the films while getting to understand the fascination Bergman had for this place. You couldn't transfer Bergman Week to Stockholm, it just wouldn't be the same."
In her tenure, Beltrame-Linné has broadened the programme beyond Bergman himself. "What makes him so good and what makes him contemporary also is that he talks about universal issues, while being true to his own world, his own imagination. And there are people today doing the same thing. So it is about Bergman, but it's also about how he inspires others."
This year her programme numbered 77 films and events. Among the Bergman films screened were two celebrating their 60th anniversaries and which together confirmed his international standing – The Seventh Seal and Wild Strawberries ­– and Persona (pictured above), which re-established him at the head of the art house pack in 1966.
Watching Persona in Bergman's 14-seat cinema, the projector whirring just over our shoulders, the extraordinary opening montage of subliminal images crackling to life before us, or those mesmerising close-ups of Liv Ullmann and Bibi Andersson, embraced and eventually merging in their intense psycho-drama, is a deeply resonant cinephile experience.
And it was in this little cine-sanctuary (pictured below) that Bergman himself watched everything under the sun – feature films, documentaries, old newsreels, even commercials, all ordered from the Swedish Film Institute's archive at the start of each summer and delivered to the island by truck. It's alright for some.
A flavour of his eclectic taste was in evidence in Summer Film Menu, a compilation of non-fiction shorts he is known to have selected and which included a documentary about the Malmö State Theatre, which Bergman once ran himself, a commercial (Bergman himself made soap commercials), a film about a flood, and another about Sunday school children, in Uppsala, where he spent his own childhood.
It was presented by Åsa Jacobsson, communication coordinator at the Ingmar Bergman Foundation, who also shared some of the notes Bergman gave his projectionist for each session. His first of one summer had the immortal words: "Finally, cinema!"
"He was a film junkie," says Jacobsson. "Every summer he saw at least two films a day. He saw some very mainstream films, which we may find surprising, but he was a filmmaker – there were lots of cool aspects of Jurassic Park from a technical point of view. For other choices, he was perhaps reading about a subject, or he might have had a strong connection with a place, like Uppsala. With the commercials he was probably looking at the competition.
"His daughter Lena calculated that he spent 8,000 hours there." She laughs. "All those hours during summer time. He didn't like the sunshine."
Out in the fresh air of Bergman Week, there were talks with Bergman actress Gunnel Lundblom (The Seventh Seal, The Silence) and with Katinka Farago, his long-term assistant then production manager. Farago confirmed the notorious image of the volatile director, while also offering an alternative view. "We used to sit together every morning, in the dark, and not talk. He wouldn't feel well. You see, he was a very humble director, humble to his work. He was nervous every morning. So we would just sit and hold hands."
Unfortunately, enticing talks about the psychology of Wild Strawberries and the role of God in The Seventh Seal were both in Swedish, something that Beltrame-Linné says will be addressed in future. More accessible were a live performance of Wood Painting, Bergman's own stage play that was the forerunner of The Seventh Seal, and a screening of Viktor Sjöström's silent classic Terje Vigen, with live accompaniment, made even more profound when one recalls Sjöström's magnificent performance for Bergman, as the ageing professor of Wild Strawberries.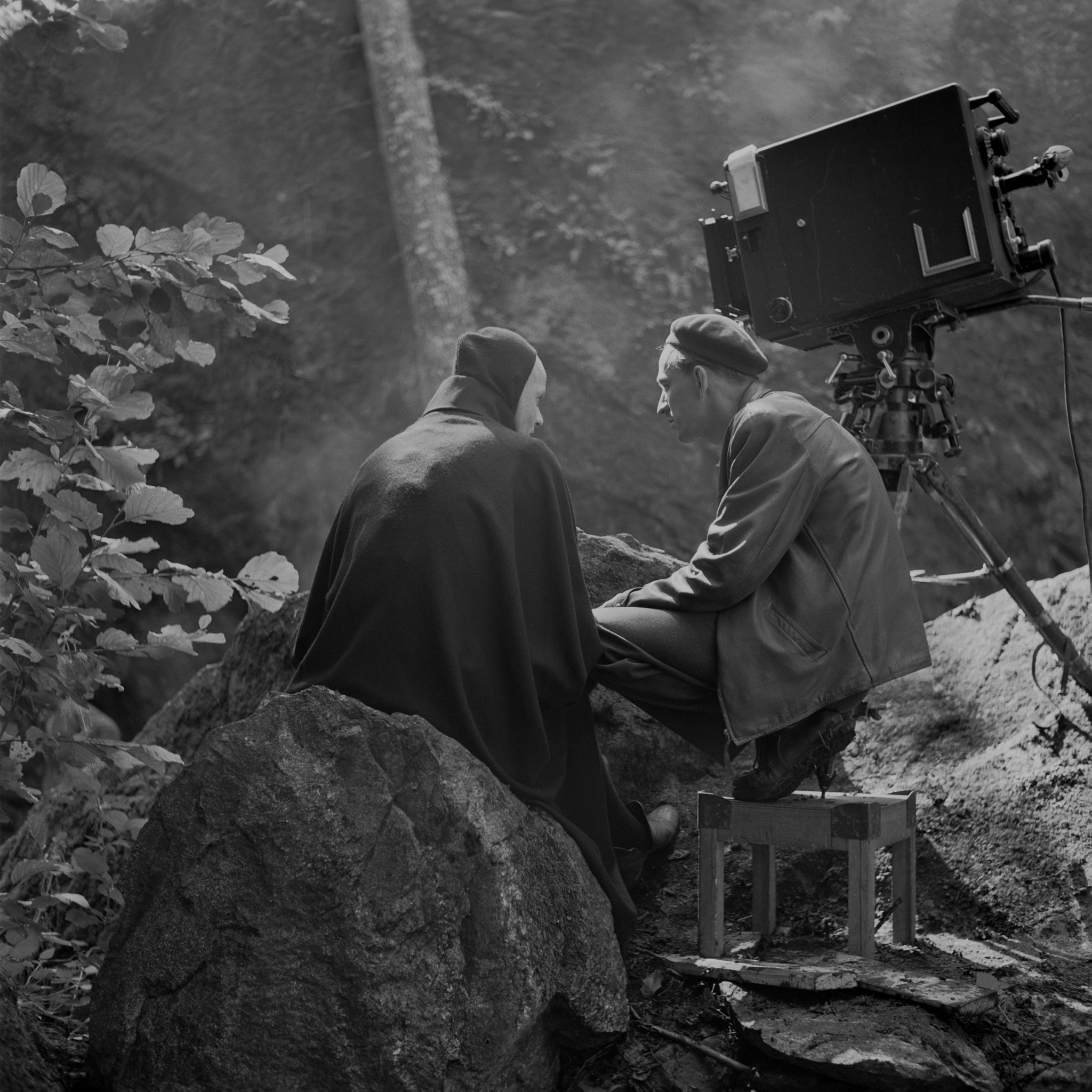 Bergman followed Through A Glass Darkly here with Persona, Shame, The Passion of Anna, Scenes from a Marriage and two documentaries about Fårö itself, focussing on the economically disadvantaged life of the islanders. The "safari" bus tour of his locations, with relevant clips shown on the bus en route, is a bit chaotic, and perhaps in need of an MOT, but remains a charming biographical and filmic view of the island. It's well accompanied by the Bergman Center's permanent exhibition, documenting his relationship with Fårö. Alongside that were two fabulous temporary displays, on Persona and The Seventh Seal (above, Bergman with Death, aka actor Bengt Ekerot).
In keeping with Beltrame-Linné's outward-looking agenda there were also masterclasses with contemporary Scandinavian directors – the Swede Tomas Alfredson (Let the Right One In, Tinker Tailor Soldier Spy) and the Norwegian Joachim Trier (Oslo, August 31, Louder Than Bombs). These lent palpable vitality to the week, along with two other factors – eager anticipation of the centenary of Bergman's birth in 2018, and the fact that while we were celebrating classic films, some actual filmmaking was taking place in the background.
Mia Hansen-Løve was quietly doing research for her feature Bergman Island, a drama revolving around an American screenwriting couple each writing films on Fårö – an obvious recipe for disaster – and which will be partially filmed during next year's Bergman Week. Meanwhile Alfredson and Swedish artist Jesper Waldersten were shooting footage for a short film, one of six commissioned under the banner Bergman Revisited for the centenary celebrations.
"It's going to be a very intuitive and associative film, without dialogue," says Alfredson. "We've visited locations from his films and also Bergman's home (pictured left) with the aim of finding some kind of DNA of his visual world – to steal images and characters and blend them together in new, unexpected ways. Filming here seemed the natural thing to do, because this was an important place for him, a unique place. It's a bit like coming to a cathedral or a monastery. I can imagine the calm, the peace here for a soul so tormented."
Bergman Revisited will premiere at the Gothenburg Film Festival and later screen on Swedish television. In Sweden the centenary is expected to be a major cultural event, embracing both his film and equally prodigious theatre output. But the anniversary will also be international, coordinated by the Ingmar Bergman Foundation. We should certainly expect a Bergman retrospective in the UK.
In Fårö next year, Helen Beltrame-Linné wants to mark the anniversary by gathering every one of Bergman's surviving collaborators, while paying special attention to an often overlooked aspect of his work, his writing.This year, speaking to an audience that included many young Swedish filmmakers, Joachim Trier voiced what, for him, makes Bergman as relevant today as ever.
"He's honest. There's no bullshit. OK, we're going to talk about death now, or how difficult it is to love someone, or to make a relationship function. He talks about the human condition and the essential concept of feeling lost. That touches me very much.
"At the same time, I don't think there's a film in the history of cinema that is more filmic than Persona. It's the Citizen Kane of the Sixties art movie. What a varied and marvellous director. What an explorer of the possibilities of cinema."
You couldn't transfer Bergman Week to Stockholm, it just wouldn't be the same
Explore topics
Share this article