theartsdesk Q&A Special: The Falling |

reviews, news & interviews
theartsdesk Q&A Special: The Falling
theartsdesk Q&A Special: The Falling
Director Carol Morley and actress Florence Pugh on a major new British film about mass schoolgirl hysteria
Enigmatic: Florence Pugh as Abbie in Carol Morley's 'The Falling'
The Falling, released in cinemas this week, charts the events surrounding an epidemic of fainting among pupils of a girls' school in the late 1960s. The trigger appears to be the end of the friendship between the intense Lydia and the outgoing Abbie. Much in the dream-like film is unexplained. Abbie's difficult home life is perhaps a contributing factor, as may be the institution's disconnection from the liberal world evolving beyond the school's gates.
The first major fiction film by director Carol Morley – best known for her affecting, evocative documentary Dreams of a Life – features striking performances from Maxine Peake and Greta Scacchi alongside Maisie Williams, star of Game of Thrones, and Florence Pugh, whose first film this is. Morley (on this page) and Pugh (on the next) spoke to theartsdesk about making The Falling.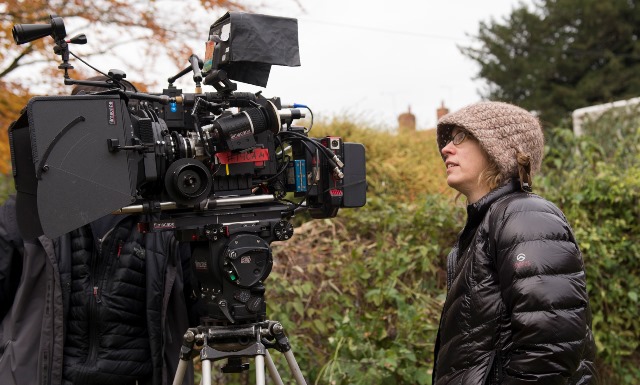 KIERON TYLER: How do you think audiences will react to The Falling?
CAROL MORLEY (pictured right): So far, what I've loved is that people seem to be taking away different elements. Some are finding that they talk about their own schooldays and teenage days. I love when a film can unlock experience and memories. Because there is a mystery element to the film, I hope people will debate that – the logic of why the mass hysteria has happened. Thirdly, I hope the audience will find that it's fun. It goes into dark territories but it is fun.
There is a lot which is unexplained. Is it necessary that we understand?
Because I did so much research into mass hysteria and mass psychogenic illness, I found they have gone on from medieval times. It would be people exhibiting symptoms like dancing, fainting, laughing, feeling ill at the same time. Nobody understood why they happened from medieval times on – and nobody to this day understands why they occur. So it seemed quite important to demonstrate a classic outbreak of a mass hysteria rather than saying this is why it is happening and telling the audience or over-explaining. Maybe the audience would remember experiences that had happened to them.
You can read the fainting outbreak as a form of resistance to the adult world
With Eileen, Maxine Peake's character, there is a different kind of problem.
Eileen is agoraphobic. The idea in 1969 that man has landed on the moon and Eileen is trapped in domestic space struggling with issues in her life is something I am fascinated with. People who are not sitting with the norm is a fascination with me – to render them reachable and knowable. They have been ignored and can be seen as threatening. Eileen is based a little bit on my Grandma Morley who would always wear a house coat and didn't really leave the house very much and was a stay-at-home dressmaker. She had a big treadle sewing machine and seemed out of the Forties. I remember being at my grandmother's house watching the Marc Bolan show and she was completely disgusted by it.
Is there a fear of the adult world in the school?
You can read the outbreak as a form of resistance to the adult world. They are resisting the social constraints. While the film is set in 1969, most people didn't inhabit the Swinging Sixties. Also, they want to be noticed. With Dreams of a Life I had looked really closely at social isolation and that is one of the reasons I really enjoyed doing The Falling too – a resistance to the world and saying "I'm not going to do that too". Although man had landed on the moon then, women still could not buy press-on sanitary towels. They had to wear this ungainly belt around their waist to keep them on. Although the era seemed forward-looking, 1969 was still old-fashioned.
Kenneth, the brother, is interested in the occult and the power of the landscape.
Aleister Crowley was big then. Ideas about ley lines and the landscape were really strong. The brother believes in this otherworldly quality and maybe all this is happening for reasons beyond what we know. I think he had visited the King's Road once. In my head, Kenneth now lives in Brighton and has a record shop.
Tracey Thorn did what she wanted, she never read the script
Why have you moved from documentary to fiction?
I want to tell a story the way it deserves to be told. For Dreams of a Life it felt right: the minutiae of real life, real-life people and the dreamlike territory. With The Falling, you could make a documentary about mass hysteria, but it is very much about trying to create the feeling and emotional range of a teenager. I find it easier to make drama as I don't feel the responsibility to the people a documentary is about. While I feel responsibility for my actors, it's very different from when you have someone who never imagined they would be in a film. Different responsibilities.
Had you thought about films like The Devils, Innocence and Picnic at Hanging Rock – other films dealing with female puberty, hysteria and the mysterious?
Picnic at Hanging Rock was really inspirational as I had watched it so many times, the connection with nature. It's part of me. In The Falling I tried to make the idea of the power of the English landscape, the power of the oak tree – like the rock in Picnic at Hanging Rock. The Devils I watched again and I think Ken Russell is brilliant. Obviously, it is more extreme but it was an inspiration like Lindsay Anderson's If. Innocence I've seen, but didn't think of it so much. I did think of The Prime of Miss Jean Brodie, the sense of female collective in that.
The characters Lydia and Abbie are very strongly defined. How did you decide to differentiate between them?

Being a teenager is a time of extremity. Because Lydia is losing her best friend, there's no middle ground, it's black and white. She can only see extremes. Florence Pugh as Abbie is very enigmatic and has a lot of power. The adults seem one-dimensional but they do have palpable lives and are struggling. You want to know something about everyone in the film. Casting is so crucial. If you get it wrong with the cast, you can never get that back. Everything to do with a film. the crew, everyone. Not just those appearing on the front line, on the screen.
One vital person we do not see on the screen in The Falling is the film's French cinematographer Agnès Godard. How did you end up working with her?

In a dream scenario, I was thinking who should shoot the film? I thought it would be really interesting to find out if Agnès Godard would do it – all the stuff she's done with Claire Denis, Ursula Meier and Agnès Varda. I love the idea of someone not British doing a British film – not seeing what we are familiar with all the time. She really got behind the script. She is brilliant – even though she has 30 or so years' experience and has worked on so many films it was as though it was the first time. I didn't feel embarrassed to explore this world with her, it was so exciting. (Pictured left, Carol Morley, photo by Paul Marc Mitchell.)
Tracey Thorn's music is highly evocative and meshes with the whole, heightening the dream-like mood.
I had followed her on Twitter and when [her book] Bedsit Disco Queen came out I went to a reading she did. She had tweeted she liked The Alcohol Years and Dreams of a Life and then after we had filmed the school orchestra scene, that night, I had a dream Tracey Thorn had written the music for the film. The next day I tracked her down on Twitter and phoned her up. She had never done a soundtrack before, she saw about three minutes of raw footage and never saw the full film. When I was at the edit I was able to weave in her music, it was very organic. She did what she wanted, she never read the script. She brings another side to the world of the film which I love.
What's next?
I'm not allowed to say but I am currently writing – I've delivered the first draft – an adaptation of a well-known British author's book. A lot of the themes excited and fascinated me: about disconnected people, struggling to understand identity, and who we are in relation to the world. It's set in America. It will be another different experience, something new. I never want to do the same thing again.
The Falling is something new for Florence Pugh – it's her film debut.
She had never done anything before. She had sung from the age of eight with her guitar and had put her songs up on YouTube. The casting agent for the film had leafleted the Oxford area where we were filming and also e-mailed schools. Florence sent in a very short video and I quickly knew she was Abbie. She felt like she could connect with an audience. It's very exciting, she is going to go far.
Overleaf: Florence Pugh on making her screen debut, learning lessons and working with Carol Morley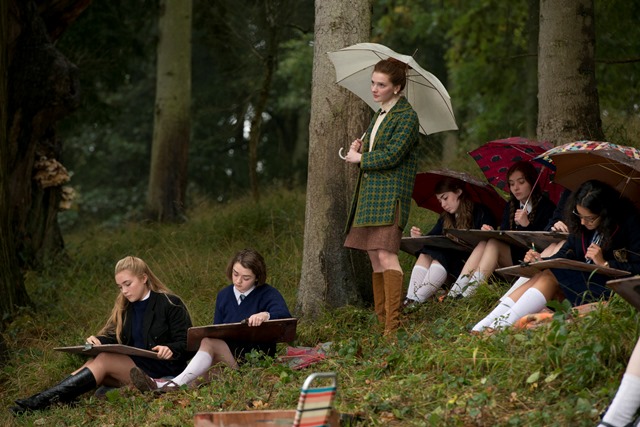 KIERON TYLER: The Falling seems like a challenging first film. How did you make the choice?
FLORENCE PUGH: It was mainly down to the script, the character I was being put up for. I always wanted to be an actor that takes roles seriously, so I really pushed forward for it in the audition because of the things Abbie has to do. (Pictured above, an outdoor art class for the girls in The Falling, with Florence Pugh's Abbie left.)
Were you aware of Carol Morley beforehand?
I was, but not properly. I had heard of Dreams of a Life. But when I was doing my research for the audition I realised her work is very honest, poignant and caring. So there was never a question about putting myself forward for this role. But I liked not having an opinion on her straight away because it meant I was swept away by meeting her and watching her work. She decided she was going to work with children on this film and she really got stuck into it – she wasn't an untouchable director. She was always there, very gritty and directing you in a very honest way. I loved that she was accessible and that we could hang out even when we weren't filming.
Did you easily become Abbie? Are parts of Abbie you?
Abbie is parts of every teenage girl. She's confident and someone everybody wants to be. When reading the script, she jumped out at me. Although she's confident, she is still just a naïve girl. She's a kid. She can try and tackle being pregnant, she can drink and have sex. Lydia feels betrayed by that. But the whole idea of growing up is scary. When Abbie is caught out by her friends you see that she has this sensitive side. When you see Abbie you can see she is ill, she is not fainting for pleasure like the other girls – it's a release for the other girls.
And when a teacher faints as well?
The teacher is closer in age to the rest of the girls than the rest of the teachers. She is a young art teacher. She is in sync with the rest of the girls because of her age. She admires Abbie like the rest of the girls did.
Some people hate 'The Falling', some people love it
How was it working with Maxine Peake and Greta Scacchi?
I only got to do two days filming with Maxine and that was enough to learn from her. She is so still on camera. She watches, and watching that from my perspective as someone new was amazing as it meant I could try and adapt it for what I might do in the future. It was very similar with Greta Scacchi. She also taught me lot. She didn't see me as a kid or a newcomer but as someone she respected. I will always thank her for that, as anything could have thrown me. I had an amazing cast to work with.
How do you think people are going to react to The Falling?
I don't know. Some people hate it, some people love it. And that's completely understandable. It's not necessarily a film families could sit down and watch with a bowl of popcorn. People have to know what they are going in to watch. That's fine. We're dealing with really difficult and hard emotions, tackling puberty in a different light. I think Carol is really pleased with the way people have been confused.
What's next?
I just got back from America doing a pilot called Studio City. In that I also sing and play guitar. And I'm keeping up with the music as well on the side. But next, it's really crucial to find a really solid script to follow The Falling and Studio City.
Watch the trailer for The Falling