theartsdesk in Thessaloniki: Moving Pictures in the Cradle of Austerity |

reviews, news & interviews
theartsdesk in Thessaloniki: Moving Pictures in the Cradle of Austerity
theartsdesk in Thessaloniki: Moving Pictures in the Cradle of Austerity
The 53rd International Film Festival underlines Greek tenacity in a time of crisis
Business as usual at the Thessaloniki International Film Festival
Greece is in economic meltdown. Austerity is hitting most of the population very hard. Businesses are closing down. The amount of homeless has increased. There are strikes and huge anti-government demonstrations throughout the country. What better time to hold a huge film festival?
I confess that I was a little surprised that the 53rd Thessaloniki International Film Festival was to take place this year. But then I underestimated the tenacity and pride of the Greeks. They were determined to show the world that it was business as usual. From the images I had seen on television, I imagined a dystopian society, rather like that in Richard Fleisher's 1973 film Soylent Green, which suffers from pollution, poverty and depleted resources, with most of the people surviving on processed food rations.
Film critics being film critics talked movies; little mention was made of the real world outside
However, arriving in Thessaloniki on a Saturday evening, I noticed that most of the cafes and restaurants around the main Aristotelous Square were full and lively. People walking about in the balmy night air seemed as cheerful and animated as any Saturday night crowd elsewhere. There were also queues, not for soup kitchens, but for festival films.
The next morning, in bright and warm sunshine, I walked to the various festival cinemas on the wharf, one of the most unusual locales for a film festival. It was difficult to believe there was chaos and genuine suffering not far from here. The wonderful festival team were successful in keeping the economic malaise from intruding, so that foreign guests seemed barely aware of the crisis. (I was told that it is more visible in Athens.) Film critics being film critics talked movies; little mention was made of the real world outside, apart from the "inconvenience" of the one-day general strike, which led to a rescheduling of the press conferences. But some of the films in competition attempted to remind the cushioned critics of reality.
An oblique reference to Greece's problems was made by Costa Gavras in his new film Capital (pictured above), a bitter attack on the world of finance in the guise of a rather disappointing thriller. The Greek-born Gavras, a French citizen since 1956, whom I interviewed in the opulent surroundings of the 5-star Electra Palace Hotel – no sign of penury there - slammed successive Greek governments for getting the country into such a mess. It was a view one hears expressed everywhere from the owner of the kiosk opposite my hotel, to the driver who drove me from the airport. The latter, whose main job was defusing mines for the army on the Greek-Turkish border, had his salary drastically cut, and was driving for some extra money. I had the temerity to suggest to Gavras that the driver's story could be an interesting element in his next film. Gavras, who has never made a film set explicitly in Greece – the country in Z was unnamed, though an obvious surrogate - says he might finally make a film in the country of his birth, but an "optimistic one".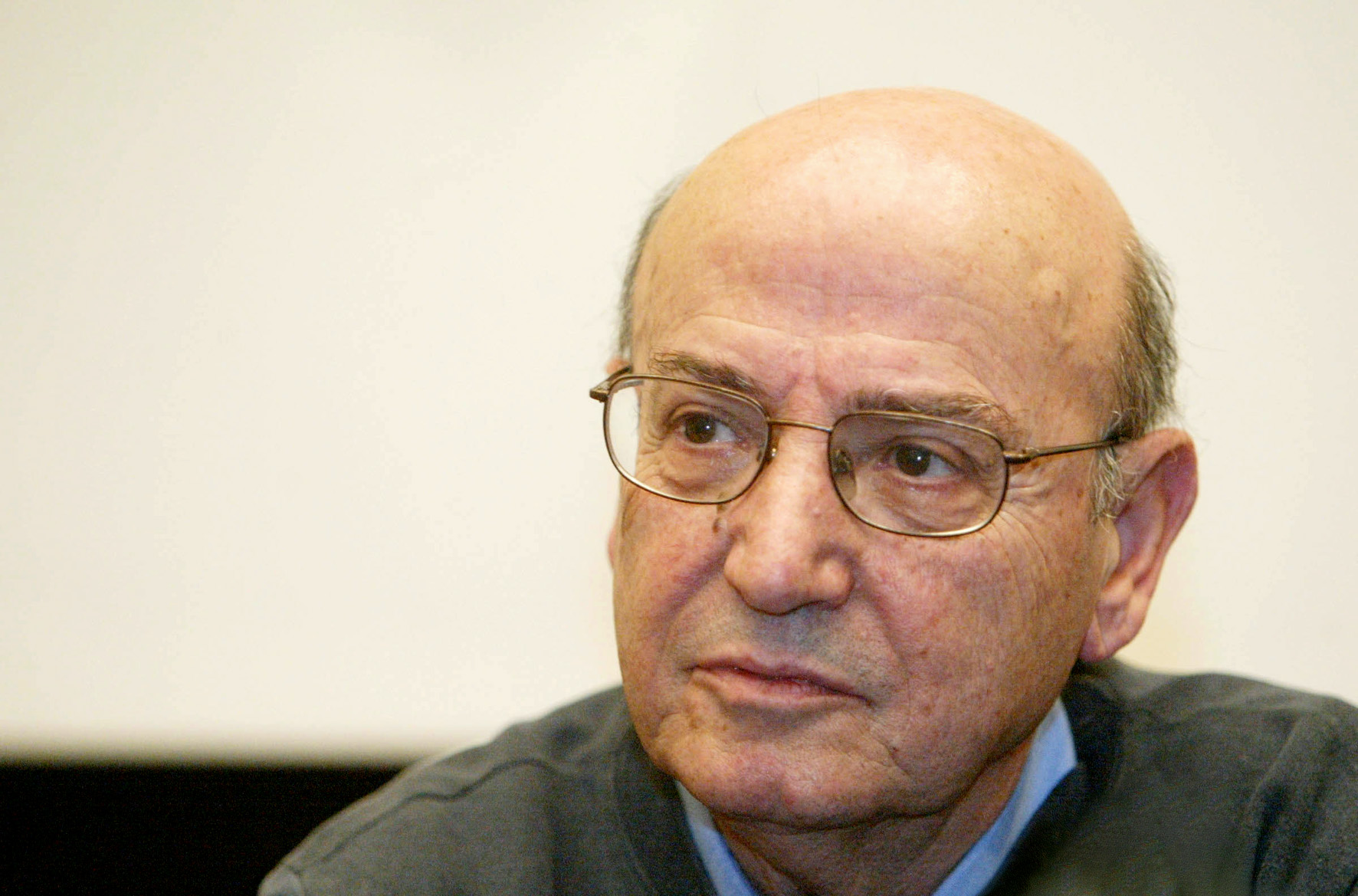 Sadly, Theo Angelopulos (pictured left), who was so tragically killed by a motorcyclist while crossing the road in Athens less than a year ago, was never able to complete The Other Sea, on which production had begun. The final part of his trilogy, according to the detailed screenplay, would have been a dark drama about present-day
Greece collapsing as a result of an economic, ethical and cultural crisis. The great director was paid a three-film tribute by the festival and was the subject of a round table discussion during which it was suggested that The Other Sea, might be completed by his daughter.
Out of the 14 new Greek films, the one that came nearest to reflecting the crisis was Ektoras Lygizos's Boy Eating the Bird's Food (pictured below right). Influenced by Robert Bresson's Pickpocket, and based on Knut Hamsun's 1890 novel Hunger, updated to Greece today, it clinically follows - with mainly a POV handheld camera - the desperate attempts of an unemployed, educated young man (the splendid Yannis Papadopoulos) to find something to eat. Because he's too proud to take charity from anyone, he has to resort to extreme measures to get some nourishment, one of them being to ejaculate into the palm of his hand and eat his own sperm (an excellent source of protein I'm told). This unfaked scene, shot in one take, tended to dominate people's reactions to the film, which is a stark allegory of contemporary Greece. Incidentally, the title is more explicit in Greek, where "bird" can also mean "cock."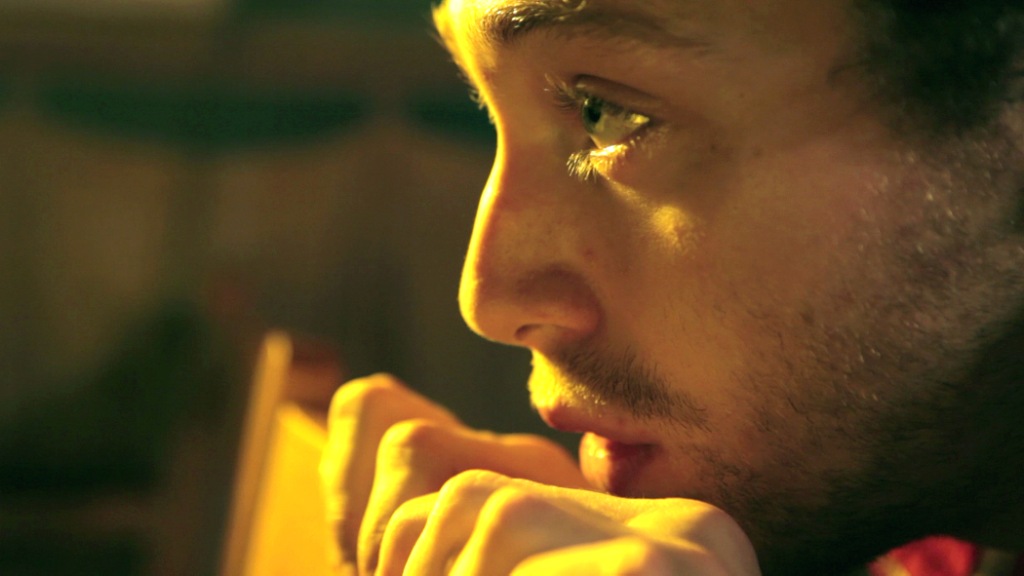 The wide selection of films, including tributes to Aki Kaurismaki, Cristian Mungiu and Bahman Ghobadi, who were all present, covered all aspects of world cinema dominated by, what festival director Dimitri Eipides calls "social observation… charting a reverse course from the individual to the collective… but the core of all the films, the glue that holds it all together is humanity." The international competition contained some films that met this criterion, more or less successfully. I dismiss Loving, a Polish film by Slawomir Fabicki, and A Month in Thailand by the Romanian Paul Negoescu, each tiresomely familiar realist dramas of the emotional problems of well-healed 30-somethings, which "don't amount to a hill of beans in this crazy world".
Scenes from Casablanca – those of the young Bulgarian couple trying to escape to America - formed part of The Colour of the Chameleon, a convoluted, semi-satire in the form of a spy thriller by Emil Christov set during the Communist period in Bulgaria.
As amusing as it was confusing, it was not nearly as impenetrable as Vahid Vakilifar's Taboor, a minimalist Iranian film, made up of very long takes, which follows a middle-aged man who lives in a caravan, the walls of which are covered entirely in tin foil – a startling image - and who wears a jump suit, also made of tin foil, under his clothes. He seems to be on a mission of pest control, which he carries out in a series of empty rooms. The intriguing, dreamlike atmosphere reveals the formalistic side of Iranian cinema, which could be decoded as a criticism of an authoritarian society.
More overtly critical of such a society, though not didactic, and also with long takes and minimum dialogue, was the Turkish film, Mold (pictured above), a first feature by the promising 31-year-old Ali Ayden. Filmed at a leisurely pace, with some beautifully framed two-shots and landscapes, it concerns an ageing railway worker (Ercan Kesal) seeking the body of his son who disappeared after a student demonstration 18 years previously. Owing much stylistically to Nuri Bilge Ceylan, which the presence of Kesal (who was in three Ceylan's movies) underlines, it is an absorbing Dostoevskian tale of guilt and grief.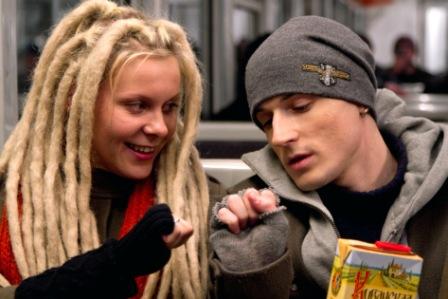 Social criticism was the basis for the docudrama Kinshasa Kids, by the Belgian Marc Henri Wajnberg, but it is gradually subsumed by an irresponsible and artificial feel-good factor, rather in the manner of the slightly less execrable Slumdog Millionaire. It begins by showing the terrible conditions in which hundreds of young children live on the streets of Kinshasa, Congo. Trying to survive by selling drugs and stealing, they suffer from hunger and abuse, mostly at the hands of the corrupt police force. Using a hand-held camera, which captures the bustling atmosphere of the overpopulated city, the director-screenwriter moves into patronising comedy, before all is resolved by music when a group of kids join a band.
If anything, Living (pictured above left), by the Russian director Vasily Sigarev, is a feel-bad movie, though this does not prevent it from being the most uplifting film I saw in competition. Dying might have been a more apt title for this extremely powerful, anatomical exposure of the conditions in which those who live on the fringes of Russian society. Far from being naturalistic, the film creates a nightmarish world, though shot in a snow-covered small town in the director's home province of Yekaterinburg, in the Urals. It weaves together three unrelated stories: a newly married couple are torn apart by a violent event; a young boy lives in an abusive environment, and an alcoholic mother waits for her twin daughters to be returned to her. Gradually, it becomes more and more surreal, while retaining its humanity. Only at the end, does Sigarev offer a gleam (literally by a lighted shop window) of hope.
On leaving the cinema, I walked down one of the main streets in Thessaloniki filled with lighted shop windows.