Two Years At Sea |

reviews, news & interviews
Two Years At Sea
Two Years At Sea
Less is less in backwoods art-house life-'story'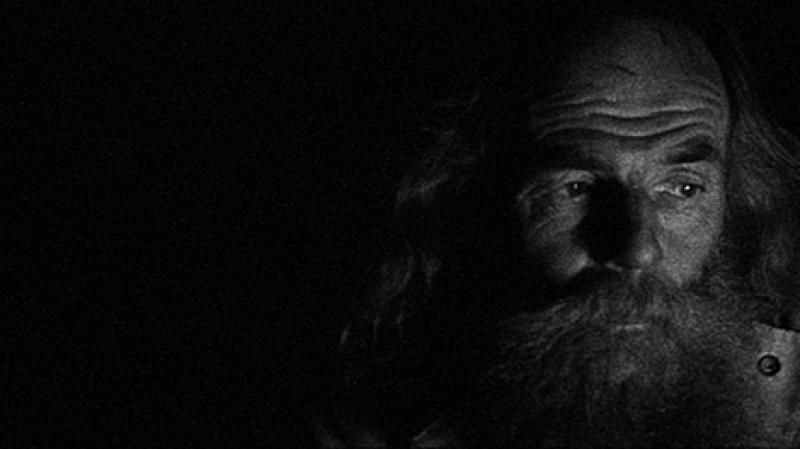 He looks like the 'He chose... poorly' guy from Indiana Jones
He trudges about in the snow somewhere. He cooks. He sleeps. He chops wood and saws branches. He reads. He looks like Darwin. He makes hot drinks. He does not do spring cleaning.
This is a more-or-less complete synopsis of Ben Rivers' Two Years at Sea, a "study" (I think is the correct technical term) of some bloke, somewhere, living in the wilderness, who clearly does not hold down a day-job.
He takes a shower.
It's shot on old cameras – in black and white, naturally – for the flickery, old-fashioned look, and in that arty thin-screen ratio. All terribly prize-winny and Jim Jarmusch, of course; but Nothing Actually Happens. No, that's not quite true: at one point he puts a caravan up a tree.
He boils the kettle.
But who is this guy? Where is he? And – most definitely of all – why? Those questions are not answered.
He looks like Him.
At one point the man lifts something that makes him go "Ngh!" That's about it for script, except that later he looks at a medicine bottle and says, "Chesty cough". It sounds like "Testicles". (Does he have a chesty cough, though? Couldn't tell you. Nor, for that matter, if he has the other things.)
He takes a shit.
He constructs a raft out of a wooden bed-frame, an inflatable mattress and some plastic drums. It's impressive – and damn nearly in real time, too – but why? He drifts about on a pond like a tourist on the Serpentine.
He goes to sleep. In the middle of the day.
He shunts a black Land Rover back and forth into a white one. It is like rubbish dodgems
At the 30-minute mark there is soundtrack! It's him, playing the Jew's harp.
He looks like the "He chose... poorly" guy from Indiana Jones.
Just how long you can watch a filament burn is for each man to decide for himself; but demonstrating a monotonous existence is one thing, asking your audience to participate in it quite another. It seems a bit harsh to write off this chap's entire existence as "boring" – but in the absence of all other evidence...
He puts a tape on, in the car. Hippie music. Obv.
At the risk of disrespecting the film-maker's art (and this film is nothing if not an artwork), you could easily watch Two Years at Sea in 8xFF and not miss a single narrative moment.
He goes back to sleep.
In fact, I would go so far as to say that this is hardly a film at all, according to the layman's understanding of the concept. A bottle of milk on a string next to a broken clock-face is, perhaps, at best, a photograph. What it's not is a scene from a movie.
He goes back to sleep.
Now, a caravan up a tree is a story – but you still have to tell it. It's all very well a film requiring the viewer to put in some work. Here, you're practically expected to build the damn narrative from scratch.
He does not, at any time, go anywhere near the sea.
Take the shower, for example. He showers in the corner of his kitchen – this is before the caravan bit – from a jury-rigged contraption that looks like it's running off his cooker. Is this his shower for the week? That would be an interesting detail (it's all very relative, and we're still only a few minutes in). And if he's on a one-a-month schedule, well, all the better. But we have no information. So he's just a naked old man and we're hoping not to see his willy. (We do get a close-up of a steamy window, but so what? Don't they all do that when you shower?)
He goes back to sleep.
Or the photos. On about half a dozen occasions we see photos that might or might not be relevant. One of them is of a woman. Another is of some kids. Did they die? Is that why he's here, all alone in the woods? Did he abandon them? "Did he touch them?" adds my brother, helpfully.
He shunts a black Land Rover back and forth into a white one. It is like rubbish dodgems.
Eight-and-a-half minutes from the end of the film, the man is sitting by the fire. The fire is crackling. The scene begins to fade.
Two Years At Sea opens in cinemas today.
It seems a bit harsh to write off this chap's entire existence as 'boring' – but in the absence of all other evidence...
rating
Explore topics
Share this article
Subscribe to theartsdesk.com
Thank you for continuing to read our work on theartsdesk.com. For unlimited access to every article in its entirety, including our archive of more than 10,000 pieces, we're asking for £3.95 per month or £30 per year. We feel it's a very good deal, and hope you do too.
To take an annual subscription now simply click here.
And if you're looking for that extra gift for a friend or family member, why not treat them to a theartsdesk.com gift subscription?