Violette |

reviews, news & interviews
Violette
Violette
Searing biopic of a taboo-breaking French novelist who sought love in the wrong places
Thursday, 02 October 2014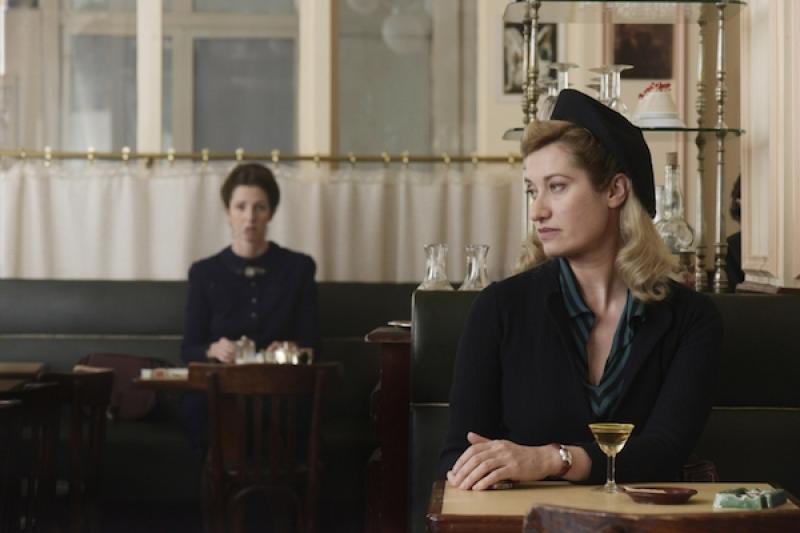 Mentor wanted: Violette (Emmanuelle Devos, right) homes in on Simone de Beauvoir (Sandrine Kilberlain).
Mesmerising in her sustained emotional rawness, Emmanuelle Devos is at her empathetic best in Violette, a psychological study of a woman damned by her loveless childhood and what she perceived as her ugliness.
Mesmerising in her sustained emotional rawness, Emmanuelle Devos is at her empathetic best in Violette, a psychological study of a woman damned by her loveless childhood and what she perceived as her ugliness.
Devos gave an impression of homeliness and dowdiness as the near-deaf secretary ridiculed by her colleagues in Jacques Audiard's Read My Lips, but in that 2001 film, as in Martin Provost's Violette Leduc biopic, she obliterated conventional value judgments about women's appearances. She has a habit, too, of rendering almost appealing negative qualities like neediness, self-consciousness, and self-pity. The more her Violette twitches and mopes, the more her mouth sags, the more one wants to hug her.
It helps, of course, that the movie shows how Leduc (1907-72), unrequitedly in love with her mentor Simone de Beauvoir, supposedly liberated herself through her ability to transmit the full range of her experiences – from the erotically transporting to the mentally crushing, from the momentary to the lifelong – into disarmingly sensuous prose in such novels as In the Prison of Her Skin (1946) and Ravages (1955). As Violette builds to Leduc achieving late success with her memoir The Bastard (1964), it more skillfully than most writer biopics translates the flow of thoughts – some visually prompted by flashbacks wherein the past and the present converge, Dennis Potter-style – into the act of creation.
Consequently, it's never tedious watching Leduc write, though her finding inspiration during a solitary, sunny Provençal idyll borders, forgivably, on the bathetic. Most of the film's unnecessarily titled chapters are steeped in a melancholy murk.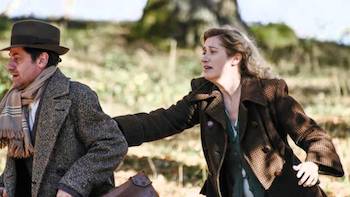 This particularly suits the opening wartime sequence, which introduces Leduc as a black marketeer living in the country with her ill-fated Jewish writer friend Maurice Sachs (Olivier Py, pictured with Devos), and another in postwar Paris where (minus husband Gabriel) she drinks in pleasingly smoky dives with Jean Genet (Jacques Bonnaffé). The pair also make weekend movies with the wealthy perfumer and literary patron Jacques Guérin (Olivier Gourmet) at his country estate. The script by Provost, Marc Abdelnour, and René de Ceccatty avoids Leduc's obsession with Genet but not her sexual pursuit of Sachs and Guérin, who, like the author of The Maids, were gay. Even the builder with whom Leduc later has an affair encourages her to sleep with his brother instead. Loving the emotionally unavailable was her theme.
As Leduc careers through mid-life, the one constant is de Beauvoir, played with ambiguous aloofness by the excellent Sandrine Kilberlain. She secretly gives her cash-strapped protégée 25,000 fr. monthly (passing it off a stipend from their publisher) and sternly insists Leduc channel her feelings of worthlessness into her writing. As she seems to recognize in a moment of silent reflection, however, de Beauvoir has unwittingly become part of Leduc's problem, her lack of romantic interest in her reinforcing, unconsciously at least, the latter's unresolved grief over her father's abandonment and her mother's refusal to give her affection. Ignorant of her offence, Berthe Leduc (Catherine Hiegel) mellows as she ages and reaches out to Violette after she suffers a breakdown – even tending her physically – but it's too little too late.
De Beauvoir was portrayed in the minimally exported French television film Les amants du Flore (2006). It focused, inevitably, on her relationship with Jean-Paul Sartre, who is mentioned in Violette as a Leduc fan but remains unseen, mercifully so given his bloated iconic masculinity. His imprimatur cuts little ice here.
That Leduc (pictured above) has become the subject of a major biopic before her celebrated champion is not quite ironic. Her struggle – as an unwanted daughter, as an adolescent who first explored passion in a girls' dorm, as a woman devastated by an early abortion, as a writer censored for parsing female sexuality in her fiction, as, in her own words, "a crazy, neurotic, washed-up old bag" tormented by loneliness – embodied the cultural imbalance de Beauvoir delineated in The Second Sex. Leduc thus emerges, in this film at least, as the heroine of feminist existentialism's seminal work – whose bleeding heart was staunched occasionally by her will to lay it bare, in print, for a grateful audience.