Camille Claudel 1915 |

reviews, news & interviews
Camille Claudel 1915
Camille Claudel 1915
Juliette Binoche pulls out all the stops as the tragic artist in an unusual, powerful biopic
CAMILLE CLAUDEL 1915 Juliette Binoche pulls out all the stops as the tragic artist in an unusual, powerful biopic
Camille Claudel was not only Rodin's student, mistress and muse, but a talented sculptor in her own right. Some years after the two parted, her mental health started to decline. In 1913 her family committed her first to a psychiatric hospital, then an asylum; but their actions appear to have been needless and cruel, the family persistently ignoring doctors' recommendations that Camille be released. She would remain locked up until her death, some 30 years later.
Bruno Dumont's outstanding film charts three days near the start of Claudel's incarceration in the asylum, during which time she eagerly awaits a visit from her brother Paul, in the hope that he will agree to her release. Despite its bleak subject and the director's trademark austerity in plotting and presentation, this is the Frenchman's most accessible film to date, distinguished by a performance from Juliette Binoche of heartbreaking intensity.
Dumont (Humanité, Hadewijch, Outside Satan) is known for his use of non-professional actors, whose lack of vigour somehow suits his morose stories. He's rarely ventured towards professionals, and certainly never one of the standing of Binoche; she approached him, with Claudel conceived as the subject for their collaboration.
What follows is a neat conjoining of custom and departure for the director, a star sharing the screen not just with non-professionals, but women who are actually suffering from mental illness, their real-life nurses playing the sisters in charge of Claudel and her fellow patients. Such background is worth knowing, because the result is remarkable.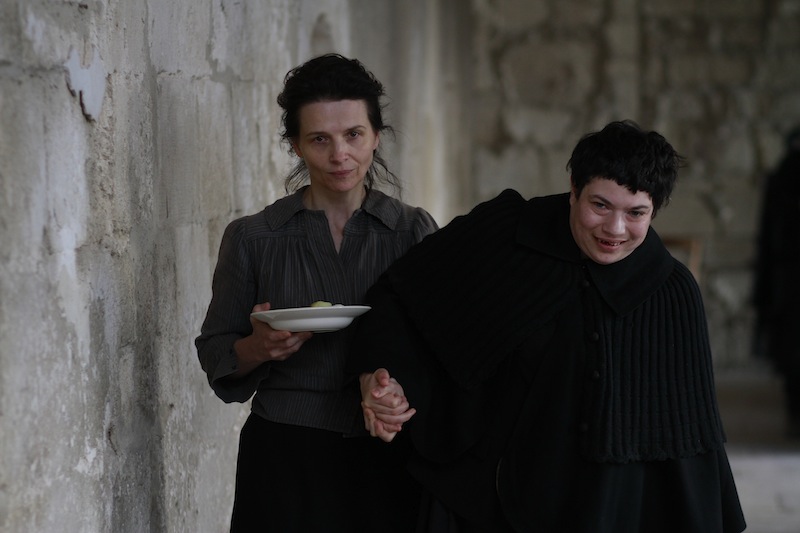 The action is derived from Camille's diaries and medical records, and depicts the isolation of an intelligent, passionate and largely cognisant woman (whose most pronounced condition is paranoia) living amongst others with far more serious mental problems. We hear her ponder her "confinement and idleness", not knowing why she is confined, wondering bitterly, "is the joke going to last long?" She walks the grounds and surrounding countryside, usually alone, sometimes reluctantly in the company of others, unable or unwilling to practice her art (psychologically, it may be a fine line between the two), her paranoia occasionally getting the better of her, particularly at meal times, which adopt an almost comical routine of suspicion.
With Binoche guiding the interactions with her unlikely co-stars, presumably improvising, her scenes with them are alternately heartwarming and heartrending, depending on Camille's state of mind, and the sympathy or hostility she feels, at the time, for her companions. One such is played by a young woman named Alexandre Lucas (pictured above, with Binoche) whose beautiful soul beams through her disability; her character's fondness for Camille – at one moment savagely rejected – is terribly affecting.
You might think the approach would be limiting, yet director and star conjure everything we need to know about the psychological torture Claudel must have gone through, the loneliness and desperation, the frustration of an artist no longer able to make art and a human being no longer trusted to exist in the world. There is little told of her history, her previous life; Binoche in close-up is all we need.
Dumont occasionally switches to the man on whom Camille's hopes of liberation rest, the loathsome Paul (stage actor, Jean-Luc Vincent, pictured right, in a rare screen performance). As Paul makes his way through the countryside towards her, we listen to the internal monologue of a writer and egotist, whose religious fervour – buoyed by self-justifying hypocrisy – doesn't include sympathy or compassion for his sister.
It's a tough subject, brilliantly conceived, beautifully photographed and acted. It feels impossible to single out the "better" or "best" performances of Binoche's career, she's so consistent. For me, this bears comparison with her work in Three Colours: Blue, another performance marked by emotions passing through and across her face – joy turning to despair, eager anticipation succumbing to fear – like the sun competing with passing clouds.
Overleaf: watch the trailer for Camille Claudel 1915
This is the Frenchman's most accessible film to date, distinguished by a performance from Juliette Binoche of heartbreaking intensity
rating
Explore topics
Share this article