Your Sister's Sister |

reviews, news & interviews
Your Sister's Sister
Your Sister's Sister
Emily Blunt stars in a warm and naturalistic study of family ties
Sisterly feelings: Mark Duplass, Emily Blunt and Rosemarie DeWitt in 'Your Sister's Sister'
Lynn Shelton's follow-up to 2009 Sundance hit Humpday doesn't immediately seem to share much common ground with its predecessor. Where that film could be summed up (albeit reductively) in a single attention-grabbing sentence – "Two straight male friends decide to have sex as an art project" – there is no unifying device in Your Sister's Sister, which can best be described as a study of three people struggling to define what they need from one another.
But that description does nothing to communicate the sheer warmth and truth Shelton captures with her fly-on-the-wall camera, nor the endearing spontaneity her three leads bring to their interactions.
Humpday lead Mark Duplass returns to play Jack, a man wrestling in part with his directionless life and in larger part with the recent death of his brother. The film picks up with a subtly painful eulogy sequence which both encapsulates Shelton's naturalistic approach to group dynamics, and tells you just about everything you need to know about Duplass's character. His best friend Iris (an exceptional Emily Blunt) invites him to her family's remote island cabin to get away and clear his head, but when he arrives he instead finds her attractive lesbian sister Hannah (Rosemarie DeWitt, pictured below with Blunt) mourning the demise of a long-term relationship. Both have come to the cabin for "alone time", yet neither seems too distraught at the prospect of not getting any.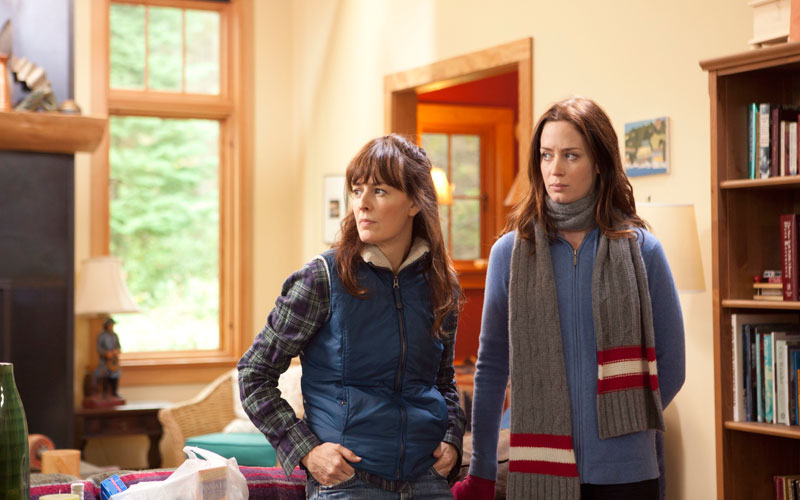 The largely improvised script has such an authentic ring of everyday chatter to it that the plot's more melodramatic turns don't play as such. Once Iris arrives at the cabin, DeWitt and Duplass's awkward twosome becomes an altogether more fraught threesome, everybody keeping secrets, everybody needing something they're unsure how to ask for.
But the surrounding drama doesn't detract from how absolutely, singularly enjoyable it is just to spend time with these characters – their interactions are so witty, so specific and so heartfelt that little else matters. If the ending jars, it's in part because you feel cheated out of more time in their company.
Blunt may be the standout, playing Iris's utter adoration both for her sister and Jack with a joyful spark and heartbreaking sincerity, while Duplass is such an intensely likable lead that Jack's pain is immediately accessible. DeWitt has the trickiest task in terms of making her character's decisions seem plausible, but these feel like real people dealing with real problems, and it's easy to underestimate just how rare that it is cinema. Huge, primal emotions – grief, unrequited love, the longing for family – are expressed here as the everyday, and it's in this that Your Sister's Sister finds its quiet power, like a person who lowers their voice rather than raising it to make themselves unmistakably heard.
Watch the trailer to Your Sister's Sister