The Zero Theorem |

reviews, news & interviews
The Zero Theorem
The Zero Theorem
Terry Gilliam's latest is a half-hearted, undercooked self-parody
Welcome to the jungle: Qohen (Christoph Waltz) is shown the ropes by Joby (David Thewlis)
Terry Gilliam's career currently resembles Orson Welles' declining years, and not just in both men's seemingly impossible quests to finish a film of Don Quixote. Gilliam too is trying to work outside a Hollywood system that has tired of his maverick talent, finding himself in far-flung European corners with motley casts of famous friends and fans, doing him favours in the hope his old lightning will strike.
The bad sort of stormy weather has, though, buffeted Gilliam since his greatly underestimated Fear and Loathing in Las Vegas, 16 years ago. The Brothers Grimm, Tideland, The Man Who Killed Don Quixote and The Imaginarium of Doctor Parnassus have all been wounded beasts; Don Quixote died, and so did Parnassus's Heath Ledger.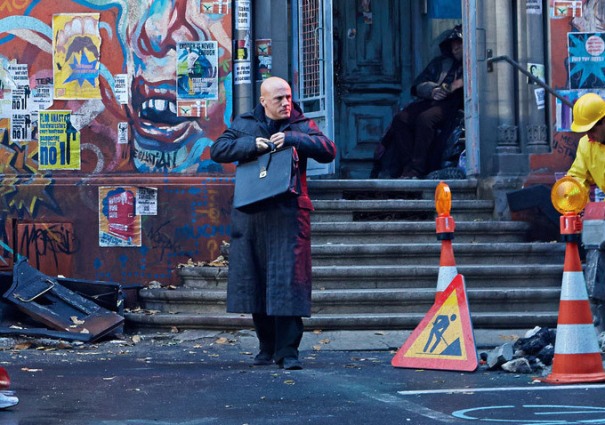 The Zero Theorem was first considered in 2009; Gilliam returned to it for want of anything better to do, when Quixote collapsed again. It was written by a fan, Pat Rushin, and is a thematic sequel to Brazil, shot in Bucharest with the director's lowest budget since Time Bandits. It confirms the director's latter-day problems lie closer to home than cursed productions and Hollywood philistines. The Zero Theorem is parodically Gilliamesque, offering fumbled scraps of familiar visions.
Gilliam has observed that the script's ideas "seemed to come from every film that I've made", so you can see the appeal. As computer programmer Qohen Leth, Christoph Waltz, pictured above, is the sort of miserable cog in the corporate machine Jonathan Pryce played in Brazil. Finding the garish, advert-saturated outside world insufferable, he retreats to a private Gothic chapel to work on an equation being sought by Management (Matt Damon): the Zero Theorem, which will prove the universe is meaningless. His seclusion from a reality plastered with jiggling pop-up windows is broken by manager Joby (David Thewlis) and internet porn starlet Bainsley (Mélanie Thierry, pictured below), among other irritants.
The shaven-headed Waltz plays Leth as a man almost catatonically traumatised by an over-connected reality which barely exaggerates our own. The camera's observation of his guilty excitement as he stares at the computer and clicks onto Bainsley's site catches something significant about our lives.
Thewlis's performance, meanwhile, has a Palinesque jollity which seems to have wandered over from a neighbouring Python sketch. He's an exception to the mess the multi-national cast make of an already unfunny script. Tilda Swinton's buck-toothed Scottish virtual psychiatrist is as embarrassingly misconceived as Thierry's walking male fantasy's heavily-accented stumble through her thankless lines. Wanting to distance himself from Brazil's 1984 grey, Gilliam has also made this dystopia retina-burningly garish. Thundering through a 36-day, low-budget shoot hasn't helped a man anyway ill-disposed to coherence. Anarchic has become zany. Bright has become blinding. Satire has become slapdash. It's as if all his setbacks have made Gilliam lose patience, flinging paint at the canvas just to finish something, and hoping it'll do.
Welles conjured the brilliant F for Fake from little more than thin air in his apparent dotage, and it would be terrible to write Gilliam off. But pretending The Zero Theorem is misunderstood genius does no one any favours. That genius has been scarce for some time.
Subscribe to theartsdesk.com
Thank you for continuing to read our work on theartsdesk.com. For unlimited access to every article in its entirety, including our archive of more than 10,000 pieces, we're asking for £3.95 per month or £30 per year. We feel it's a very good deal, and hope you do too.
To take an annual subscription now simply click here.
And if you're looking for that extra gift for a friend or family member, why not treat them to a theartsdesk.com gift subscription?