Goat Simulator |

reviews, news & interviews
Goat Simulator
Goat Simulator
You'll believe a goat can sort of fly
Friday, 19 September 2014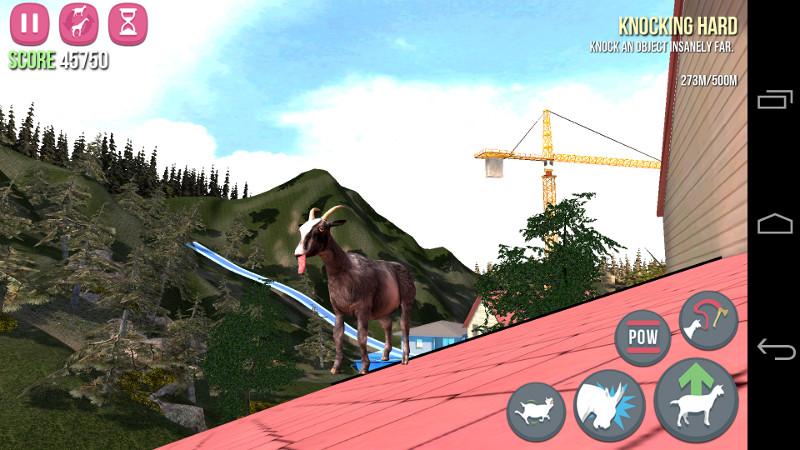 'Goat Simulator': farmyard (and beyond) fun
You are a goat. You are an invincible goat. You are an invincible goat with a jetpack. You are an invincible goat with a jetpack and satanic powers. You are an invincible goat with a jetpack and satanic powers who can turn into a giraffe.
Goat Simulator
is a not a very serious game. Arguably, it's not any kind of game but rather a joke that got out of hand. What started as a gag put together during an informal, between-projects game jam within Coffestain Studios quickly gained a cult following after the developer released YouTu‬be clips of an early version. The result is an intentionally glitchy, bug-ridden mess of a game that is part parody and part funhouse.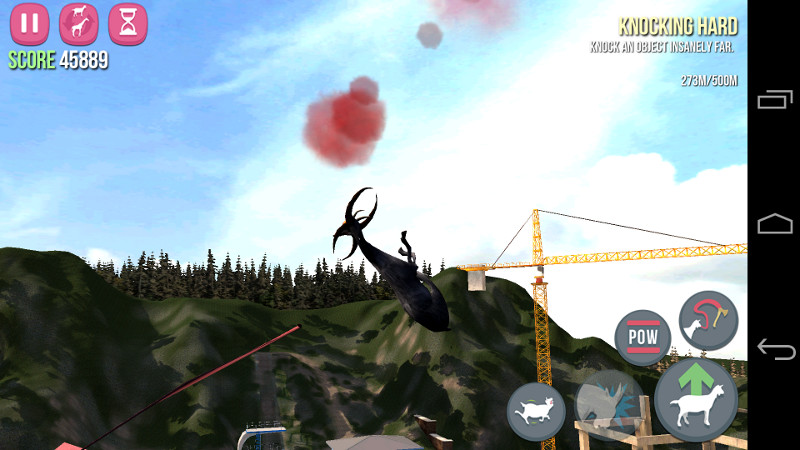 You start out as an ordinary-ish goat, standing in a back yard complete with assorted debris and a 'goat tower'. The yard is located in a small town with a scattered few homes, a petrol station, rail track and a building site among other areas to explore.
Your goal, if any, is to blunder about the map causing as much random chaos as posible. This is surprisingly easy to do as your goat is an absolute 'mare to control. Push just a fraction too hard on the virtual joystick and you will break into a gallumphing run, smashing into objects and sending them, and you, flying thanks to the exaggerated physics engine.
There are people wandering about but they collapse like stringless marionettes when you touch them. Cars, trucks and trains move in and out of the playable game world and will knock you down if you get in their way. You can't die though. You are an invincible goat with satanic powers who can change into a giraffe. Or an ostrich. It's fine.
You can climb ladders (the animation for this is ludicrous - the goat's head revolving like a helicopter as it glides upwards) and whip out your tongue to grab objects and drag them behind you. There are trampolines to bounce on, slides to slide down and lots and lots of explosives that can send you soaring into the sky like a.. well, like a really floppy goat.
So, this is a sandbox game. A kind of twisted parody of both 'open world' games like
Grand Theft Auto
as well as a sly dig at 'serious' sims like the inexplicably popular
Farming Simulator
series. There is no story as such but the developers have hinted that your goat is actually trapped in a sort of purgatory. Certainly some of the weirder goings on would support a supernatural explanation. Just wait until you find the hidden pentagram...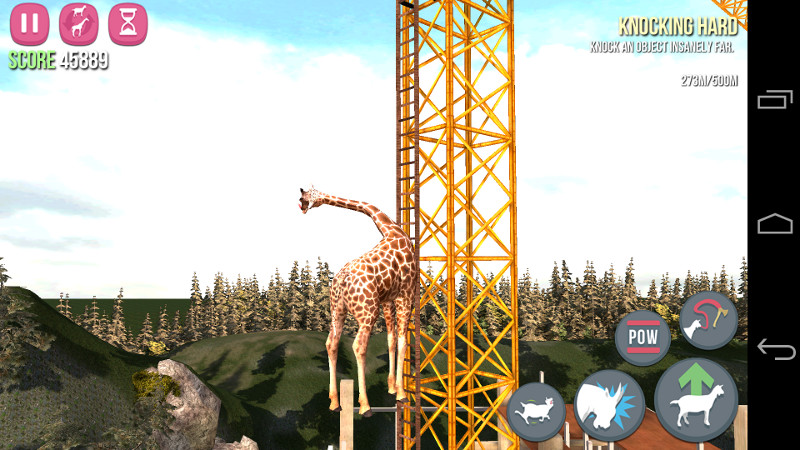 Coffeestain have hidden little goat statues around the map for you to find and which will unlock new abilities or types of goat. These include Spider Goat (a goat in a Spider-man costume), Evil Goat, Tall Goat (a giraffe) and Feather Goat (an ostrich). Some forms can only be unlocked by visiting certain hidden areas or completing tasks, all of which are either stupid or downright deranged.
As well as hidden collectibles the game is packed with "Easter eggs" and fun things to discover. Hint: there is a playable version of
Flappy Bird
hidden in the game.
Noting that YouTubers loved the silly animations and ridiculous outcomes generated by bugs in the early code, Coffestain have left the best bugs in, removing any that bomb the game out and keeping those that make it look ridiculous or give a weird glitching effect at a crucial moment. This can make the game frustrating to play but there is an option to reset to your starting point if you get completely stuck.
Goat Simulator
isn't a game you will be playing for very long and it is one to avoid if you do actually want to simulate life as a goat. If you fancy a light hearted, determinedly daft toybox of a game then this is three quid well spent.
Goat Simulator is available now on Android, iOS Linux, Mac and PC. Developed and published by Cofffeestain Studios