Primordia |

reviews, news & interviews
Primordia
Primordia
A sneak preview of what's shaping up to be one of the most artistically exceptional games of recent years
'Primordia': Hard times in Metropol City
I have been fortunate indeed this week, having been given a sneaky peek at the preview build of Wormwood Studio's and Wadjet Eye Games' upcoming point-and-click Primordia. And from what my time with the game has shown me, it's going to be an absolute beauty.
As we all know, life as an independent engineering robot can be trying at times. Just when you – Horatio Nullbuilt version 5 – have finished fixing one part of your wrecked ship, a marauding laserbot with a serious personality-chip malfunction melts through your hull and steals your power core. If that wasn't bad enough, your ship, the UNNIC, is still knackered, and your only company is a sarcastic hoverbot called Crispin who is constantly bemoaning his lack of legs and arms.
Unlike with a lot of point-and-click games, you will not want to hurl your computer out of the window
With your power draining fast, there's nothing else for it but to venture out into the post-apocalyptic wasteland and track the mechanical menace down, even if it means a trip to the ominous Metropol City. And so in traditional point-and-click fashion the problem-solving begins, as you search not only for your power source, but also for the secret of Horatio's past.
The most outstanding thing about this game is undeniably the artistic design. The graphics are simply beautiful, and the dedication to the concept art blends down into every last pixel. A sepia-tinged landscape of rusting Geiger-esque formations, even the robots look like they're made of calcified bone and gristle.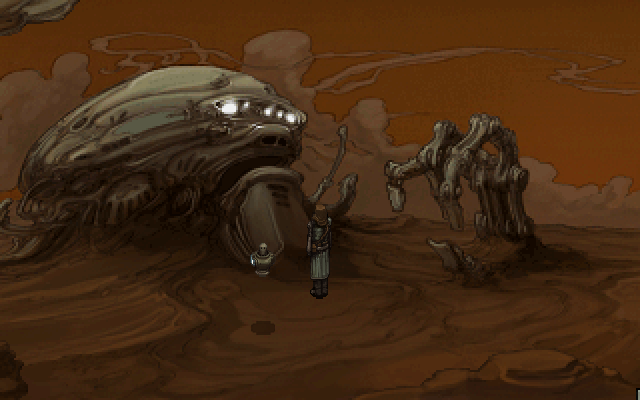 It's also not ruinously frustrating in its complexity. The bitchy interchanges between loitering characters provide amusing respite while your brain furiously calculates, but they also provide you with golden nuggets of clues if your mental acrobatics take too long. Unlike with a lot of point-and-click games, you will not want to hurl your computer out of the window after 10 minutes.
Despite its unfinished state, this game is shaping up to be one of the most artistically exceptional games to be released in years, and I can't wait for the finished product.
Primordia will be released on 5 December. Developed by Wormwood Studios, published by Wadjet Eye Games. Platform: PC