10 Questions for musician and DJ Pete Tong |

reviews, news & interviews
10 Questions for musician and DJ Pete Tong
10 Questions for musician and DJ Pete Tong
On his latest EP and his musical life thus far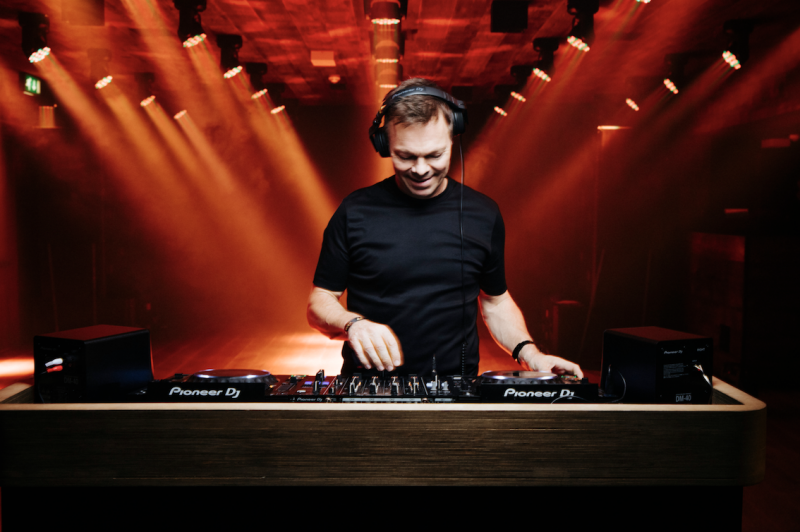 Pete Tong
Perhaps appropriately, when I called Pete Tong for his 10 questions I was hungover, on the phone in a park after a night at a very good party. It's a sign of the times that things are appearing to return to a relative normal, despite the threat of Omnicron and a precipitant winter lockdown.
Pete is on the cusp of releasing his new eight-track EP, to be accompanied by a live show on December 3. These live shows with the Heritage Orchestra were the genesis of the series of four releases, of which Pete Tong + Friends: Ibiza Classics is the latest. Tentatively, the nights are opening up again just as they are drawing in, reminding Britain and, perhaps, Pete, of its rave past.
Pete Tong is, justifiably, a legend in the world of dance music and music in general, acknowledged in November when he became the recipient of the prestigious MITS (Music Industry Trust) award. Originally a Kent boy, Tong started putting on events at school, entering the music world in various forms as soon as he left. He's been on the radio since the 1970s, broadcasting from Ibiza, the UK and the USA. He's been part of producing numerous albums and nights across the world, always seeking out the new and exciting, whilst continuing to honour the gods and goddesses of classic dance. So, as you can imagine, I was obviously pretty keen to talk to him about his new releases and what he is excited about for the future of music.
INDIA LEWIS: How do you feel that these releases have developed and evolved across the series?
PETE TONG: They haven't changed that much across the series – they're still fundamentally me and Jules reinterpreting classic dance/trance/techno from the last 30 years. That all came off the success of the very first show at the Royal Albert Hall, at the Proms. Then the chance came to go into the studio, then it snowballed from there. The pandemic was a longer break, during which we changed labels. There's a core idea but I'm always trying to elaborate on that.
Can you explain to me what these mean to you and the ideas behind the series?
It was always about trying to celebrate these tracks. This one isn't an album but it isn't an LP either. They're about collaborating with people I admire, people who have leant into me, the curiosity. Hence eight tracks with seven collaborators.
How many more releases of these can we expect?
We'd love to do more, always based on everyone wanting more, of course. We'll start to slip in some originals, too. It keeps the live show interesting and it's based on how we want to evolve this live show. The success of this is the reason we're speaking today. The recordings speak to the live show and vice versa.
How do they differ across the various albums?
Every album has been different. The first album was a reproduction of the show, which was considered to be groundbreaking. Everyone was asking how they could see it, how they could hear it. The second album was more leaning into guest vocalists, taking fast songs and making them slow. We really dived into the Ibiza ethos in the second. The third dived into the sunset moment, that particular Ibiza phenomenon. This latest release is more focused on production and artistic contributions.
What do the albums mean to you?
I never made this much music early in my career. It's all about recreating these amazing tunes and adding gravitas. In the wider scene, people don't view them as important. Playing the songs with an orchestra added to their importance. These songs are never meant to replace the original; they're meant to be a tribute. It's like reinterpreting a piece of sheet music. It's dialling back into that mentality, trying to do it more inventively.
You've got some amazing collaborators and that seems to be really important to you – who have you enjoyed working with the most, and is there anyone else that you'd love to work with in the future?
All the people that I got to collaborate and play with made the whole project international. I'm really pleased with Jules Buckley. It's totally joyful, too, to have Vula as the lead vocalist. She's dance music royalty. Eats [Everything] I knew from Bristol back in the day, where we often started but didn't finish anything. ARBAT's just breaking out of the Ukraine now, having a massive impact on the melodic techno scene. Frankie Wah was someone who really broke through from the pandemic. Becky's been a part of the show for years.
Given how central the songs that you choose are to the scene in Ibiza, what does the island and its parties mean to you?
It's still super important, but it's not the only place in the world, although it's where DJs' reputations are established. It's been a terrible two years losing two seasons. Nobody's entirely sure how it will change, but hopefully it will get back to some normality. The pandemic's obviously had a big effect on audiences. This year was better than last year but it's still outdoor only and supposedly seated. There've been some good shows, but nothing like a normal season. It's just about ticking over, but it's a big impact on businesses, to lose two years.
And what about clubbing in this country?

It's still super exciting, with people putting on some amazing events. The tendency now, though, if for people to attend one-off big tent poles. The regular nights, the ones that run for 52 nights a year, where you get new, grassroots acts are a concern. The things that are successful have been amazing – like Printworks, or Creamfields. I'm proud of it on a global level, but it's hard now for people selling tickets when about a third of people don't turn up. That's indicative of how long ago some of these tickets were sold.
How do you feel that the pandemic has affected the production of dance music? I feel like it's been good for bedroom producers.

It has had a big impact and not all of it is great. There was definitely a time during the pandemic when people didn't need to rely on dancefloors much that produced some really diverse names, more women. It was a different space to operate in. The longer it went on, the more reluctant people became to release dance bangers, because who would hear them? After a while, you do want to test these on audiences.
Back to you, what do you want to do in the future and how do you feel at this point in your career?
I'm fortunate to be doing what I do, being involved in a variety of things that revolve around music. I try to do more in the ways that I can. I'm most proud of being able to be consistent over a long period of time and being able to make a few people smile. I'm excited about this release, being able to get back out there with music. I've got a mini album release on November 25 and eight or nine shows in the UK, ending up in the O2 at the beginning of December. It's exciting after a couple of years off!
These songs are never meant to replace the original; they're meant to be a tribute
Explore topics
Share this article