10 Questions for Musician Tinchy Stryder |

reviews, news & interviews
10 Questions for Musician Tinchy Stryder
10 Questions for Musician Tinchy Stryder
One of grime's original break-out pop stars talks tattoos, Keith Lemon, vinyl and Glastonbury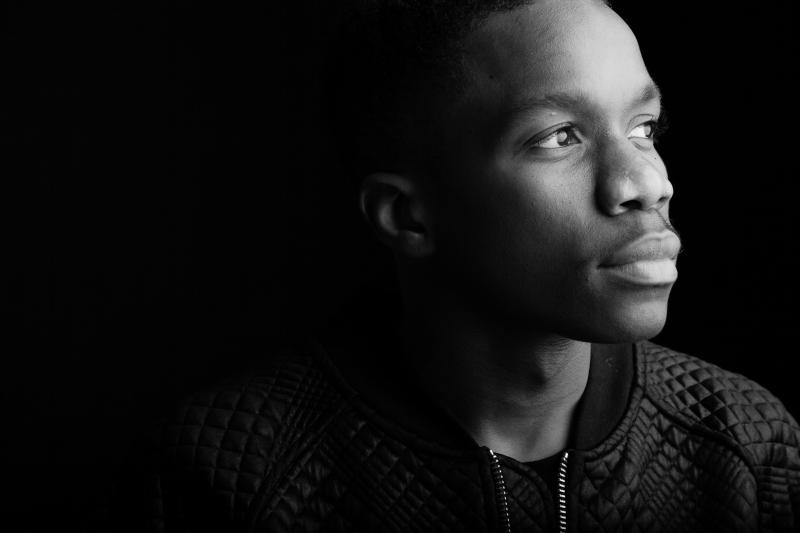 Tinchy, perhaps pondering his lack of interest in the dark side of The Force
Tinchy Stryder (b. 1986) has had a successful pop career since 2009, including two chart-topping singles ("Number 1" and "Never Leave You"). Born Kwasi Danquah in Ghana, his family moved to London's East End when he was nine and, in the early years of the new millennium, he established himself as a rising talent of the grime scene and member of the Roll Deep Collective.
He was one of the first grime artists to make a successful transition to mainstream pop and has worked with artists ranging from Calvin Harris to Pixie Lott to Taio Cruz.
Tinchy Stryder has also pushed entrepreneurial interests, such as a fashion range (Star in the Hood), a publishing company (Takeover/Cloud 9) and a line of headphones (Goji Tinchy Stryder), but he's currently back in the public eye and on the promotional circuit as he has a new album, Cloud 9 LP/360°.
THOMAS H GREEN: Glastonbury is in the not too distant future, so what are your memories of 2010, performing at the hottest Glastonbury ever?
TINCHY STRYDER: It's so big, so unreal, not like you see on TV. I wasn't used to it, to the people there, to that camping. Where I've come from you didn't even know about festivals like this, but performing on the Pyramid was amazing.
What do your tattoos mean to you?
Everything I've inked on my body means something. One of my favourites is a map of Africa with Ghana highlighted and it says, "Motherland – my roots enlighten my route".
You have been on television many times in your career – which was your favourite?
Probably one of the Keith Lemon shows, the one where Frankie from The Saturdays and Holly Willoughby had on black eye masks and I had on gold lycra trousers with things stuffed down them. They had to guess what was down there. Keith is so much jokes, a cool dude. He just keeps it how it is. They might give him scripts but if he doesn't want to say it he says, "I want to do it my way." They may say, "Jump," but he never says, "How high?"
The best-selling hip hop artist of recent times is Fetty Wap, but his music doesn't even sound like hip hop to me – what do you make of it?
My nephew thinks he's the man. I mean, it's catchy and up but Fetty Wap is not what I'd call hip hop, it's just what the thing is now and it's working for him so good luck to him. Respect to him if he's selling that much. It's difficult to define hip hop to people who don't know hip hop. It depends how far back you're going. Right now Kendrick Lamar is as hip hop as it can be in a commercial sense.
When was the last time you had a really good dance?
Every day! I feel free. I'm bouncing. It was a couple of weeks ago at a friend's 30th, having a drink. When there's good music I find it hard to stand still. Music just runs through you, man. Standing still, not dancing, is weird for me. But my friend's party was in a private, hired club and some places people take pictures of me, secretly Snapchatting, which isn't so good.
You do a lot of work for charity – was your family very charity-orientated?
No, I wouldn't say that, but my family brought me up in a way of good care and love. I always want to help things if there's something to it. Like when I went to the Hackney Empire and Orin Lewis gave a speech about his son dying [of leukaemia] and about ACLT [charity aimed at increasing the number of ethnic minorities on bone marrow, blood and organ donor registers]. That moved me and I did a song with the Chuckle Brothers that gave some money to charity.
What have you got coming up?
It's music first thing right now with the album. I'm so excited everything's back to that. No pressures. Music is the centre of my anticipation. The clothing line has been a blessing, named after my very first album and still making progress.
Do Star Wars geeks ever approach you about its name, Star in the Hood? It's often printed as its initials – SITH…
Everybody says about that but I've never been into Star Wars, never followed it, so I've never understood. I haven't got into Star Wars yet, but maybe I should.
Why does your new album have a double name – Cloud 9 LP and 360°?
It's done as a split because some of the music came out one way, but I didn't just want to do an EP then another EP. It made sense to do it as a double-sided project, starting with the feel of the kind of music I grew from, then going to where I'm at now. And everything's lined up perfectly.
That's a great idea. When grime and dance artists randomly mix up their poppy side and their underground side on albums, it just doesn't work. What do you think?
It doesn't, but this is not one side pop, one underground. I didn't want it to be separated. Good music is good music. It's all what I'm feeling. But yes, one's not really pop, but one side's a bit harder than the other.
It's kind of like a vinyl release, in the sense of it having two halves, isn't it?
I like vinyls. When I first ever started writing lyrics I shared a room with this DJ and there were so many vinyls. My first things I released were all on vinyl. I like hard copies but culture has moved online. Times change, so go with the change.
Do you have a record player?
When we moved out my brother took it and he still has it, but my DJ Spiro, he has vinyls, so it's never too far away.
Standing still, not dancing, is weird for me
Explore topics
Share this article