Album: Jack Savoretti - Europiana |

reviews, news & interviews
Album: Jack Savoretti - Europiana
Album: Jack Savoretti - Europiana
Sun, sand and synth pop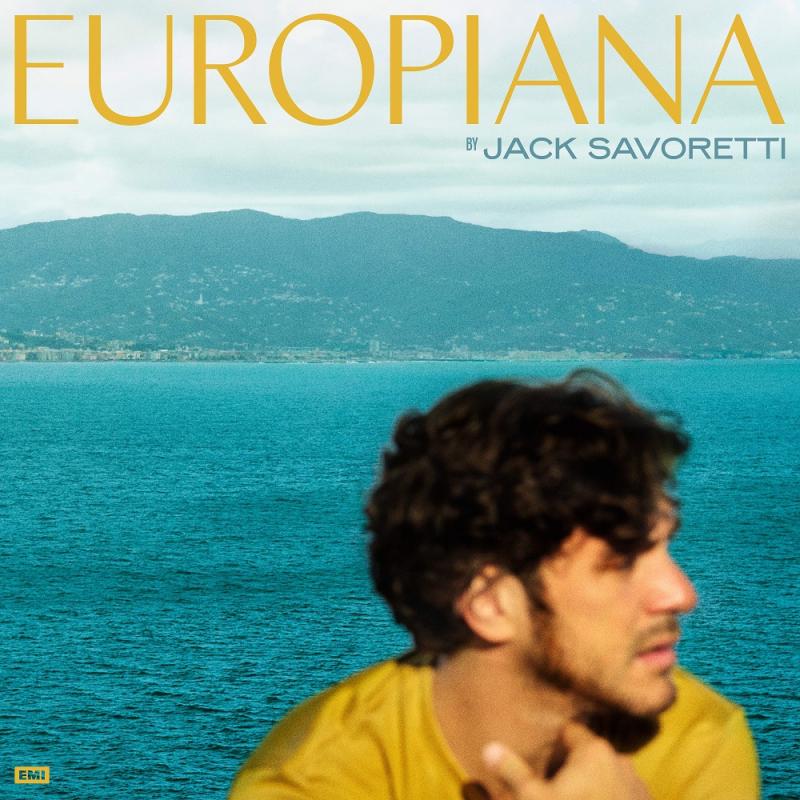 "Dance like its '76", Jack Savoretti (born 1983) sings on "Too Much History", one of many upbeat synth-driven tracks on his new album Europiana. 1976: a sweltering summer when the charts included "Happy to Be On an Island in the Sun", a slice of Europop by Demis Roussos, who would shortly become the unseen star of Abigail's Party.
This is Savoretti's seventh album, conceived in sunny Oxfordshire last year with the singer-songwriter whipping up Mediterranean-style lunches served with lashings of rosé to get the band in the groove in the gaps between lockdowns. It was, he has said, very much about creating a happy, sunny vibe for his family during a dark time. The album was recorded at Abbey Road, his wife Jemma Powell and the couple's children singing on the opening track, "Remember Us", and Nile Rogers and John Oates beamed in from across the Atlantic.
Very much a child of Europe – born in London to an Italian father and a German-Polish mother, a peripatetic childhood on the continent – Savoretti says he came up with "Europiana" as a concept, friends pointing out that the genre already existed but was largely unacknowledged. I'm not sure that's the case: certainly, since the Brits began going on cheap package holidays in the 1960s we've been exposed to this kind of music, and I've always thought of it as Europop. Like Americana, it's a catch-all term, but figures such as Joan Manuel Serrat (who championed Catalan culture and whose new album Mediterráneo has just been released), Raphael, Françoise Hardy, Nana Mouskouri (don't mock – she's the biggest-selling female artist of all time), and the ubiquitous and gloopy Julio Iglesias all fall into it. And, of course, the much-mocked Roussos, has always been around.
Europiana certainly does conjure up memories of early-teen years of sun-soaked beaches, discos, and innocent kisses with young locals in the days when no one had to worry about Rohypnol. Happy days, innocent times when we never imagined the world would stop. And when we all felt European.
As someone allergic to disco and electropop, I inevitably find the slower, more soulful tracks the most appealing: The nostalgic "More Than Ever", for example, Savoretti's yearning voice to the fore, surrounded by echo, synthesized strings entering at midpoint. "The Way You Said Goodbye" is an angst-ridden production ballad, well-structured and with what sounds like real strings and some appealing textures, Savoretti's voice is raspy, pushed to its upper register.
"War of Words", which closes the album, finds Savoretti pleading that we heal, individually and otherwise, that we cut the cacophony: "Dream of the world you want to see/ But it doesn't mean the same to you as it does to me…. How do we rise/ Where no one needs to fall?" It's a good question, to which "maybe love is still the answer", a line repeated by a chorus of Savoretti's multitracked children.
Europiana is definitely a feel-good album, simultaneously contemporary and a trip down memory lane, by which I mean derivative. But isn't everything? Still, as we remain forcibly tethered in dreary Britain, the blue-skies escapism is welcome. Put on your headphones and virtual reality headset, crack open the rosé and escape from this absurd island. Who doesn't want to?