Album: Sleaford Mods - UK Grim |

reviews, news & interviews
Album: Sleaford Mods - UK Grim
Album: Sleaford Mods - UK Grim
Vitriol on a roll – more despair with a little less flair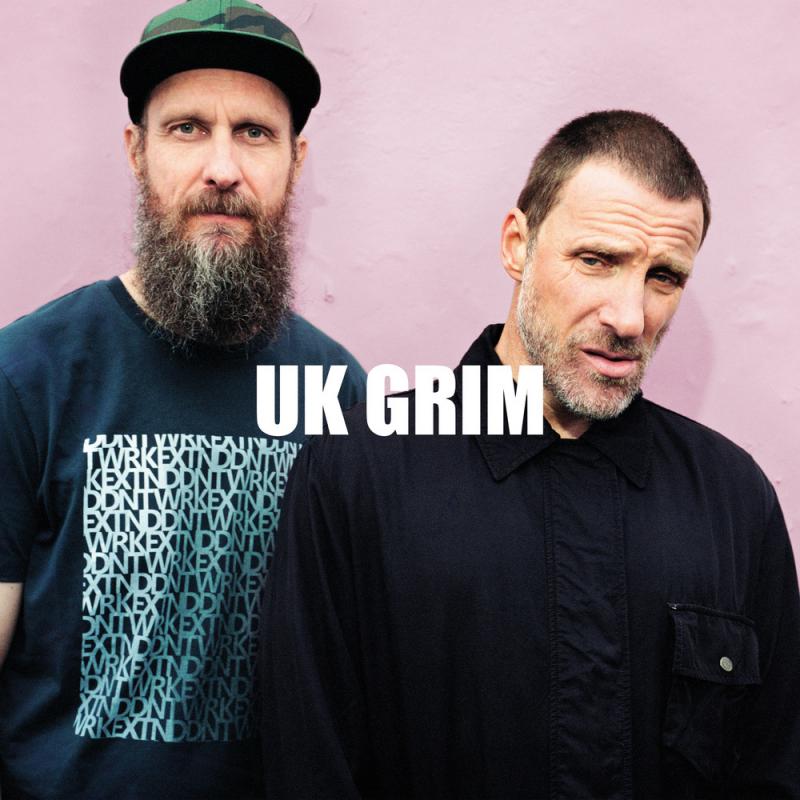 Beleagured: Sleaford Mods speak for a significant section of the nation
Our very own prophets of rage are back and their anger is – quite understandably – off the scale. Even these hardened cynics couldn't have dreamt that the country would have deteriorated even further since the release of their most successful album to date – Spare Ribs – in 2021. Morally and financially bankrupt, there's not much to celebrate in the UK right now.
Which suits Sleaford Mods down to the ground.
Fortunately for them, they speak for a significant section of the nation, some of whom help keep us sane by holding the mirror up to the corrupt. Could there be a better creative pairing than the Mods and chief visual agitator, ColdWar Steve? The video for first single, "UK Grim", is the art of the age, pure and simple. "In England no one can hear you scream, you're just fucked lads." Humour is never far from proceedings, though – sublime to ridiculous being the order of the day. You have to laugh or you'll cry, right?
"Pit to Pit" documents Williams's lockdown habit of over-ordering clothes – vintage terracewear apparently – and hiding them from his wife. So out-of-control did it get that he's got his own Instagram shop (@Tilldipper) to sell off the surplus. But at least he's still off the drugs and booze. "Don" is beyond grim "who the fuck d'ya think ya are? Sid James? Comedy gold until you get old and fat then it's mould, mould, mould". "Apart from You", is altogether more soulful musically and in Williamson's delivery (there's even a tuneful riff) but the subject matter is no less grim – being piss poor.
One of the many laugh-out-loud lines pops up in "DI Why", a menacing meandering growl of a song with a hint of "Still Dre" creeping in – "You look like Fred Dibnah and your haircut's crap." "Smash Each Other Up" begins with a Imagination-eque groove but leaves Leee John way behind – "Everybody's getting well narky/Fist fights near Sainsbury's car park".
With a hint of Alabama 3's "Woke Up This Morning", "So Trendy" is a collaboration with Jane's Addiction's Perry Farrell and Dave Navarro and boasts the lovely lyric, "Ya got ya Top Gun classes upside down you goose, ya snide". "Force 10 from Navarone" is an even more unlikely pairing, this time with Florence Shaw of Dry Cleaning whose beguiling monotone escalates the menace marvellously against a classic Andrew Fearn synth foundation. "Tilldipper" dispenses with any attempt at melody. It's the sort of raging tirade that would give your granny a heart attack. Easy listening it ain't. At the other end of the scale is mellow "I, Claudius", a reminiscence about an early Eighties childhood ("I saw Santa Claus with a bag of chips") – and not a happy one at that. "On the Ground" documents the fury of keyboard warriors (Williamson isn't shy of an online spat) versus reality. Not so big and clever now you're not in front of a screen, are you?
The brilliant "Rhythms of Class" finishes the album and is the longest track. With more than a nod to New Order, the backing track is one of Fearn's best compositions. It centres on the "sweetener" often used by those in power that we should be grateful we're not living in Jonny Foreigner's country, which is obviously infinitely worse than good old Blighty. As they said at the start, "This is UK Grim, put it in the fuckin' bin." Not as diverse as the last album, UK Grim feels a bit beleagured. But then again, don't we all?
Below: watch the video for "UK Grim" by Sleaford Mods