Angeline Morrison, Cecil Sharp House - a ballad-maker for our time |

reviews, news & interviews
Angeline Morrison, Cecil Sharp House - a ballad-maker for our time
Angeline Morrison, Cecil Sharp House - a ballad-maker for our time
Exploring black British history in song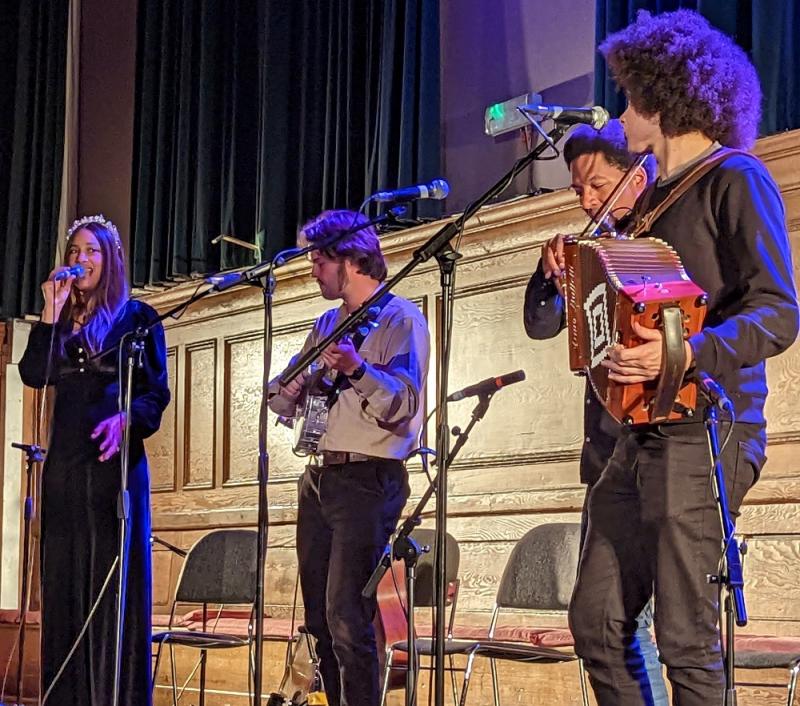 Angeline Morrison with Clarke Camileri, Hamish Gross and Cohen Braithwaite-Kilcoyne
Among those making her Cambridge Folk Festival on the diminutive Club Stage back in the summer was Angeline Morrison, a Birmingham-born singer, songwriter, and multi-instrumentalist who these days makes her home in Cornwall, drawn at least in part by its folk music.
Her short solo performance was noteworthy, and earlier this month it was announced that Morrison has been awarded the Christian Raphael Prize 2022, presented in association with the Festival. She is the fourth honouree, the roster including Katherine Priddy and Nick Hart.
Last night, Morrison and her three excellent musicians (Cohen Braithwaite-Kilcoyne, concertina; Hamilton Gross, fiddle; and Clarke Camilleri, guitar) stepped on to the stage at Cecil Sharp House for a concert performance of her second album, The Sorrow Songs: Folk Songs of Black British Experience, released on Topic and produced by Eliza Carthy. It was a riveting evening, Morrison's mellifluous alto voice (she has quite a range) captivating the nearly-full house, the formality of the presentation (none of the usual patter, but rather a richly detailed history of the people and incidents chronicled in each song) no deterrent to enjoyment.
Like her self-released debut outing, The Brown Girl and Other Folk Songs, the new album explores the lack experience in Britain – the hidden stories of lives lived long, long ago across these British Isles. Born to a Jamaican mother and a father whose roots lay in the Outer Hebrides, Morrison was still a child when she fell in love with the voice of Shirley Collins from the radio. By her teens she was going to local folk clubs (then as now, a very white experience) and singing – and so, perhaps, her path was set.
Since there were few if any black folk songs, Morrison, an academic, has spent a year researching the stories of her "ordinary and extraordinary" black ancestors and giving them voice in songs written in the style of traditional folk music. The Sorrow Songs, released for Black History Month, is the result, the project inspired by historian W E B du Bois who believed that songs gave voice to the voiceless and were themselves "a container" for their history. That's what the great English and Scottish ballads have always done of course – chronicle our history. And Morrison's new songs sound as though they could have been written down the ages.

"Unknown African Boy" was inspired by tragedies of the slave ships that foundered off the Cornish coast, their rich cargoes scattered on the beaches. "Black John" tells the story of possibly the first black horticulturalist, and a Welsh speaker to boot. "Hide Yourself" chronicles a shameful chapter of Liverpool history, while "Cinnamon Water" celebrates the life of Mary Seacole, the 19th-century Jamaican who did at least as much for nursing as Florence Nightingale.

Morrison is a skilful songwriter and an excellent singer, her performance characterised by tasteful use of ornamentation and portamento. She is a beguiling storyteller, drawing on folk tropes which anchor the songs firmly in the folk tradition. What she has created with The Sorrow Songs: Folk Songs of Black British Experience deserves the widest possible audience. BBC Radio, which sixty years ago commissioned Ewan MacColl and Charles Parker to explore the lives of Britain's white working class in The Radio Ballads, should pay attention. This marks the beginning of an important body of work.
a beguiling storyteller, drawing on folk tropes which anchor the songs firmly in the folk tradition
rating
Explore topics
Share this article