The Arts Desk Radio Show 6 |

reviews, news & interviews
The Arts Desk Radio Show 6
The Arts Desk Radio Show 6
Psychedelic hip hop and Colombia in London with Peter Culshaw and Joe Muggs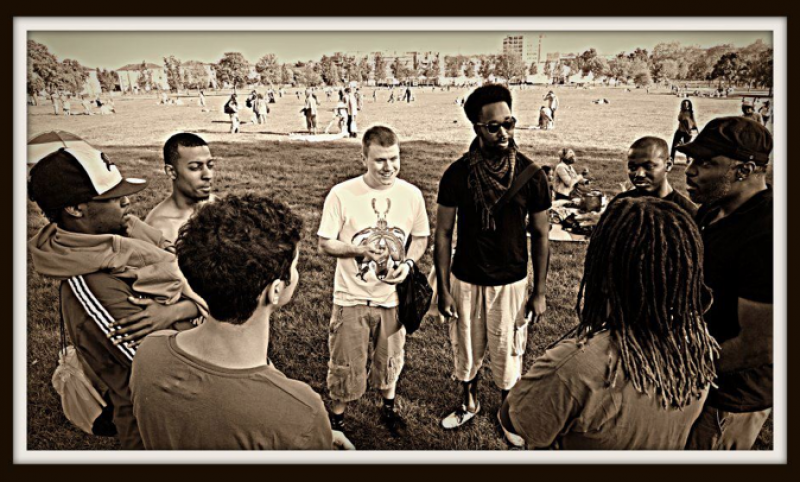 F-King Taisho, Hedavim, Squint Eastwood, Shin Tesh, King Tone, Geek, T-Funk - aka London's Baishe Kings.
Welcome to another show, in which Joe guides us around some of the weirder, smokier corners of the broad church of hip hop, and discussion returns to how far genre can stretch and where originality can reside in a multi-channel, everything-available-at-once world. We also take a listen to more and less authentic sounds of South America courtesy of a Brit-in-Colombia, a Colombian Brit, and a legend of British underground sounds turning Colombian sounds into house music.
There's some neo-psychedelia and neo-folk thrown into the mix for good measure.
The Colombian Brit is one José Hernando Arias Noguera, a graduate of the BBC's World Routes Academy which hooked him up with a mentor in the Bogotá-based accordion king Egidio Cuadrado. José will be performing the folk styles he learned from this mentorship at the first ever Prom concert dedicated to Colombian music tonight, and joined us in the studio to discuss this with us as well as sharing anecdotes about accordions washing up on beaches and playing some songs.
This text will be replaced
If you would prefer to download and listen offline, please download
Playlist:
"No Pares Hasta Tener Lo Suficiente" - Los Miticos Del Ritmo (Soundway Records)
"Getting Older" - Baishe Kings (baishekings.com)
"Enchantruss" - THEESatisfaction (Sub Pop)
"Beautiful Nightmare" - Blue Daisy x Unknown Shapes (Black Acre)
"2 Bit Blues" - Kid Koala (Ninja Tune)
Glass Floor (Dub)" - Jabru (Sound Of The Cosmos)
"Flange Face" - The Gaslamp Killer (Brainfeeder)
"Haqq al-Yaqin" - Om (Drag City)
"Someone Else's Song" - Alexander Wolfe (Dharma)
---
Live performance and interview with José Hernando Arias Noguera
"La Cachucha Bacana"
"La Cumbia Cienaguera / La Cumbia Sampuesana / La Pollera Colora"
--
"Celebrate Life (El-B Cumbia House Remake)" - Brasstooth (unreleased)
Watch a clip of José Hernando Arias Noguera
We have a Brit-in-Colombia, a Colombian Brit, and a legend of British underground sounds turning Colombian sounds into house music
Share this article