An Audience with Dame Cleo Laine, RFH review - a phenomenon at 90 |

reviews, news & interviews
An Audience with Dame Cleo Laine, RFH review - a phenomenon at 90
An Audience with Dame Cleo Laine, RFH review - a phenomenon at 90
Ninety minutes of bottled sunshine from a great artist and human being, plus family
Cleo Laine: always the artist
Yes, she sang, with her trademark artistry from the very first notes – four numbers, including a duet with daughter Jacqui Dankworth, and all in close partnership with her consummate players, including son Alec on double bass.
Any worries that this would just be a chat with a bit of nonagenarian crooning were quickly banished: the legend remains a warm and witty human being, capable of transfixing her audience with those flashing eyes and spontaneous laughter, and her
amazing technique
still serves her well in her unique, wide-range vocalising.
When she performed in Michael Tilson Thomas's LSO series The Gershwin Years back in 1987, you got that odd sensation that she was singing for you alone – a gift only possessed at the same level, in my experience, by Nina Simone at the Festival Hall in 2000. Like Nina, unlike Liza, Debbie Reynolds or Elaine Stritch, Dame Cleo does without a memorised script when she talks. That she wouldn't, when she had nothing much to say last night, gave Jacqui Dankworth some awkward moments, but she must be used to them, and she, too, came across as a model of naturalness.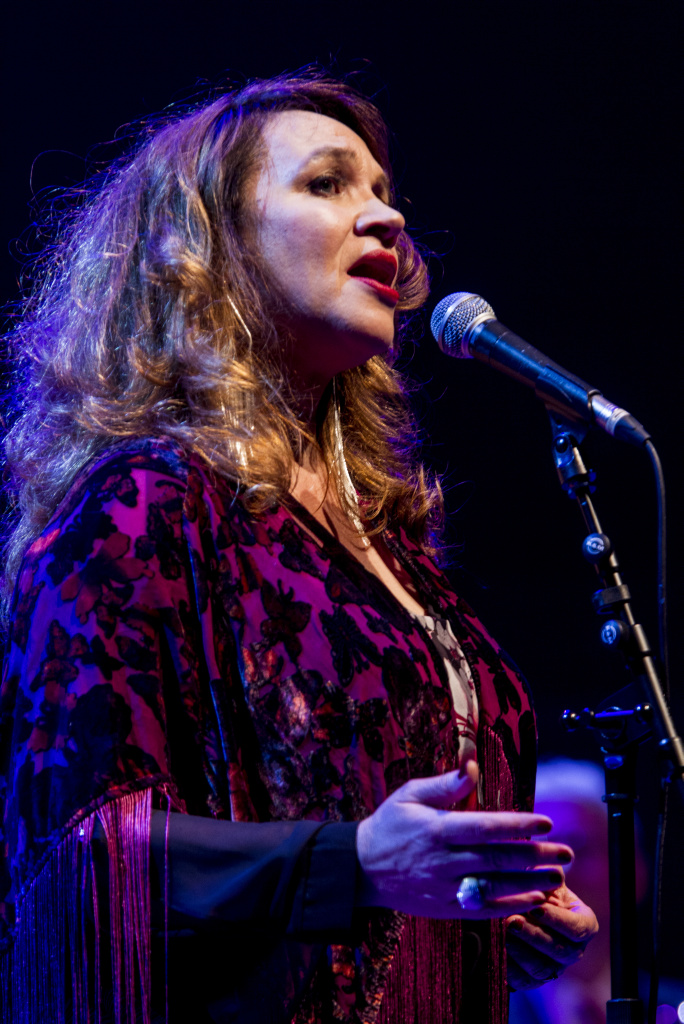 She opened the proceedings, after Jude Kelly had reminded us that this event was part of the Southbank's celebration of creativity in later life, (B)old (as in "Be Old"), with "Windmills of Your Mind" – stylish, with a flamenco tinge that had the top-class players setting aside their instruments for a spot of rhythmic clapping (Jacqui Dankworth pictured left). Such a classy warm-up act. Then enter the mother, supported by her pianist of 40 years, John Horler, and the fun was on.
The first song we got was the Arlen/Mercer classic "Ac-Cent-Tchu-Ate the Positive," from someone who's never messed with Mr In-Between. A slideshow took us from a hard early life near Southall, where her Jamaican father, Alexander Sylvan Campbell, put breakfast on the table by singing in the streets during the Depression and mother Minnie Bullock ran boarding houses filled with (singing) Irishmen, to her first audition, to which she turned up wearing a fur coat in the heat of summer. The band was John Dankworth's, though he wasn't there: when he heard her, he declared "I think she's got something", to which trumpeter Jimmy Deuchar replied "she's got everything".
She worked with so many of the (other) greats, including Ray Charles, who didn't know the words or the music for Porgy and Bess ("that surprised me – I thought every black American knew that"). The ones with a reputation for being difficult turned out to be very nice to her. Could it have been because, as she said without making the obvious connection, she had a calming influence – "I like to stroke people," stroking Jacqui's hand and turning to the band, "they've all been stroked". All those tough nuts in the profession probably fell in love with her, too: who wouldn't?
Though the great John Dankworth left us in 2010, he was so obviously there last night, without any need for sentimental overlay. The Dame just talked facts about him, but the love was in the music for Gershwin's "I've Got a Crush on You" and an exquisite finale in "Tea for Two" (it was "a boy for you and a girl for meyoumeyou", turning to said daughter).
Cleo and Jacqui sang "I Thought About You", complete with train noises, a number originally recorded with Mel Tormé, another prickly creature who became a pussycat in her company. The harmonies here were spot-on, and in beautiful blend with the band, who gave a no less wonderful rendering of Dankworth's theme for the BBC science programme Tomorrow's World, complete with outstanding solos from Horler, Dankworth junior, trombonist Mark Nightingale, saxophonist Andy Panayi – he'd had the hardest act to follow, in John Dankworth's footsteps, as Dame Cleo pointed out – and young Jim Hart on drums.
The instant standing ovation at the end wasn't for what has been but for what still is: a giver, a force for good in the world (and let's not forget the amazing work she and Dankworth did for music education, not touched upon here). There can't have been anyone in the audience who didn't leave feeling an extraordinary lightness of being. Here's to the 100th birthday Audience with Dame Cleo.