BBC Radio 2 Live in Hyde Park review – Pet Shop Boys, Westlife and Status Quo deliver the hits |

reviews, news & interviews
BBC Radio 2 Live in Hyde Park review – Pet Shop Boys, Westlife and Status Quo deliver the hits
BBC Radio 2 Live in Hyde Park review – Pet Shop Boys, Westlife and Status Quo deliver the hits
Cheery nostalgia is the name of the game at this annual crowdpleaser
Monday, 16 September 2019
West End boys: Neil Tennant and Chris Lowe
You might think that being first on the bill with a half-hour slot at 1.15pm would be an affront to a band who'd had a 12-times platinum album and ruled the 90s airwaves, but if they are offended Simply Red aren't showing it.
A weatherbeaten Mick Hucknall and his beaming companions are kicking off
BBC
Radio 2's annual "Festival in a Day", a highly civilised affair (you can pre-order 80-quid picnics and it finishes at 9.30pm) featuring sets from huge pop names and chatty links by cheerful Radio 2 presenters.
Despite the early start, Simply Red have attracted a gigantic crowd, who lustily sing along to the likes of "Fairground" and "Stars" from 1991's inescapable Stars album (wasn't there a statistic floating about that claimed there was a copy in every UK household? Please, no), and "Something Got Me Started". Moving swiftly on, it's rising young country singer Kelsea Ballerini (pictured below, photo BBC/Sarah Jeynes), who is introduced by Radio 2's country guru, occasional movie star (see Wild Rose) and champion of new talent, Bob Harris. A massive cheer from a pocket of super-fans at the front greets the Nashville native and youngest member of the Grand Ole Opry, who delivers slick, pop-country paeans to self-confidence, empowerment and "being true to yourself".


Nostalgia is the driving force of these shows, however, so next up it's Bananarama. The crowd is here for the hits – although it's all new for the young girl in front of us Googling them on her phone – so it's a bold decision to open with a new song, but Keren Woodward and Sara Dallin know what the crowd wants and bust out everything from "I Heard a Rumour" to "Cruel Summer" (the lyrics "this heat has got right out of hand" are very on-trend with today's weather). They look incredible and sound great, but there are times when it's hard to tell if they're actually enjoying themselves or just going through the motions.

After a blast of sunny dance-pop from Clean Bandit, it's time for a big slab of efficient riffage courtesy of Status Quo. They open with "Caroline" and then, after Francis Rossi announces "we haven't got that long", chug through a time-saving medley as well as a stack of crowdpleasers including, naturally, "Rockin' All Over the World". There's an unavoidably huge Rick Parfitt-shaped hole on stage but Rossi and co (pictured below) still deliver textbook Quo boogie, albeit with a sad echo, especially during those famous formation guitar moves. They're followed by the recently reunited Westlife, who stroll on, blandly cycle through the hits and remind us that it's been 20 (!?) years since they formed. Audience mobile phone torches are deployed for the sugary epic "You Raise Me Up" – and the band must be delighted by the stunning sunset that helpfully creates a suitably epic backdrop for them during "Flying Without Wings". "The Westlife comeback is truly up and running," they inform us grandly.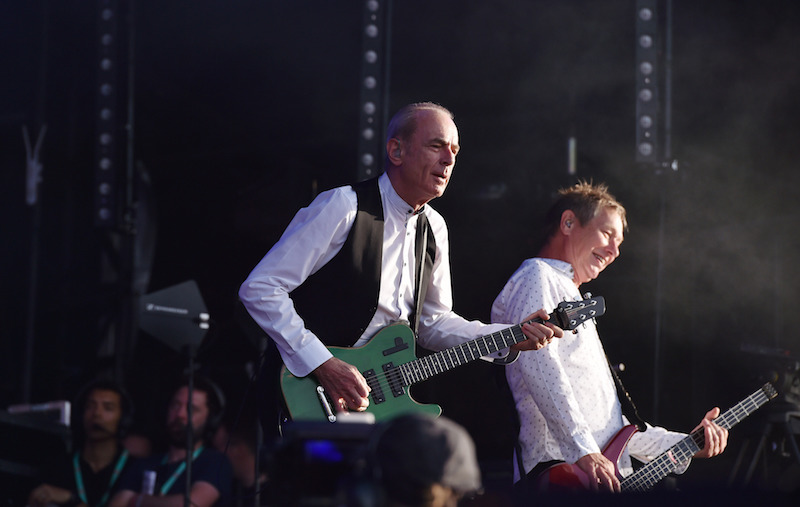 Burning off the sugar is a spectacular set from headliners Pet Shop Boys. "We're going to have some hits, some dance tracks, some guests," announces Neil Tennant, sporting a shiny, glittery pinstripe jacket. "Let's get going!" Tennant is in an incredibly chipper mood, shouting out "Hyde Park!" at frequent intervals, and even the famously stony-faced Chris Lowe is caught with a wry smile on his face more than once. A troupe of fantastic dancers make the show even more special, sporting silver body suits and helmets, animal skull masks and, best of all, inflatable sumo-style suits in various colours. "Another old song… but which one to choose?" muses Tennant archly before a gloriously joyous "Go West", with the multicoloured sumo dancers marching in formation behind him.

Years & Years' Olly Alexander bounds on for new song "Dreamland", looking absolutely thrilled and incredulous that he's here ("Whoo! Pet Shop Boys!" he yells as he skips off), and Beverley Knight guests on a soulful "What Have I Done to Deserve This" during the encore. Thirty years of ruling electropop and Pet Shop Boys still have the power to delight and surprise – and it's the perfect end to this good-natured, sun-drenched festival.