Beirut, Brixton Academy |

reviews, news & interviews
Beirut, Brixton Academy
Beirut, Brixton Academy
Zach Condon's band continue to Balkanise the globe - but where's the exuberance?
Saturday, 17 September 2011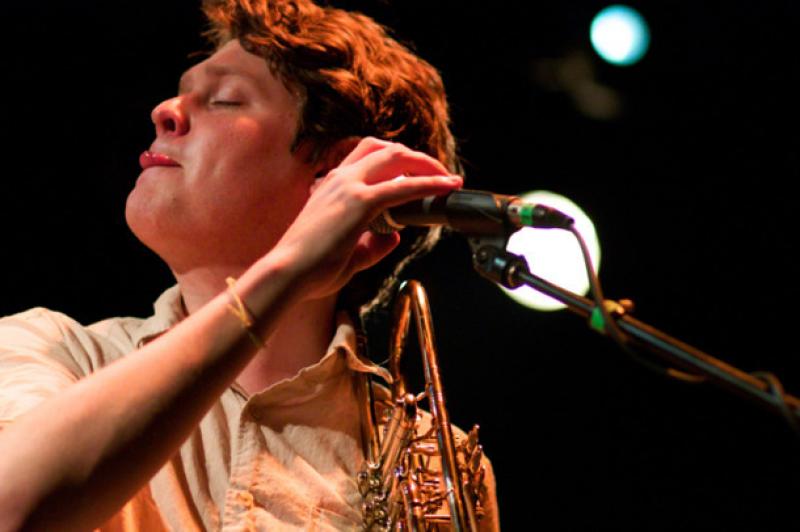 Not blowing his own trumpet: Beirut's frontman, Zach Condon
Maybe my memory is playing tricks, but I seem to recall that Beirut had more of a swagger in their step, in their playing, and in their demeanour when I last saw them four years ago. It was at the Roundhouse, it was packed, and Zach Condon and his band were on an upward trajectory following the release of their acclaimed album, The Flying Club Cup; they moved with ease and oozed a sort of blowsy bonhomie.
This time around, at a heaving Brixton Academy, they were noticeably less thrilling. There was nothing fundamentally wrong with their playing, with the gig, with the sound; it was all just a bit… well, distant. It didn't help that there was a constant burble from the many hundreds of people in the crowd who just wouldn't SHUT UP WHILE THE BAND WERE PLAYING. Live music may be a booming business these days, but it seems to have ushered in a new generation of gig-goers who think that a concert is a pub and that talking at full volume throughout the show is perfectly fine. I suspect that I'm in a minority here, but it really does get my goat.
Chiefly, though, I'd say that Beirut seemed daunted. Do they not get to play venues of this size very much? They looked static and diffident, and although choochy-faced frontman Zach Condon (pictured above) may be a fine trumpet player, blowing his own trumpet doesn't come naturally. Only towards the end did he and his bandmates seem to approach their task with relish, which is a shame because Beirut's music really has to be played with a certain degree of abandonment – as a woozy hybrid of Balkan brass, Mexican mariachi, French chanson and western pop (while Condon himself hails from New Mexico), it should be carried off with a sort of loose-hipped vulgarity; here, though, it was all a bit stiff.
Still: it was absorbing enough, and occasionally spilled over into something that quickened the pulse. Beirut's line-up is a fluid thing – last time around they had a female violinist – and for this tour they are a six-piece, with two brass players, a drummer, a bassist and an accordionist, plus Condon on vocals, trumpet, ukulele and piano. What I've always admired about Beirut is that they've taken the unusual step of making popular music that features almost no guitars (unless you count the electric bass). Now, I love a good guitar as much as the next old headbanger, but sometimes it does you good to listen to something with more texture and timbre. Which, with Beirut, chiefly means brass (though the accordion also adds character to the mix). And some of Beirut's brass riffs are as memorable as their sung melodies – to the extent that, on "Postcards From Italy", the crowd (well: those who weren't talking) were singing along to the brass parts as much as the vocal. Also, this was possibly the first live show I've seen that featured a sousaphone solo.
Oh, and I should also mention that they have a new album out, The Rip Tide, songs from which punctuated, but didn't dominate, their set; these tunes were usually recognisable as the ones with stricter rhythms, rather than the triple-time signatures that dominate much of their previous stuff. Of these, the gentle, swaying "Goshen", sung by Condon at the piano, was the loveliest.
Anyway: it all sort of came together in the end, with the volume cranked up and the band beginning to cut loose and enjoy themselves – perhaps their self-esteem boosted by the rapturous greeting they received when they returned for the encore. And during the last song, when it was just Condon with his ukulele singing "The Penalty", there was even a proper hush among the crowd.
Beirut's music should be carried off with a sort of loose-hipped vulgarity; here, though, it was all a bit stiff
Explore topics
Share this article