CD: Meat Loaf - Braver Than We Are |

reviews, news & interviews
CD: Meat Loaf - Braver Than We Are
CD: Meat Loaf - Braver Than We Are
Almost 40 years since 'Bat Out of Hell', how are things looking for rock's big showman?
Thursday, 01 September 2016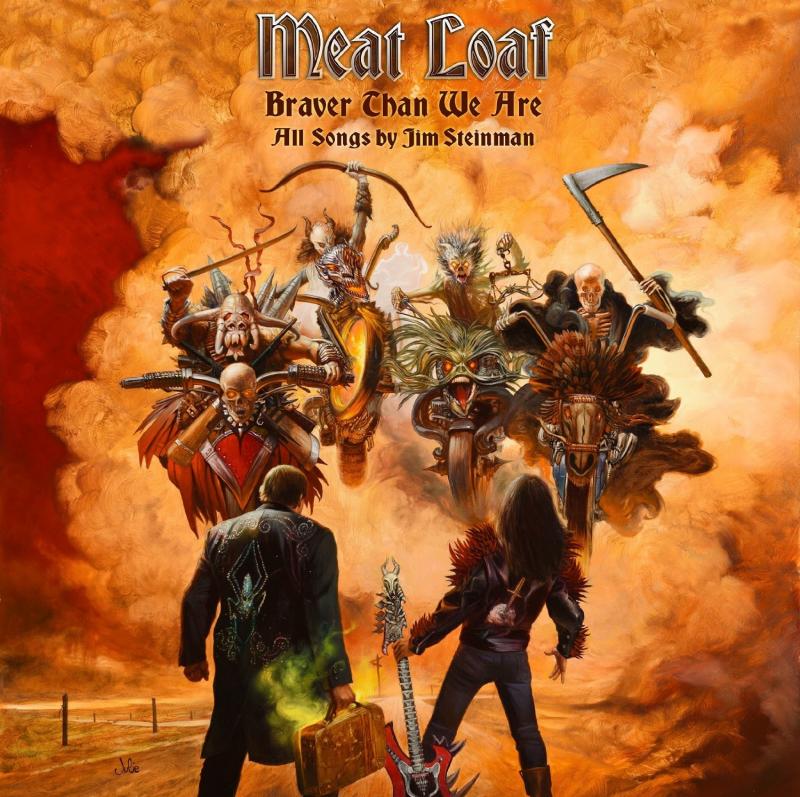 Mr Loaf and Mr Steinman hit trouble on the way to Aldi
Britain loves Meat Loaf. Never mind that his 1977 breakthrough, Bat Out of Hell, was once inescapable on pub jukeboxes and in school sixth form rooms throughout the land. Or that "I'd Do Anything For Love (But I Won't Do That)" was the country's biggest-selling single of 1993. Let's talk more recently.
Meat Loaf's commercial clout has globally dropped away, but he remains a bestseller here, his every album of the last 30 years, including ones released in 2010 and 2011, making the Top Five.
Braver Than We Are is Meat Loaf's first album in a decade to feature predominantly the songwriting of Jim Steinman, with whom he's had his greatest successes. The cover art features a painting of the two of them facing down the Four Horsemen of the Apocalypse. It's a preposterous image, and the music is equally over-the top.
Meat Loaf's voice patently isn't what it once was
Things open with "Who Needs the Young", which is like an offcut from Grease but with lyrics bemoaning age, and concluding, "Who needs the young when we're spending all the rest of our wonderful lives learning to die?" The vocals for the epic 11-and-a-half minute "Going All the Way" are shared with regular collaborators Ellen Foley and Karla de Vito but its "six movements" are too piecemeal to ever really take off.
Much of the material is simply too blatantly tongue-firmly-in-cheek. "Speaking in Tongues" talks of "an erection of the heart" and contains the line "You've got the spark, I've got the wood," while on "Skull of Your Country" Steinman simply borrows the chorus from his own iconic Bonnie Tyler power ballad "Total Eclipse of the Heart". Meat Loaf's voice patently isn't what it once was, and if they're going to play this game, it needs to muster more dramatic urgency, as is exemplified by the terrible, hokey "Godz". Overall, the album cannot quite stare down its own theatrically comic aspects. The exception, however, is "Loving You Is a Dirty Job (But Somebody's Gotta Do It)" which gets the balance right, living up to past glories. Knowing the UK, perhaps it might even give the 68-year-old Texan singer yet another monster hit.
Much of the material is simply too blatantly tongue-firmly-in-cheek
rating
Share this article