David Ford, Cabaret Voltaire, Edinburgh |

reviews, news & interviews
David Ford, Cabaret Voltaire, Edinburgh
David Ford, Cabaret Voltaire, Edinburgh
Part book reading, part Q&A, part gig. Welcome to the future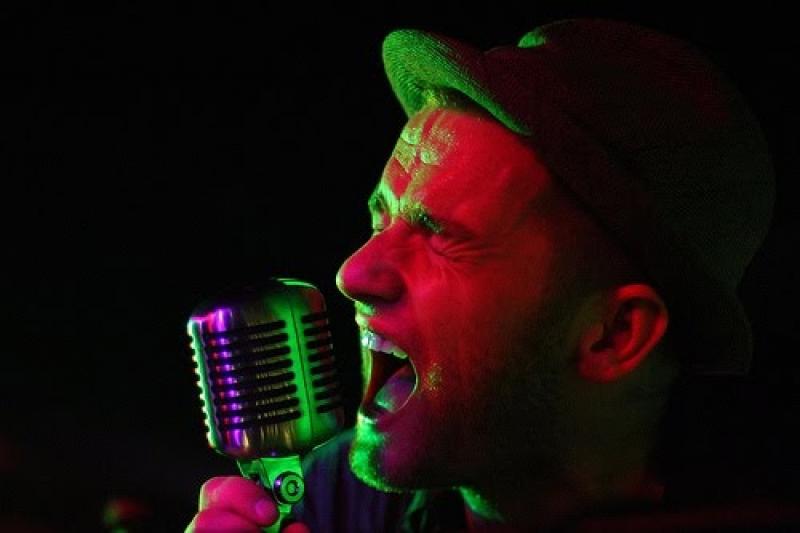 David Ford: Eastbourne's answer to Tom Waits?
Earlier this week, in my review of Shelby Lynne, I suggested that the record industry's one-way ticket on a fast train to oblivion is, at least, proving to be the mother of invention.
Everyone has to work a little harder and smarter for our attention, a point which David Ford's latest tour, which ends tonight in a sold-out show in Birmingham, makes emphatically: part book reading, part solo concert, part intimate natter, part request show, it might have seemed desperate if it hadn't been so engaging.
Ford has just published his first book, I Choose This: How to Nearly Make it in the Music World. It is a document of his 10 years as a professional musician -from being the main man in big-budget nearly-weres Easyworld to his current, less glossy but clearly more rewarding solo career - and its observations provided the spine of the show.
Ford is essentially an old-fashioned balladeer trying gamely not to paint himself into a corner
Having toured theatres recently in support of Teddy Thompson, last night was a more ad hoc undertaking, and I'm guessing a much more punishing shift. Ford worked the merch stall like a pro before the gig as well as during the intermission and afterwards, chatting to fans, signing CDs, shaking hands. This is how all but the most successful acts sell their music (and words) these days. It might be less glamorous than lording it up behind the fourth wall but it made for an altogether more convivial experience.
With his lampshade, battered armchair and small-screen projections, Ford's multimedia extravaganza was less Zooropa and more geography GCSE, but the use of old video footage and still images provided an effective accompaniment to both songs and readings. He proved a winning storyteller, rapping out his prose with wit, fine timing and self-deprecating charm. Extracts ranged from the futility of making music videos ("Can you believe MTV started out as a music channel? That may even be what the M stands for") to an odd meeting with Mark Lamarr, and peaked with an acutely funny story about being phone-stalked by Bonehead from Oasis.


These tales were interspersed with choice cuts from his catalogue. Hailing from Eastbourne but looking like a Mississippi riverboat pianist, Ford's is an essentially American musical sensibility overlaid with a very English air of erudite cynicism. His best songs have a hint of Tom Waits's bruised romanticism mixed with a deep disgust at Machiavellian political machinations. Fitting, then, that he should have two voices to match these two styles: the first an even, conversational murmur, the second a tonsil-shredding rasp which certainly demands attention but which can begin to grate a little over time.

On Ford's two most recent records, Songs for the Road and Let the Hard Times Roll, the music is a ragged and rousing mixture of barrel-house prewar blues, country, folk, indie-pop, even gospel. To at least partially replicate this sonic range on stage he deployed what is known in the trade as "the Tunstall", creating in real time a range of live loops which gave the illusion of an invisible band playing. The most effective use of this impressive method of building a song in front of our eyes from the foundations up was "State of the Union", a torrential act of dissent which rose to a thrilling cacophony of layered voices and instruments.
At other times, such as on "Go to Hell", the same methods were slightly less successful. Ford is essentially an old-fashioned balladeer trying gamely not to paint himself into a corner, but I'm not sure he needed to worry so much about playing to his strengths. Last night's enduring highlights arrived when he sung his songs out straight and simple, as on the lovelorn "What Would You Have me Do?" and a stark piano version of "Young Hearts Run Free", on which Ford scrubbed off the sheen from the glitterball to lay bare the real ache of the words and melody.

He ended with a wry summary of his industry experience, deftly placing The Allegory of the Nine Quid Toaster against The Curse of Being the Next Big Thing. His shrugged (but in no sense embittered) conclusion - "Essentially we all lost, and I'm pretty happy about that" – led to a closing rendition of the endlessly affirming "Song for the Road", as beautiful a tune as has ever name-checked Sheffield. Then it was back to the stall to sell some more books and CDs and chat with some more fans. One day soon, almost all gigs will be like this. No bad thing.
Watch David Ford perform "Song for the Road"
Ford's multimedia extravaganza was less Zooropa and more geography GCSE
Explore topics
Share this article