Diana Jones, The Lexington review - at the crossroads of folk and country |

reviews, news & interviews
Diana Jones, The Lexington review - at the crossroads of folk and country
Diana Jones, The Lexington review - at the crossroads of folk and country
From Tennessee via New York, the singer-songwriter with a voice to break your heart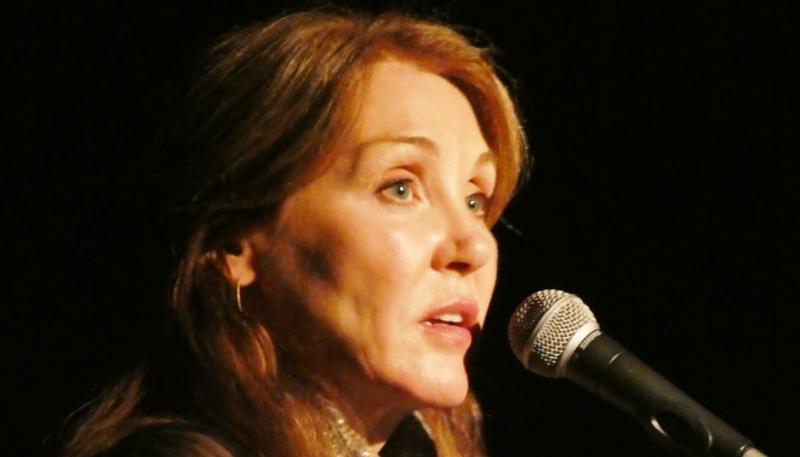 Diana Jones: the Emily Dickinson of song
The delicious flame-grilled burgers and the vast array of bourbons on offer at the Lexington, hard by yet another "King's Cross Quarter", added atmosphere to the opening night of Diana Jones's European tour. Finger licking is (quite rightly) not allowed during the music so those arriving early for a bite might have spotted Jones herself, refuelling with friends between sound-check and curtain-up.
Not that the singer-songwriter called variously "the Emily Dickinson of song" and "the female Johnny Cash" needs props of any kind. In venues far larger than the Lexington, Jones creates the kind of intimacy that transports you to some Appalachian log cabin any time in the last hundred years or so. She is a wonderful writer whose songs cut deep and whose voice is a distinctive contralto. The timbre is beguiling and hard to describe, but imagine if Kathleen Ferrier – rather than recording "Blow the Wind Southerly" – had looked across the Atlantic to the places where country meets folk. She's no slouch on the guitar either.
Alone on a super-dark stage for 90 minutes, playing mostly her Furch six-string and occasionally a borrowed four-string tenor guitar, she dipped deep into her song bag, opening with "Drunkard's Daughter" from 2013's Museum of Appalachia Recordings, laid down in a log cabin with only the addition of fiddle and banjo and probably a log fire. It was inspired by her grandfather, whose love of old-time music (he played with Chet Atkins) inspired Jones, who was adopted and brought up in Long Island. Drawn to folk and country music during her high school years, she discovered her Tennessee birth family, only after she'd graduated from college. (She is distantly related to Dolly Parton.) The discovery made sense, for she'd long felt that country music was in her DNA.
Jones has an easy stage presence, chatting between songs about family, friends, politics and her life in New York's East Village, including the undiscovered gas leak in her apartment which made her ill and had doctors puzzled and which of course kept her off the road. "They told me I had maybe two years to live, which was sad because I wanted to get a dog." Happily, she is now well and the proud owner of a labradoodle, "but if I'm a little rusty it's because I've been at home".
"Cracked and Broken", inspired by William Blake, "If I Had a Gun", "Appalachia", "Funeral Song", written at the command of her dying grandmother and sung at the funeral of both Jones's grandparents, and "Better Times Will Come" were among the many highlights. The latter, the title track from the 2009 album which marked her emergence as a mature" artist (she began singing and recording in the mid-1990s, becoming an overnight success a decade later) was written during the era of "Bush Two", Jones reminded the audience, adding that as a dyed-in-the-wool Democrat she'd happily vote for him today.
Her encores included the exquisitely heart-breaking "Henry Russell's Last Words". Russell, a Scotsman who had gone to America in search of a better life, was one of around 100 miners who died in the 1927 Everettville mine disaster and his letter, addressed to his beloved wife Mary, was found in the lunchbox next to his body. He had scratched the words in coal on paper torn from cement bags, alternate lines reading (as in all his letters) "Oh, how I love you, Mary". The song was recorded by Joan Baez on her 2008 album Day After Tomorrow, which helped bring Jones to a wider audience. Listen and weep to this great human story which poignantly captures a moment in history.
Ned Jones, who opened the evening stood in fine counterpoint to Jones. He is a very English songwriter, even if he does record in LA, and he offered a set which included songs from his most recent album, Outside My Mind, among them "Wrong Side of You" and "Drifting Down", and a preview of his next.
The evening was an away-date, presented by Green Note, the award-winning music venue in Camden where Jones played her first UK date way back when and to whose Aveline record label Roberts is signed. Hats off (and a Jack Daniels toast) to the acumen of its young founders, women in a still male-dominated world. They sure are good talent-spotters.
Listen and weep to this great human story which poignantly captures a moment in history
rating
Share this article