Eurythmics Songbook Featuring Dave Stewart, London Palladium review - Annie Lennox would be proud |

reviews, news & interviews
Eurythmics Songbook Featuring Dave Stewart, London Palladium review - Annie Lennox would be proud
Eurythmics Songbook Featuring Dave Stewart, London Palladium review - Annie Lennox would be proud
Forty years on, father and daughter let it rock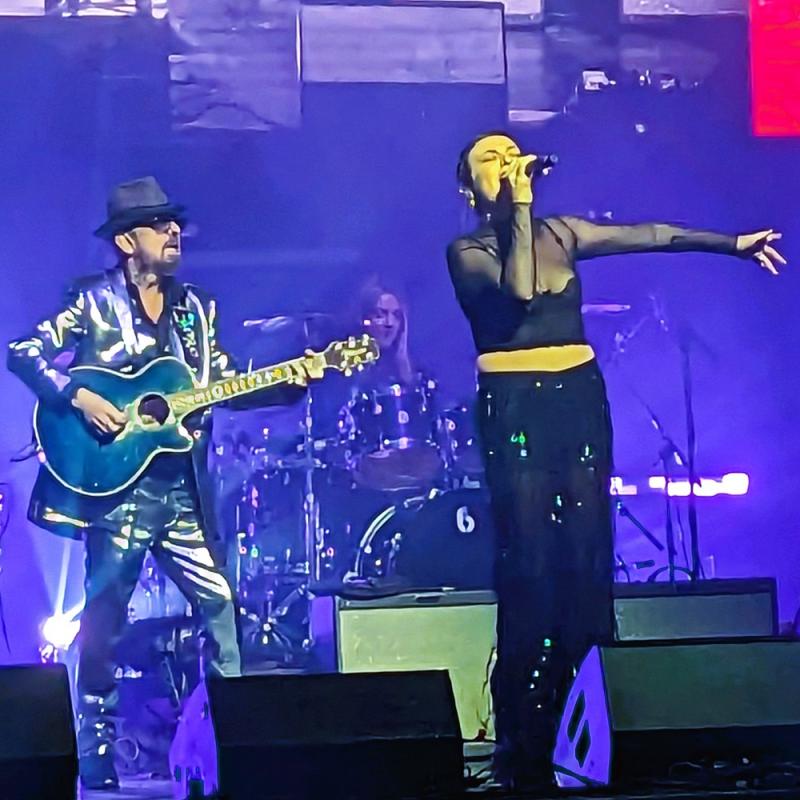 Sweet dreams really do come true
Well, wow. Just wow. At a time when there are fewer and fewer people I'm desperate to see live and so many of them are then disappointing, the celebration by Dave Stewart and friends of the Eurythmics catalogue, 40 years – 40 years! – after "Sweet Dreams Are Made of This" was thrilling. An exhilarating two hours of high-level musicianship brilliantly produced.
Only the presence onstage of Annie Lennox – with whom Stewart was last year inducted into the Rock'n'Roll Hall of Fame – would have improved it. Lennox, who no longer goes on the road, gave her blessing to the tour, which began life BC as a one-off concert at the Royal Festival Hall which drew superlatives. "I love playing live shows and am so excited to be onstage with this amazing lineup of musicians and singers most of whom I have performed with on many occasions," Stewart explained as he announced the tour. "My great friend Vanessa Amorosi, an Australian legend known for her powerful vocal prowess, RAHH a brilliant artist/singer from Warrington with whom I've recorded and performed with for nearly ten years, and my daughter (Annie's goddaughter) Kaya Stewart who was singing 'There Must Be an Angel' on Annie's knee since she was five years old, and since 14 years old has performed hundreds of solo shows wowing crowds with her very soulful and emotional voice. Choosing a band that are all outstanding female musicians led by the brilliant keyboardist Hannah Koppenburg is my way of paying homage to my great friend and collaborator Annie Lennox."
Lennox surely must be proud, for they were indeed outstanding. The rest of the line-up comprised Yasmin Ogilvie (pictured below) on sax soprano was breathtaking, Indiara Sfair on harmonica and backing vocals, Julia Lamb on electric and acoustic bass guitars and backing vocals, and Ellie East on drums. Stewart was the sole male on stage, and he cut a dash in a pewter-coloured leather three-piece. The trademark titfer never came off, and it stayed in place even as he changed guitars, their straps emblazoned with SWEET DREAMS. The band all sparkled, Koppenburg in silver sequins, the others in black. Stylish. So too the cinematic visuals and lighting. A seriously well-produced show that skimped on nothing.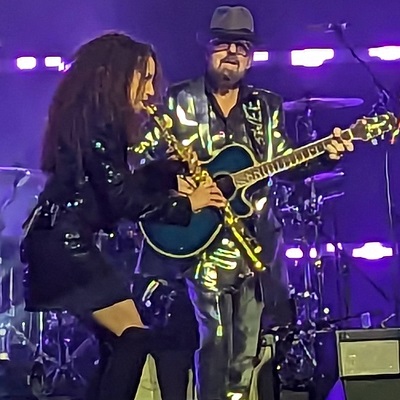 It would be impossible to pick a favourite among the singers, but Kaya – now 23, her dark hair in a short crop – was indeed impressive. Many a musician has given their offspring a leg-up, a readymade stage, and often it's not really deserved. But Stewart's daughter would surely have been able to launch her own career – close your eyes on "There Must Be an Angel" (brilliant harmonica from Sfair) and you could be back in the 1980s. Amorosi (a baby when "Sweet Dreams" hit), and RAHH, real name Holly Quin-Ankrah (born the year Savage was released) and who was mentored by Stewart, rocked out. Each of them was allowed to shine. Stewart was metaphorically centre-stage, but he never hogged the spotlight.
For two hours, the hits just kept on coming – surely no one went home disappointed. "The City Never Sleeps", "Love is a Stranger", "I Love You Like a Ball and Chain", "Who's That Girl", "When Tomorrow Comes", "Here Comes the Rain Again", "Missionary Man"… And then the final number, Beverly Knight joining the line-up for "Sisters Are Doin' It for Themselves", the 1985 song inspired by the Suffragette movement on which Lennox and Stewart hoped Tina Turner would sing. She wasn't available, so they put in a call to Aretha Franklin, recording the song in Detroit. Sadly, neither of them is now available but Knight, Stewart and friends raised the roof. What a finale!
Altogether, a truly memorable concert. My only criticism is not about the music but about the audience who, as usual, seemed to have no sense that they were in a theatre, everyone having paid a lot of money to hear live music. Up and down, back and forth to the bar – several forgetting where they were seated and wandering around in the aisle looking to spot their friends. It may be only rock'n'roll, but it always seems to be disrespectful to the audience, as well as to the musicians. Presumably the profits outweigh the cost of cleaning the sticky carpet afterwards.
It was a seriously well-produced show that skimped on nothing
rating
Share this article