The Good, the Bad & the Queen, Great Hall, Cardiff review - a jolly big knees-up
The Good, the Bad & the Queen, Great Hall, Cardiff review - a jolly big knees-up
The return of Britain's most understated supergroup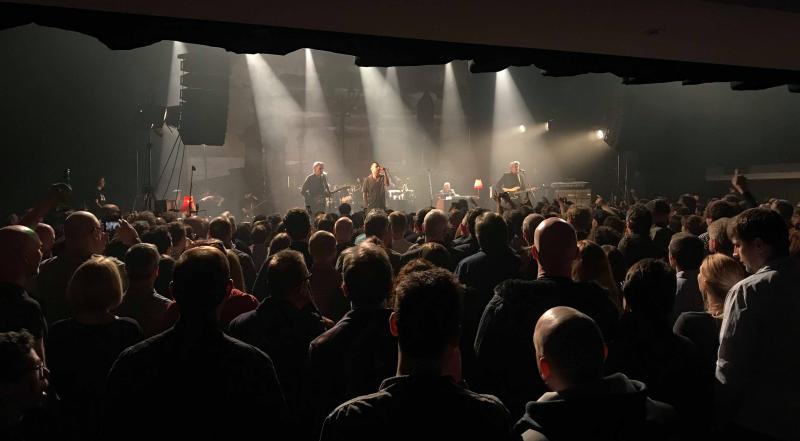 Damon Albarn singing odes to a Britain that never quite was
"Our attendees are a select group, but we have a connection," remarked Damon Albarn at the end of The Good, the Bad & the Queen's set. He's not wrong – much of the band had outgrown Cardiff's Great Hall 25 years ago, but it proved the perfect venue for this musical love-in.
It was a show of two halves, quite literally. The first dedicated to the band's recent album Merrie Land, and the second to their eponymous debut (which unbelievably is 12 years old). It's clear why: both are concept albums with their own sound and themes. This time we've moved out to the seaside, emphasised by the support, organist Trevor Raven, and the grimly painted pier serving as backdrop. It's all a bit haunting, especially with the marionette doll perched on the bass drum.
Merrie Land feels like the music that Brexit Britain has earned, all sarcastic nostalgia and twisted folk. As Albarn strutted across the stage, he conjured visions of a town crier, singing odes to a Britain that never quite was. Darting in and out of the light, he cackled and crowed and led singalongs. Not that Cardiff needed any encouragement; the recent single "Gun to the Head" might not be Albarn's most famous work, but here it was sung back like a karaoke classic.
You wouldn't think it listening to the record, but live it is music to dance to. How could it not be with that rhythm section? Don't be fooled by the folky flutes on "Drifters & Trawlers", Paul Simonon's basslines still punch you in the heart as he forms infectious dub grooves with the legendary Tony Allen.
The show could have ended after 45 minutes and no one would have complained. Instead, we were treated to a complete revisiting of their first record, now with an added gorgeous string section. The songs sounded strangely optimistic; music from a different time, perhaps. "Northern Whale" and "Green Fields" brought further singalongs, before ending in pandemonium on the titular closer "The Good, the Bad and the Queen".
It's clearly a passion project for the band - you could tell by the look on Albarn's face. A huge grin was plastered on throughout. At one point, he was even convinced to jump into the crowd for a hug. Like he said, it might not be their most commercial venture, but it looks like the most enjoyable, and in those singalongs, we're all part of the supergroup.
It might not be their most commercial venture, but it looks like the most enjoyable
rating
Explore topics
Share this article