Guns N' Roses, O2 Arena |

reviews, news & interviews
Guns N' Roses, O2 Arena
Guns N' Roses, O2 Arena
Epic, absurd, self-parodic, heroic... that's the wonder of Axl Rose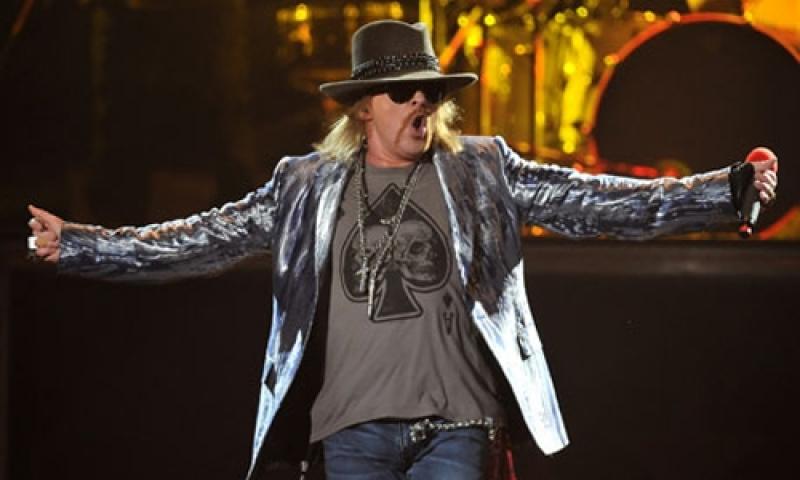 Guns N' Roses frontman Axl Rose in one of his many hats: Mad, bad, dangerous and always late for everything
"The Legend of Axl Rose" sounds like the title for a long and fanciful western movie, about a bandit who defies the law and even time itself. In person, wayward vocalist Rose does indeed resemble some kind of picaresque outlaw who rules his own eccentric kingdom, and he lent much-needed gaiety to this sprawling performance by constantly ringing the changes on a huge wardrobe of hats, jackets and multi-coloured T-shirts.
He's doing his best to defy time too, quite successfully in the case of 2008's Chinese Democracy album, which took 17 years to reach fruition. But lax time-keeping has been causing problems recently, with Axl and band having their performance forcibly terminated at the Reading festival after they ran over the curfew, then incurring the wrath of Dubliners by doing it again the following week. For this pair of O2 shows, they'd decided that 9.40pm was about the right start time, prompting the venue to screen electronic banners explaining how you might be able to get home when the show inevitably breached the midnight hour.
The original Guns N' Roses was a group of squabbling individuals in a perpetual state of combustion, and their chaotic instability was a huge ingredient in their rise to worldwide notoriety. It couldn't, and didn't, last. Although there was a collector's-item appearance last night by the band's former bassist Duff McKagan in "You Could Be Mine" and "Knockin' on Heaven's Door" - the first time he has shared a stage with Rose in 17 years - the new-look Guns is essentially a bunch of hired hands paid to do their leader's bidding.
And what he bids them to do is perform a curious mishmash of material, which sometimes feels like some sort of homage to Rose's musical heroes, and at other times lurches into self-parody. Guitarist Richard Fortus (one of three) gets his own mini-showcase with a farcically overblown version of the "James Bond Theme", all feedback and powerchords as if it's a satirical echo of Jimi Hendrix playing "The Star-Spangled Banner". It was followed by Paul McCartney's "Live and Let Die", an old Guns favourite crudely tarted up here with great spurts of flame and deafening pyrotechnic explosions banging home the song's climaxes. Later, guitarist Ron "Bumblefoot" Thal had a go at Henry Mancini's "Pink Panther Theme", converting its original lean slinkiness into a two-handed barrage of fretboard squitter. After the band had essayed a version of Pink Floyd's "Another Brick in the Wall", Rose sat at the piano and played his own instrumental tribute to Elton John, like a heavy metal Liberace (Duff McKagan makes a guest appearance, pictured below).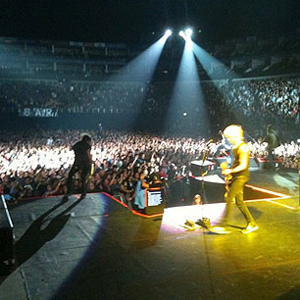 But there's a kind of grandeur in Rose's epic perversity, echoed in the spectacular stage set with its platforms, turrets, video screens and hanging speaker columns, and the band are capable of delivering decent-sized portions of awesomeness. Not even the ridiculous posturing of top-hatted guitarist DJ Ashba, striking poses on top of the monitor speakers, could impair the emotional charge of "Sweet Child O' Mine", while Rose's sinister baritone rasp lent menace to "Welcome to the Jungle". The turbo-ballad "November Rain" provided a framework for the overwrought emotionalism which Rose channels in his best songs, while "Rocket Queen", from their debut album, suddenly sounded like a lost masterpiece.
But it wasn't just the familiar oldies which got the juices flowing. Several of the Chinese Democracy songs can stand toe to toe with the band's best, with "Street of Dreams" and "Shackler's Revenge" blending muscle with melodicism, and "Sorry" floating mournfully over drifting minor chords. But can Axl ever learn to curb his appetite for self-destruction?
Guns N' Roses are at Birmingham NEC on Sunday 17 October and Manchester Arena on Monday 18 October

Find Guns N' Roses on Amazon
Watch Guns N' Roses play "Chinese Democracy":
There's a kind of grandeur in Rose's epic perversity, and the band are capable of delivering decent-sized portions of awesomeness
Explore topics
Share this article