Herbie Hancock Plugged In, Royal Festival Hall |

reviews, news & interviews
Herbie Hancock Plugged In, Royal Festival Hall
Herbie Hancock Plugged In, Royal Festival Hall
At 72, is the perpetual innovator now a heritage act?
Tuesday, 13 November 2012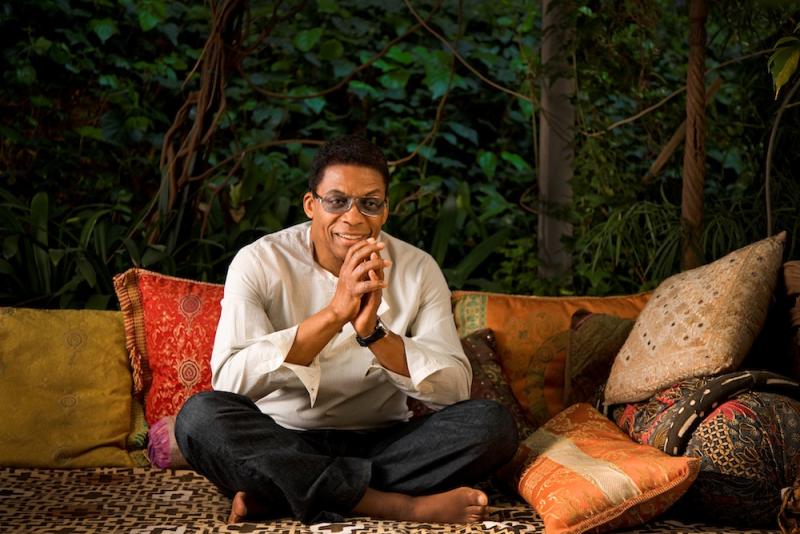 Herbie Hancock: contemplative and irreverent
At the beginning of last night's show, Herbie Hancock looked like he was going to perform with the dignity and serenity befitting a 72-year-old with some 50 years playing experience. The improvisation that launched from a base of Wayne Shorter's "Footprints" was elegant, charming, tasteful and often very beautiful.
The synthetic instrumental loops that he triggered via a couple of iPads mounted on his grand piano as backing were unobtrusive to begin with and had a delightfully loose groove.
Hancock's playing over some 15 minutes of that piece ran through a meandering narrative that took in strong nods towards Chopin, Schubert, Scott Joplin and Nina Simone, as well as vigorous bebop runs and some stunning moments of stillness where time seemed to evaporate, chords hung in the air, and he seemed to be listening more than playing (perhaps in keeping with his Humanist Buddhist meditation practice?). It built to a climax with the backing track ratcheting up to the full melodrama of 19th-century romanticism via Hollywood, then faded to calm. "I made a lot of that up," smiled Hancock, "so if it sounds bad that's because of my taste."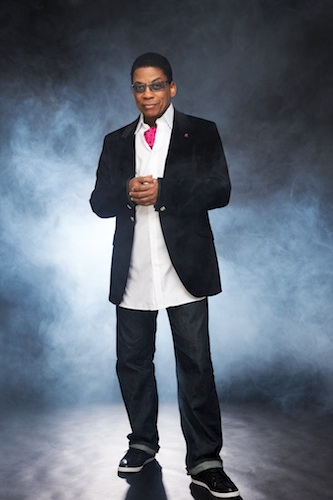 With that self-effacement, he punctured the elder statesman seriousness and began to joke about the technology he had arrayed on stage, strapping on a head-mic for the vocoder he was going to use for "Maiden Voyage". "Well," he said, in his hokiest, jiviest voice "it'll start as a Maiden Voyage, then it's just gonna be a voyage." And it was. Starting with a surging stream of piano notes, he quickly shifted to synthesiser, set a toothsome tick-tocking electronic pulse going and launched into the most blissful celestial kitsch imaginable – synthetic chords and the robot angel voices of that vocoder swirling around one another like a Star Trek vision of the afterlife – before going darker and stranger still, finding the sweet spot between Debussy and the Detroit techno of later artists like Carl Craig.
The sublime and ridiculous continued to be blended ever more closely as Hancock set up a series of jazz-funk loops on various synthetic for his next improvisation, then proceeded to accidentally hit the "off" switch on one of the devices, derailing the groove completely. He dealt with this with extremely good grace and humour, set it going again, then launched into a preposterous Keytar (pictured below left) solo. Sadly the momentum seemed lost for a while after the glitch, but then he redeemed the section by sitting down and stripping down the Keytar playing to some gloriously clipped funk riffs with his right hand, while with his left cutting up the rhythm track in a way that would make many DJs flush with envy.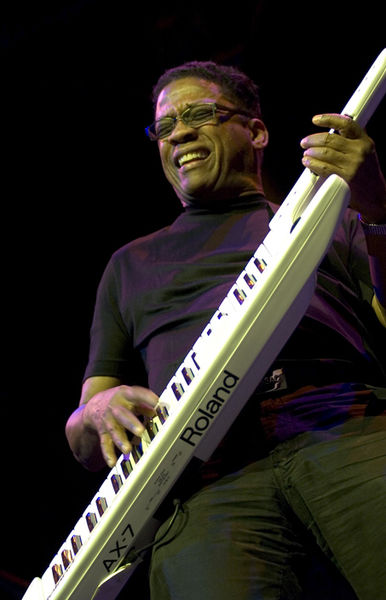 Another lyrical piano piece, a quite spectacularly funky "Cantaloupe Island", then an encore of his electro hit "Rockit" segued into the Headhunters' lolloping funk jam "Chameleon". This last section had Hancock parading around, pulling faces, playing fat and squelchy synth tones, grooving like a mother and cutting up DJ scratching samples on the Keytar like a hugely precocious kid in his bedroom just discovering how to manipulate recorded sound. It was silly, sometimes even ever so slightly sloppy, and entirely joyous.
As we left, a weary jazz bore was heard grimacing "Karaoke Hancock" in reference to the use of backing tracks – spectacularly missing the point. What we witnessed was a great musician still experimenting, not always with 100 percent success, but with a determination to have fun with his repertoire instead of killing it with reverence – and the warm and loud standing ovation at the end was not out of respect for a "heritage artist", but out of shared delight at a show that was brilliantly alive and revivifying.
It goes darker and stranger still, finding the sweet spot between Debussy and Detroit techno
rating
Share this article