Jim Jones Allstars, Hare & Hounds, Birmingham review - veteran garage punkers turn up the soul |

reviews, news & interviews
Jim Jones Allstars, Hare & Hounds, Birmingham review - veteran garage punkers turn up the soul
Jim Jones Allstars, Hare & Hounds, Birmingham review - veteran garage punkers turn up the soul
Jim Jones gets his voodoo working in no uncertain terms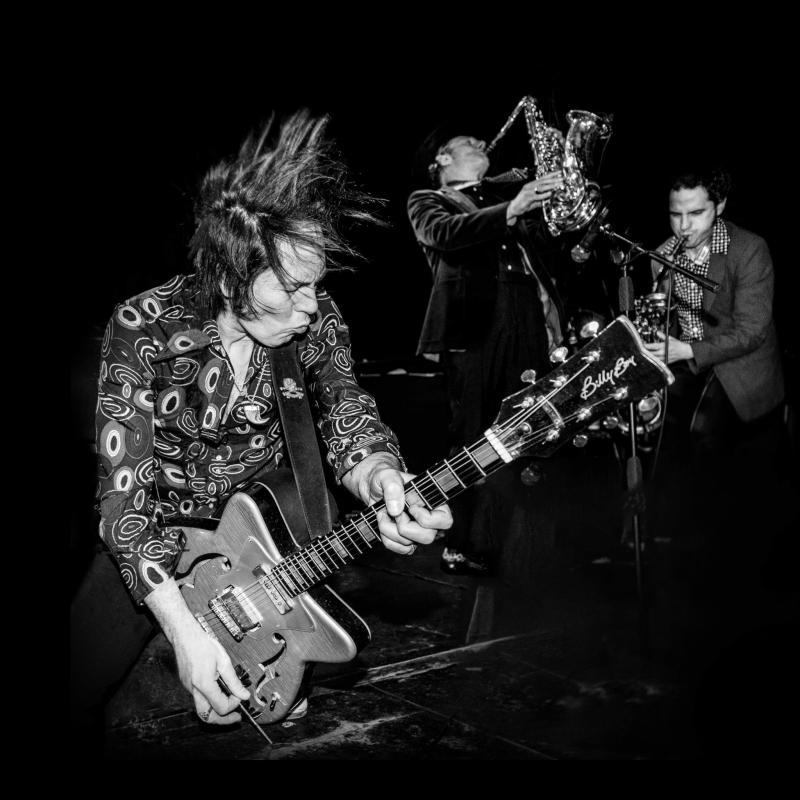 Jim Jones Allstars - with added soul
Jim Jones has been around the block a few times, plying his garage/punk/rock'n'roll schtick – most notably with his last couple of outfits, the Jim Jones Revue and Jim Jones and the Righteous Mind. Back in the ring with his new crew, the Jim Jones Allstars, however, he's subtly changed the template to bring some serious old school rhythm and blues to the party as well.
As part of this change, Jones has recruited some brass into the band, with a couple of saxophones to add a bit of vim. His eight-strong crew still look as if Nick Cave's Bad Seeds had crawled out of South London though. Trilbies, sharp suits and dapper shirts were the order of the day when they hit the stage at the Hare and Hounds. Although a red beret-wearing, female backing singer and tambourine player has also come aboard to dilute the testosterone a bit and add some soul. And on the day that Tina Turner shuffled off this mortal coil (getting new tune "I Want You" dedicated to her – "She set the bar fucking high"), she was a welcome addition that could have been given more of the spotlight.
The Allstars mounted the blue-lit, foggy stage to the sound of Elmer Bernstein's theme from The Man with the Golden Arm in front of a crowd predominantly made up of Radio 6 Dads, who outnumbered any women present by about 10 to one. Not ones to be put off, however, the Allstars burst into "Cement Mixer" with its grimy guitars and sweaty beat, but with added groovy organ and a blast of brass, topped with Jones howling "I wanna know how much you're gonna show" as if his life depended on it. The Dads couldn't be tempted to shake a tail feather, but they did plenty of applause as the music faded away.
At the end of the show, the merch table was also positively besieged. So, they clearly enjoyed themselves – even if they weren't driven to letting loose to the maraca-driven r'n'b workout of new single, "Gimme the Grease".
From there, the Jim Jones revue's "Burning your House Down" was transformed into a strutting screamer and Bukka White's "Parchman Farm Blues" was livened up with some clapping percussion and Jones wailing "Sitting here for the rest of my life / All I did was fuck your wife". The Velvet Underground's "Run Run Run" became a boogie with a blistering sax solo, while "Satan's Got his Heart Set on You" was given more than a dash of Tom Wait's thumping percussion and howling vocals. Even the Beatles' "Everybody's Got Something to Hide Except Me and my Monkey" was given a New York Dolls' style make-over.
As there's no exit from the stage at the Hare and Hounds, except by wading through the crowd, the traditional saunter off stage before coming back for an encore was dumped in favour of "That's the end of our set, but there's nowhere to go. Do you want one more?" Too right we did and were given a seeing off with some rocket-fuelled rock'n'roll with a serious Gospel sheen, called "Stuck in the Middle" (maybe). It was a fine end to yet another wild show with Jones as ringmaster.
Jones has recruited some brass into the band, with a couple of saxophones to add a bit of vim
rating
Share this article