The Jim Jones Revue, The Komedia, Brighton |

reviews, news & interviews
The Jim Jones Revue, The Komedia, Brighton
The Jim Jones Revue, The Komedia, Brighton
Raw and red-blooded rock'n'rollers tear it up on the South Coast
Thursday, 07 October 2010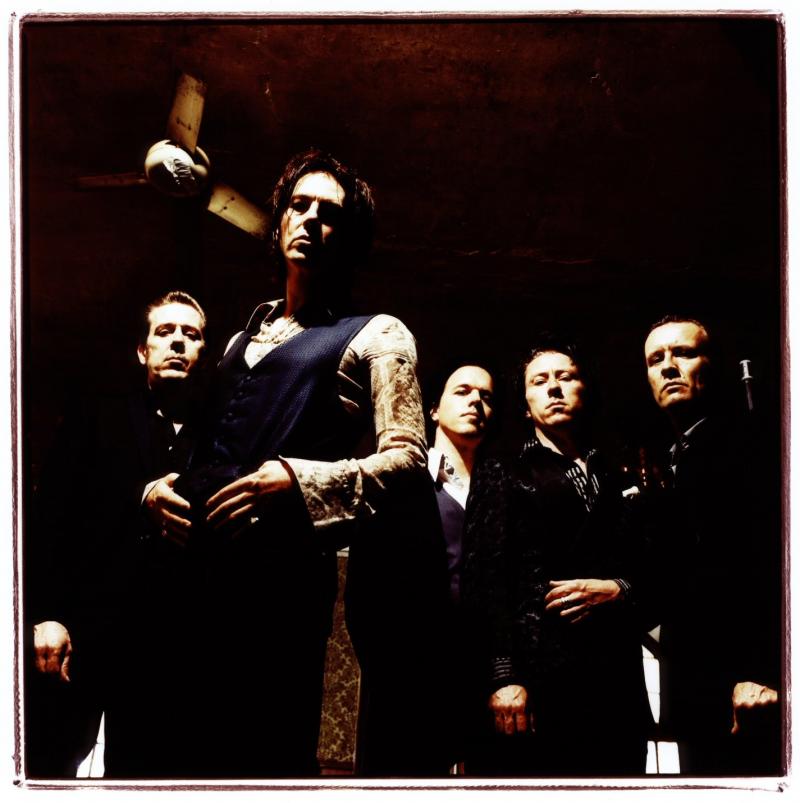 Shadowy but blisteringly gutsy rock'n'roll band The Jim Jones Revue
The great music writer Nick Tosches put me onto James Luther Dickinson. In Where Dead Voices Gather, his self-indulgent but fascinating book about the obscure early-20th-century minstrel performer Emmett Miller, Tosches kept touching on Dickinson, a Memphis musician and occasional Rolling Stones sidesman (he played piano on "Wild Horses").
Tosches wrote that Dickinson's 1972 album
Dixie Fried
was "a dark gale-force reworking of old Southern music, a baptism of loud and dangerous rhythms, that stands as one of the great testaments not only of rock'n'roll but also of its ancient unfathomable roots". Who could resist? I immediately located a copy.
This isn't the place to wax lyrical about Dixie Fried. Suffice to say that Tosches was right and it became one of my favourite albums. It opens with a version of "Wine Wine Wine", originally a 1959 single by early Texas rock'n'blues outfit The Night Caps, but Dickinson turns the song into a blaring assault of visceral punk-ish power. I never heard anything like it... until last year when The Jim Jones Revue crossed my radar. On their recent singles collection, Here to Save Your Soul, almost every song had a similar spirit of rock'n'roll combustion, as if Little Richard were having it out with the MC5 at the end of the world.
It suits The Jim Jones Revue that they are not in the first flush of youth. They come instead from the Nick Cave school of slicked hair, sharp dark retro suits and waistcoats (indeed, Grinderman drummer and all round dirty rock'n'roll perennial Jim Sclavunos produced their latest album Burning Your House Down). The Komedia in Brighton is packed with an audience of a similar age, the overall look being weathered, lived-in, no American leisurewear but lots of burlesque-friendly ladies and gents with quiffs. To roars of approval the five-piece lay down the gauntlet by opening with the Little Richard number "Hey Hey Hey Hey", hammering it home with amphetamine gusto. Frontman Jim Jones once did the same job for late-Eighties Stooges-alikes Thee Hypnotics, but where they were a passable outfit, he now seems to be utterly in his element, his rough voice even reaching a gargling nails screech when he fancies it.
This suits the music just fine but what really sets it off is the piano-battering of keyboard player Elliot Mortimer. Numbers such as "Rock'n'Roll Psychosis" and "Killin' Spree" fairly boil with his Jerry Lee Lewis energy. The songs are simple but potent, no retro schtick trip but an urgent visit to the primal dawn of popular music. As the set wears on jackets come off, Jones strips down to his leopard-print waistcoat, and the band's forelocks start to flop out of carefully cultivated pompadours. Rock'n'roll is a young man's game but The Jim Jones Revue couldn't give a damn, they're going to go down fighting, defiant.
By the time they reach their barn-storming closer, "The Princess and the Frog", they have dipped deep into Tosches' thoughts on James Luther Dickinson, yet they also bring something of London's own bawdy heritage to the table. They take raw American music and lay on a quintessentially English sense of punk raucousness. By the time they leave the stage, they are lathered with perspiration and they're not the only ones. Their recorded music is often cracking but the live arena is where The Jim Jones Revue belong and tonight, once again, they left a gleeful, enthused audience sated.
Watch The Jim Jones Revue performing "The Princess and the Frog" below: