Love Supreme Festival, Sunday review - eclectic jazz on the Sussex Downs |

reviews, news & interviews
Love Supreme Festival, Sunday review - eclectic jazz on the Sussex Downs
Love Supreme Festival, Sunday review - eclectic jazz on the Sussex Downs
From Sister Sledge to Gregory Porter, a heady mixture of jazz forms in a glorious setting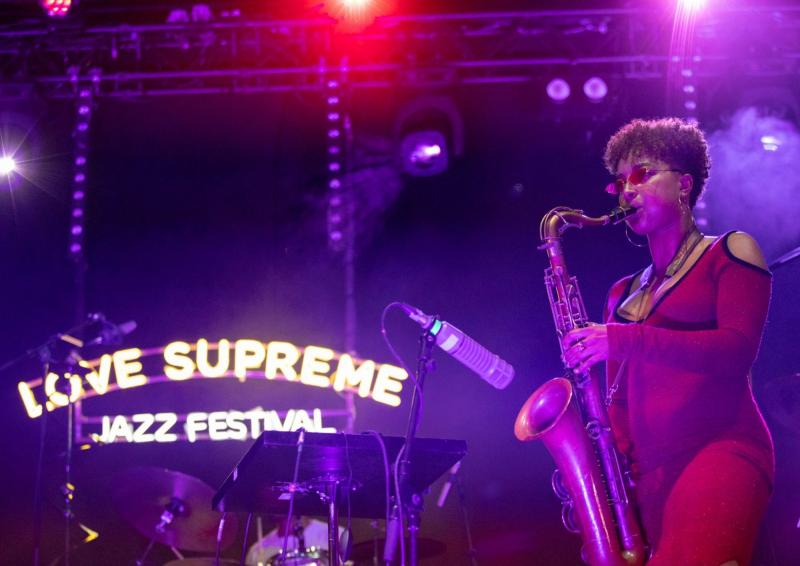 Nubya Garcia at Love Supreme
By day three of any festival things are usually winding down. But there was a sense that Love Supreme have saved the best for last this year with a strong offering of funk and soul, R&B and experimental jazz.
Crowds of Londoners hitching a tractor ride to Glynde rubbed shoulders with campers and glampers – there's a definite demographic here of people whose kids have flown the nest and they're living life to the fullest.
Georgia Cecile (pictured left) in peach satin with fur cuffs kicked off the party on the South Downs stage with a touch of old school jazz glamour and a nod to the Great American Songbook. Her deep soulful voice is at odds with her petite Glaswegian self, and her music – inspired by Duke Ellington, Nina Simone, Frank Sinatra – is infinitely recognisable with a freshness to the nostalgia. With a frontman on trumpet and some velvety piano, songs from her debut album such as "Come Summertime" and a track written during lockdown, "Be Near Me Always", are smooth and more-ish.
Nala Sinephro's set on the Supreme Standards stage set a wildly different tone. Here is progressive, transcendental, ambient nu-jazz that begins with ineffable harping and brings in complex rhythmical undertones that slow build into rich textures of sound. The electro acoustic blur, somehow peaceful yet with an underlying sense of apprehension, took the audience on a journey far away from the rolling landscape of Sussex.
Many of these artists were originally scheduled for 2020 and are clearly delighted to be back on the circuit in real life, but it was Sister Sledge (pictured right) who brought incomparable joy to the crowds for the afternoon's main stage gig. Storming through "He's the Greatest Dancer", "We All Have Good Times" and covers of "Freak Out" and "Think", they also introduced their new single, "Free". Making the set a truly family affair, Debbie, Kim and Kathy were joined on stage by Debbie's son and daughter, David and Camille Sledge, and the late Joni's son, Thaddeus Sledge, for a rousing rendition of "Shout" and "Shake Your Body (Down to the Ground)". The crowd was bouncing, with beach balls tossed around the mosh pit and seagulls swooping: the audience was ecstatic, proving that the South Downs really are a magical place to be "Lost in Music".
TLC kept the crowds grooving with a 90s throw back, as T-Boz and Chilli delivered great renditions of "Baby, Baby, Baby", "Waterfalls" and "Creep," although sadly without the late Lisa "Left Eye" Lopez. None of us quite believe it when we're told it's been 30 years since the release of "No Scrubs" – a unifying moments for the audience and the band. They were accompanied by a very encouraging DJ who succeeded in wildly hyping up the crowd, and some neon-clad dancers who gave it all the hip hop moves. Although successfully harking back to the days of cycle shorts, six-packs and cargo pants, a nod to social media in the intro to "Unpretty" showed that the sentiment of the song is as relevant as ever.
Sons of Kemet shook up the South Downs tent with their triple drum set-up and double saxophones, as Nubya Garcia is guesting alongside Shabaka Hutchings – her serenity a perfect partner to his vigour. It feels particularly memorable to be here knowing that it'll be one of their last gigs together as a band, given the announcement last month that they will be closing this chapter on Sons of Kemet. The effervescent energy of their melodies, honks and blasts is a wild and celebratory reminder to check your privilege and move in the direction of collaboration. The lyricism and intricacy of the band's sound is undefinable, tripping between free jazz and afrobeat with an uplifting and intelligent energy.
Other highlights from the day included Mama's Gun, Olivia Dean and Maya Delilah, but it was Gregory Porter (pictured above) playing out the crowds with some old school soul as the sun set over the lush rolling Sussex Downs that made the perfect ending to Love Supreme.