Manic Street Preachers, Brixton Academy |

reviews, news & interviews
Manic Street Preachers, Brixton Academy
Manic Street Preachers, Brixton Academy
Earnest Welsh rockers reveal the secrets to their longevity
Saturday, 22 January 2011
The Manics: Planning the good times
The annals of rock'n'roll are littered with complacency, fading stars, and acts who've had it and then lost it, forever. So, after 20 years, what makes the Manics different? How come they're still turning out hit albums? Possibly it's their hand-on-heart, Welsh-valley principles. Maybe it's the way they find libraries as interesting a subject as love. Or perhaps it's the way that they keep recovering from the brink of near self-destruction.
Listening to them last night, though, something else became clear.
In their souls they still appear to be 19. It showed in their choice of first song, "Slash'n'Burn", and their "garage band" presence on stage. After all these year there still seems little about the Manics' formula of heavy-glam-punk rock that should work. On paper, the boys from Blackwood should be too political and too dated to attract the range of age, background and, to a degree, gender that filled Brixton for last night's concert. But the devotion fans feel is in direct proportion to how much the band mean what they sing. And last night, James Dean Bradfield, looking like a strange electric minstrel, and Nicky Wire, like a gangly peacock in a faux-fur coat, meant it all. They and the capacity 5000 crowd were in it together.
At least by the time "Motorcycle Emptiness" came around. "Slash'n'Burn" and "Your Love Alone is Not Enough" were marred by a muddy sound that got lost halfway up the balcony. There was something thrown-together about this rescheduled after-tour concert - in the minimal stage setting and seemingly improvised set list - that in one way made it seem intimate, almost private, but also meant the acoustic quality was variable. And that was especially disappointing as the band was so tight, and recklessly exciting.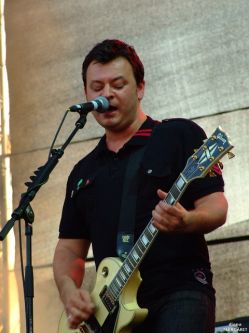 Bradfield's guitar soared and sang whilst he pirouetted around half the stage on one leg. Wire paced about looking flamboyant and Moore's arms were a whirr of power-drumming. Stripped of the lavish strings and rich harmonies that adorn some of their records, the Manics live gravitate to being loud, fast and exhilarating. That was especially true in older songs like "Motown Junk" and "You Love Us". There were more nuanced moments in new songs like "Postcards From a Young Man" and "A Billion Balconies Facing the Sun". But the real highlights came from the mid-period Manics, where typically complex subjects were set to anthemic melodies.
Hearing examples from each epoch of their entire back catalogue it became clear that the Manics' formula has never really changed: Richey and then Nicky writing difficult lyrics about social and personal isolation made accessible by Bradfield's melodic rock.
From the ode to alienation "Motorcycle Emptiness" on, a feeling of solidarity and brotherhood seemed to grip the room
For example "This is Yesterday". It was sung solo and acoustic by James Dean Bradfield (pictured above). Later when his falsetto soared on the acoustic "You Stole the Sun From My Heart" it felt like it was reaching for the stars. The audience thought so, filling in the gaps then erupting with applause. From the ode to alienation "Motorcycle Emptiness" on, a feeling of solidarity and brotherhood seemed to grip the room, from the moshing in the stalls to those in the balcony who couldn't stop themselves standing and punching the air.
There weren't any encores. Once "A Design for Life" was played, the band's work was done, and they'd succeeded in doing what all great rock bands aspire to: to make an entire audience feel that whatever brickbats life throws at them, as long as they keep rocking everything's going to be OK.
Watch the video of "Your Love Alone is Not Enough"