Mari Kvien Brunvoll, Kings Place |

reviews, news & interviews
Mari Kvien Brunvoll, Kings Place
Mari Kvien Brunvoll, Kings Place
Norwegian improvising vocalist travels through hit songs via the subconscious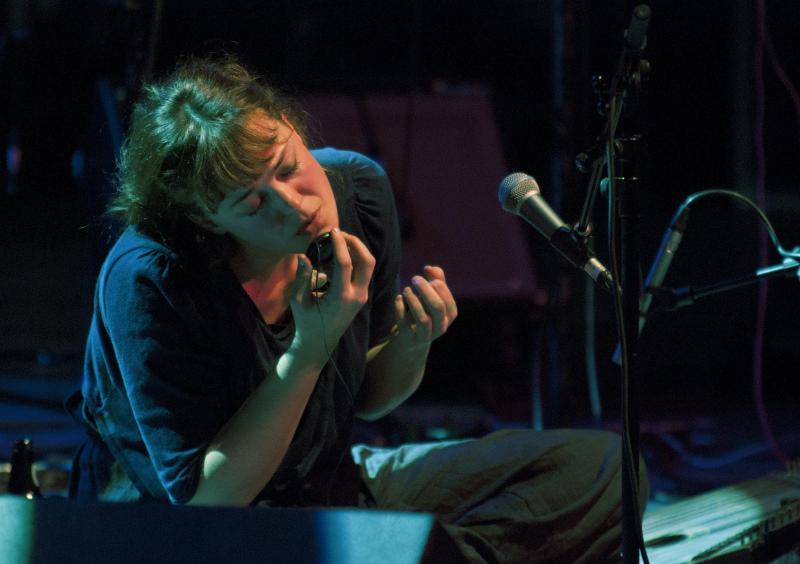 Mari Kvien Brunvoll: a natural meditative state of methodical calm
Mari Kvien Brunvoll - Norwegian improviser, singer and composer - enters the Kings Place stage more like a pianist's page-turner than the night's sole performer, and sits cross-legged at her pedals. Dressed in a neutral dark grey, she doesn't seek applause so instead we are left silently watching her adjust a microphone and untie a little red book. Her methodical calm creates a patient audience, intrigued enough to find her subtle actions compelling.
Without a word she begins singing a rhythmic melody, as if a phrase of Indian classical recitation had been uttered, and traveled from the Mumbai heat, over land and North Sea, cooled in the Norwegian air, and fallen. She loops the phrase, then doubles it up, and we wait on her next move.
Lyrics come from the red book to form a crystalline chorus of "you-uuuuu are what I need" which turns on its cycle as she retrieves a kazoo from the cloth pencil case beside her knee. A bluesy solo then layers up to become a cheerful outro of major chords, like a street party in the distance, until she adds one unexpected dissonance, and another, until we are in eerie transition.
Through gentle crossfading Brunvoll led us from somewhere familiar and quaint, out into the cool, smudgy subconscious. An intrepid listener might prefer to stay there a while, follow the animal tracks and see what nest we come to, but an overlaid beatbox and hip bassline bring us back to the city. She fiddles with some bells and segues into "Everywhere You Go" - her hit of 2012 - once more dancing in her high register which, when looped, becomes a 50s trio of muted trumpets, but her solo voice also betrays a love for RnB, fusing the timbres of riffing male falsetto and Scandinavian folk songstress.
To break up the circular orchestra of looped material there are ballad interludes on kalimba and dulcimer. The contrast in instrumentation is refreshing and the dulcimer chords come through richly, strummed like a wonky sample and the melody had beautifully unusual turns.
On the kalimba however the riff-based accompaniment for her Skip James cover is perhaps a missed opportunity to explore playing in free rhythm, and the sound quality of the instrument limits her ability to play experimentally simply because it lacks the resonance and harmonics that a more traditional variety of thumb piano might provide.
The set moves on, structured always by ambient explorations and moments of welcome sabotage, where an unsuspecting kazoo might become a siren, or a dissonant minor second becomes an uncomfortable wailing high-pitched banshee drone. Although her natural state is quite clearly meditative, these moments of provocative courage hint at another, more rebellious character which if given more time to develop could be truly transporting.
The set concludes with a song from her live solo album which moves from childlike chorus, into a drunk saxophonist riffing, trailing off into an electronic effect where her voice is splintered into bleeping digital glitter as she inhales and exhales. It's an open ending, leaving us suspended somewhere, perhaps looking at the stars from the reflection in a puddle.
There are ambient explorations and moments of welcome sabotage.
Explore topics
Share this article