Music Reissues Weekly: Lou Reed - Words & Music, May 1965 |

reviews, news & interviews
Music Reissues Weekly: Lou Reed - Words & Music, May 1965
Music Reissues Weekly: Lou Reed - Words & Music, May 1965
Mind-boggling Velvet Underground-presaging recordings emerge from the shadows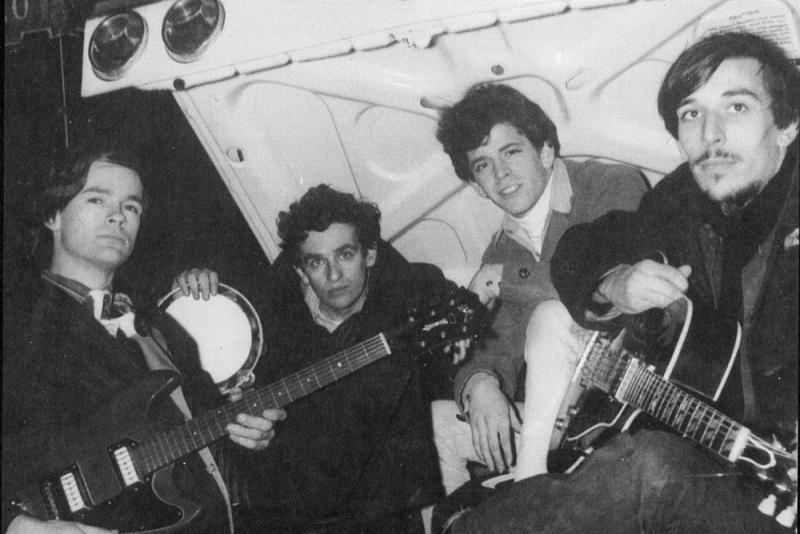 Before The Velvet Underground, c. January/February 1965, there was The Primitives. Left to right: Tony Conrad, Walter De Maria, Lou Reed, John Cale
Lou Reed went to the Baldwin, New York post office on 11 May 1965 to mail himself a five-inch reel-to-reel tape with 11 recording of songs he had written. The sealed package was registered and stamped, and also signed with that date by a local Notary Public, Harry Lichtiger – a partner at Baldwin's Nassau Chemists.
The 11 titles were "Buttercup Song," "Buzz Buzz Buzz," "Heroin," two versions of "I'm Waiting for the Man," "Men of Good Fortune," "Pale Blue Eyes," "Stockpile," "Too Late," "Walk Alone" and "Wrap Your Troubles in Dreams." The package, addressed to Reed's parent's house in Freeport, New York, remained unopened until 2017, when Reed's archive was donated by Laurie Anderson to The New York Public Library. Now, what's on it is issued as Lou Reed - Words & Music, May 1965. This is mind-boggling stuff – the earliest hints towards what became The Velvet Underground.
On the tape, Reed plays acoustic guitar and is accompanied John Cale. Stylistically, the playing and singing are in the then-current Greenwich Village folk-style mode with touches of a Hank Williams-ish country, blues and even doo wop. There's wheezing harmonica, strummed or sometimes picked guitar, the shadow of Bob Dylan – and Dave Van Ronk. However, the Cale-intoned "Wrap Your Troubles in Dreams" is of a radically different cloth: like a reductive precursor to The Doors's "My Wild Love," it's a folk-drone and voice-only chant with simple percussion rapped on the back of a guitar. Setting the edgier lyrics aside, these are mostly recordings of a follower of prevalent aesthetic templates rather than evidence for innovation.
Reed is heard introducing the songs as either "words and music by Lou Reed" or "lyrics and music by Lou Reed." On one occasion this is disingenuous because, as Greil Marcus points out in his essay with the album, "'Men of Good Fortune' is not the song from Reed's 1973 [album] Berlin. It's set to the tune of Merle Travis's 1946 miner's lament 'Dark as a Dungeon.'"
Obviously, the emergence of this material is important – not only as early evidence of the Reed and Cale partnership but also as "Heroin," "I'm Waiting for the Man," and "Pale Blue Eyes" would later be performed and recorded by The Velvet Underground, who played their first shows under the name in December 1965, and first recorded in April 1966. Until now, the earliest issued tape of Reed and Cale, together with Sterling Morrison, was the July 1965 session at Cale's apartment released as part of the 1995 Peel Slowly and See VU box set.
Why did Reed make this recording and send it to himself? His reasons for leaving the package unopened will never be known – it wasn't forgotten; it was on a shelf in his office. Songwriters mail recordings to themselves as a simple way of establishing copyright. A dated, registered package proves songs existed on a certain date. Reed wanted to ensure these songs were his; his copyrights. Although it cannot be certain when the tape was recorded, it must have been shortly before 11 May 1965 – the 10th, the 9th, around then. Reed would not have delayed in sending the package as the tape was purposefully recorded.
And on the day he went to Baldwin's post office, 11 May, Reed and Cale met at Pickwick Studios, 8-16 43rd Avenue, Long Island City and recorded three songs: "Buzz Buzz," "Why Don't You Smile" and two versions of "Heroine" (sic, as per the tape box). Two takes of a piano piece by Cale were also recorded. This tape has never been issued. The Pickwick session must be another reason Reed sent the tape to himself – he knew it was in the offing and wanted to make sure he had a claim of ownership for "Buzz Buzz" and "Heroin." The Reed co-write "Why Don't you Smile" became a single for The All Night Workers later in 1965. (pictured left, what Lou Reed mailed to himself on 11 May 1965)
He began working for Pickwick as a songwriter in September 1964 after his June 1964 graduation from Syracuse University. Once on the payroll, amongst other things, Reed sang Beach Boys cover versions for budget albums and played on British Invasion cash-in records. He had already been skirting the music business for a while. Back in 1958 he was in high-school band The Jades, who issued a 45; during September 1960 he hosted a radio show at Syracuse University's station; the next year he was a member of LA & the Eldorados; his song "Your Love" was copyrighted in March 1962. Underpinning this history, a limited-issue version of Words & Music, May 1965 collects a 1958 Reed home recording and five tracks recorded in 1963 or 1964 which include versions of Dylan's "Baby, Let me Follow You Down" and "Don't Think Twice, it's All Right" as well as a run through of "Michael, Row the Boat Ashore." Pickwick was a hack outfit and unhip but for now, in late 1964, working there culminated Reed's music biz career.
At Pickwick, he co-wrote, played on and sang "The Ostrich," recorded in November 1964 and issued as a single by Pickwick in December 1964. The record was credited to The Primitives. There was no such band. After the 45 achieved limited traction, a band was needed for promotion and Cale came into the picture in late November as a makeshift Primitive. A batch of live dates over January and February 1965 teamed Reed and Cale with Tony Conrad and Walter De Maria. There is much more to the Reed-at-Pickwick story, but the link-up with John Cale would be defining for both their futures.
It all means that what Reed wrapped in brown paper and mailed to himself on 11 May represents the end of the line with Pickwick. After close-to nine months with the concern, he was moving forward with Cale. He had already renewed his friendship with Sterling Morrison in April 1965 after a chance encounter on New York's D Train, so three legs of the band later named The Velvet Underground were in place. Pickwick was the past, and the tape indicated Reed was protecting the songs which would hopefully be his future.
However, the tape's folk-style delivery and playing were of the moment. Despite the bold lyrics of the first two, "Heroin," "I'm Waiting for the Man" and "Pale Blue Eyes" needed reconfiguring if they were to be the future. After the 12 April 1965 release of The Byrds's all-electric "Mr. Tambourine Man," adopting rootsy Greenwich Village trappings would not get anyone anywhere. In contrast, "Wrap Your Troubles in Dreams" – which Nico recorded on her October 1967 debut album – points towards "Venus in Furs."
The exceptionally important Words & Music, May 1965 is not The Velvet Underground. Instead it is a partially formed building block, a hint of what might just be on the horizon.
Next week: Merseybeat fun with The Swinging Blue Jeans's Feelin' Better – An Anthology 1963-1969
'Words & Music, May 1965' is not The Velvet Underground. It is a hint of what might just be on the horizon
Explore topics
Share this article