Public Service Broadcasting, Caerphilly Castle review - rising to the occasion |

reviews, news & interviews
Public Service Broadcasting, Caerphilly Castle review - rising to the occasion
Public Service Broadcasting, Caerphilly Castle review - rising to the occasion
Archive rockers bring a special show to a unique venue
Caerphilly Castle proved to be a star of the show
Among the summer gigs being held in Caerphilly this summer, it seemed a tall order for electronic/math rock instrumentalists Public Service Broadcasting to pack out a castle. They may be more current, but the others (The Stranglers, Groove Armada, The Zutons et al) at least had notable commercial periods. PSB's biggest singles have never troubled the UK Top 75. And though a £40 ticket price on the door seemed optimistic, the castle's savvy booking became clear as we passed through those ancient gates. A large courtyard, very much packed.
After three albums and several EPs, PSB have crafted quite a formidable live set. Each release is themed around a different time period and relating archive audio, including the Titanic, the space race, and suitably for the night's show, the Welsh mining industry. Not your standard indie fare. But they capture the imagination and are effectively woven into the music. How many other gigs teach you about scaling Everest, or a rocket's launch sequence?
Though hailing from London, the band have a special affinity for South Wales after their third album Every Valley. It makes any gig in the area a special occasion. Richard Burton's voice rings out over the titular opener, and at one point a French horn rouses the crowd into a spontaneous Calon Lan. Frontman J Willgoose, Esq is rarely seen speaking on stage, instead triggering pre-recorded announcements, but even he was compelled into thanking the area for their support. The reaction would indicate it's a reciprocal relationship.
However, the cheers were not based on goodwill alone. The band put on a hell of a show. Early hit "Spitfire" was raucous and rifftastic, before squealing into the protest doom rock of "All Out". If you ever wondered what Pete Townshend would've done with a saxophone, or Hendrix with a trombone, funk soul instrumental "Gagarin" provided the answers, backed by two dancing astronauts for good measure. Though the band's permanent members are mostly static, they've built an entertaining show around them.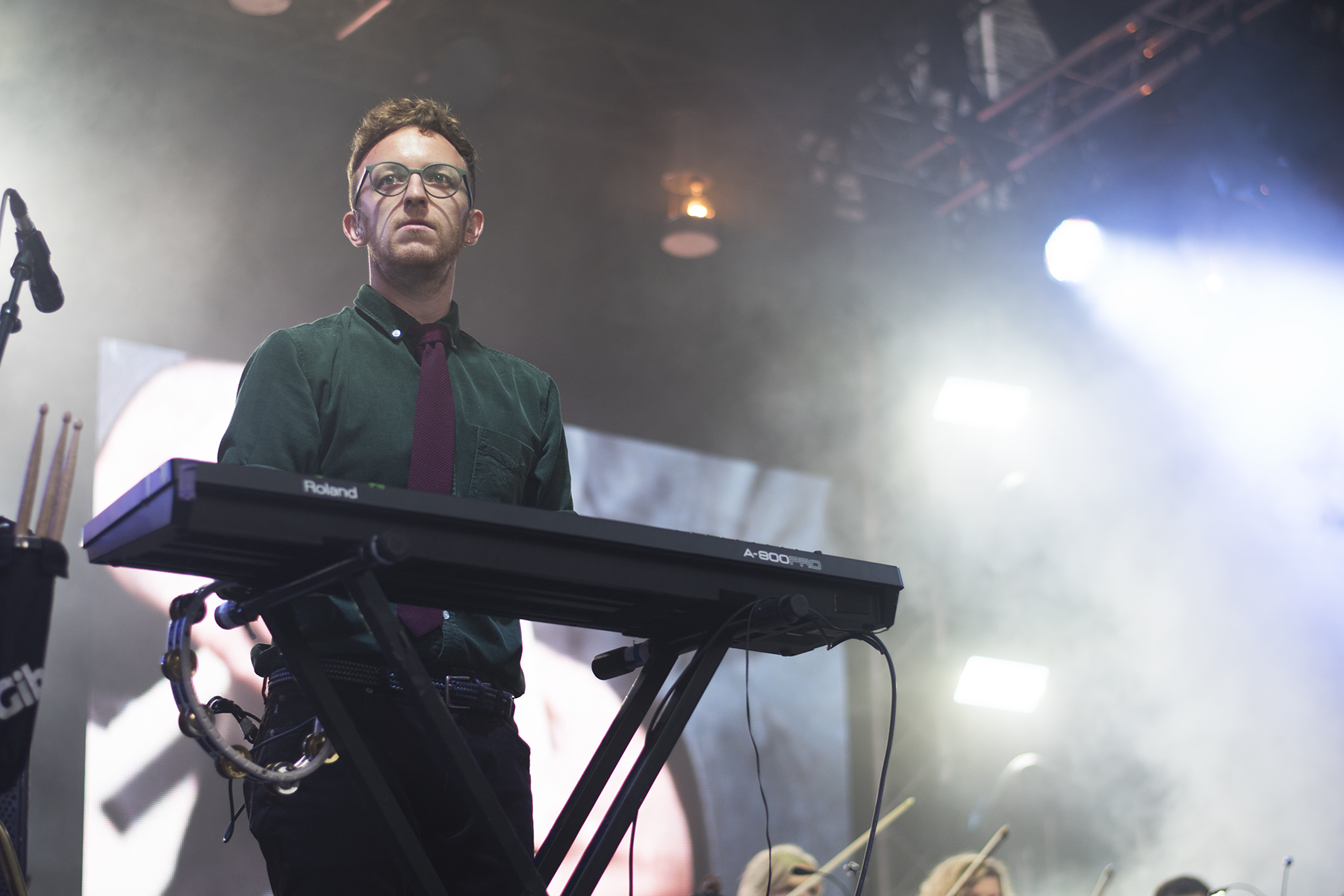 Though most of the vocals are provided by way of archive films, there were a few guest stars for the evening. Derbyshire trio Haiku Salut made an appearance for "They Gave Me a Lamp", and Welsh Music Prize-winner Georgia Ruth was an excellent stand-in for 9Bach's Lisa Jên Brown on duet "You + Me". Perhaps the highlight of the evening, though, was the Beaufort Male Choir, brought on to end the show in a stunning tribute of Welsh music history.
Though Caerphilly Castle seemed a tall order, it was the perfect setting for a night of historical reverence and musical wonder. The set's quiet moments were punctuated by occasional drunken chatter, but that's par for the course at an outdoor event. It was a perfect send-off for the band before they move on from these valleys and focus on the next album's subject.
The band put on a hell of a show
rating
Explore topics
Share this article