Rain Dogs Revisited, Barbican |

reviews, news & interviews
Rain Dogs Revisited, Barbican
Rain Dogs Revisited, Barbican
The women stole the show in an inspired reinvention of Tom Waits's classic album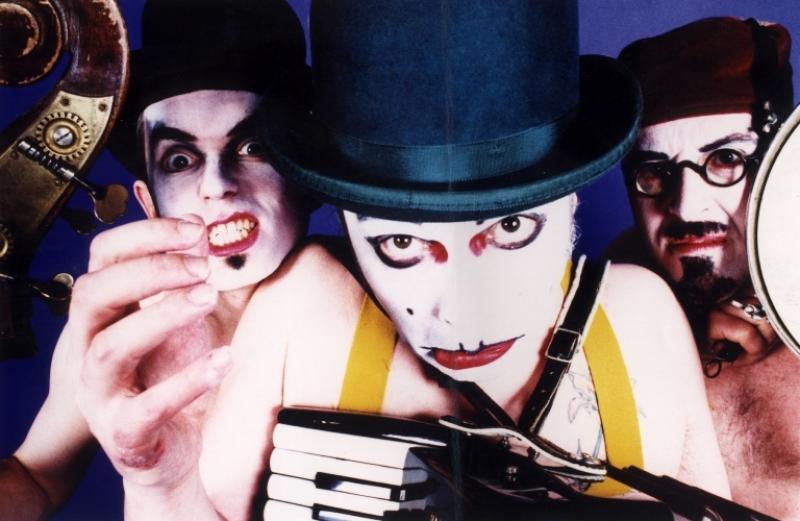 The ever-reliable Tiger Lillies were one highlight of a great concert
So how did you survive the 1980s? I don't mean money-wise; I'm sure you had plenty of that. I mean musically and therefore spiritually. It was a diet of Thomas Mapfumo and old Nina Simone albums that got me through the first half, until the Red Cross parcel of Tom Waits's Rain Dogs arrived in 1985.
Who knows how many times that treasured piece of vinyl got lowered onto my 30-quid hi-fi in my desperate attempt to ward off the encroaching thunder of Phil Collins's drum kit and myriad other musical abominations of the period?
Swordfishtrombones was the album that marked Tom Waits's dramatic move from bar-room blues crooner to Beefheartian sonic anarchist. But it also represented the first awkward steps into a wholly new terrain: a sonic equivalent to Picasso's unprecedented leap from Blue Period sentimentality to scrunched-up, fragmented Cubism, if you will. But with the foundations laid with Swordfishtrombones, Rain Dogs hits the ground strutting. There's not a note, or crash or rumble out of place, and the songs are there, too – all 19 of them – not one firing blanks.
So here I was at the Barbican, for the second night running ruminating on the potential folly of musicians trying to replicate - or even just compete with - a definitive recorded experience. Except this time not one of the original musicians involved in the recording were going to be present. Yes, the musical director, David Coulter, worked with Waits on The Black Rider, and Waits and Brennan gave this project their blessing ("Do what you want with it, good luck and bon voyage!"). But you can only go one way with cover versions of classic songs, and that's the other way; get as far away as possible from those great looming monoliths, and then play them on the spoons backed by the Berlin Philharmonic or something. Anything but try to replicate or better the original.
Fortunately most of the performances last night did, metaphorically speaking, pick up those spoons and run with them. Although things did get off to a shaky start with Irish singer Camille O'Sullivan, who made the unwise decision of tackling the only song of the evening not off Rain Dogs. Because "Make it Rain" is a particularly… er… monolithic song. It's all about Waits's thunderous Old Testament voice convincing you that he, in fact, could make it rain. Ms O'Sullivan, on the other hand, would have been lucky to summon even a few drops of drizzle, despite her over-theatrical larkings about on the stage. But fortunately she came up with the goods a couple of tunes later by proving herself on an ethereal "Hand Down Your Head", on which she took herself more seriously, thus compelling the audience to do likewise.
It was at this point that an unexpected pattern was set for the rest of the two-hour show. For - surprise, surprise - the female performers in every instance honoured and built upon Waits's songs with more verve and invention than the male ones. The Swiss-American Erika Stucky (pictured right) stalked the aisles of the Barbican, hitting things with a garden spade in an attempt to get a Waitsian clang out of them, before taking to the stage for rivetingly offbeat, off-track, off-world takes of "9th & Hennepin", "Jockey Full of Bourbon" and "Union Square", in which she part acted, part yodelled and part jazz-sang the lyrics, drawing previously unregistered drama and pathos from their twisted midnight narratives. At one point she did a disturbingly accurate impersonation of a crying baby – Mr Waits, I suspect, would have approved.
One-time Polyphonic Spree member St Vincent completely reinvented "Downtown Train", banishing memories of Rod Stewart's abominable mush-up. With fragile voice, and just as fragile guitar playing, she sang the whole first verse alone, before the rest of the band gradually insinuated themselves like slowly rising water, so that eventually the anthemic nature of the song was acknowledged but not overstated. It was a very distant cousin of Waits's version and all the better for it.
The only exception to this unexpected female victory was the ever-reliable trio Tiger Lillies. But even then you could argue – at a stretch - that Martyn Jacques's powerful cut-glass falsetto lent "Rain Dogs", "Diamonds and Gold" and "Anywhere I Lay my Head" a faux feminine dimension. But what this was really about was that Jacques – like the the women singers – wasn't equipped to do a Waits. Whereas when Arthur H and Stef Kamil Carlens tried to summon the gravel and gravitas, they simply exposed their limitations. Also their arrangements tended to be more conservative in the sense they were closer to Waits's templates.
But talking of arrangements, a huge amount of credit should go to the backing band, which consisted of – amongst others – regular Costello keyboardist Steve Nieve, and Polar Bear drummer Seb Rochford and bassist and "synthesiser master" Tom Herbert. Coulter has created a unit here that I imagine Waits himself would be delighted to have behind him. There were plenty of sonic references to the spirit of the album, but also fearless excursions into the unknown which were pleasingly unpredictable. For the encore the song "Rain Dogs" was revisited by the whole ensemble, and a Waits-loving Barbican audience went home nourished and invigorated by a wholly worthwhile reworking of one of the greatest albums of the past half-century.
Watch the opening of Jim Jarmusch's Down by Law (1986) featuring Rain Dogs' "Jockey Full of Bourbon"
Share this article