Robbie Williams, Wembley Arena review - 12,000 people having a bawl |

reviews, news & interviews
Robbie Williams, Wembley Arena review - 12,000 people having a bawl
Robbie Williams, Wembley Arena review - 12,000 people having a bawl
Working hard, with a mission to entertain
Tuesday, 17 December 2019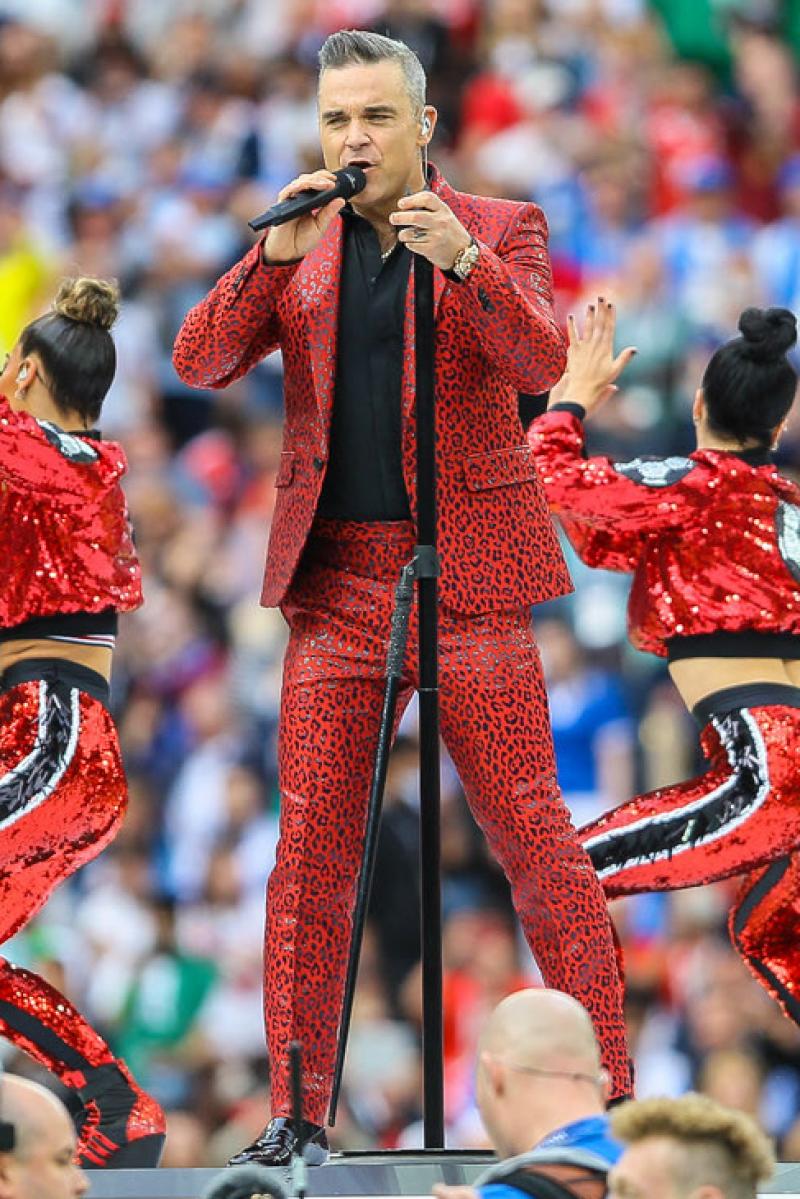 Entertaining: Robbie Williams
"The nice bloke-ness of Robbie shines through all he does," David Baddiel commented in a tweet thanking the singer for dedicating his Wembley performance of "I Love My Life" to him. There is no denying it.
Williams
has that side to him which combines mischief, being game-for-anything, and taking on the mission to entertain the audience. It is his strength. He set the tone early with "Let Me Entertain You", the second song on the Wembley set-list. And the same positive energy can be witnessed currently injecting much-needed life into Aldi's otherwise irredeemably embarrassing "Kevin the Carrot" Christmas ad.
The stats do tell the success story: 75 million worldwide album sales and 13 No. 1 albums in the UK, equalling Elvis. The context of a stadium show suits him very well, much better, for example, than the more awkward close-up focus of the recent BBC Radio 2 "Live in Concert" performance. At Wembley Arena he could just have fun on his own terms. Within a couple of minutes of the start, he turned round to face the band and mooned the crowd – and duly got a loud cheer for it. Later on, developing the same theme, he praised the Wembley audience for our "bumming" skills after a massed acapella try-out of the wordless chorus to "The Road to Mandalay". There are other crowd-pleasing rituals, like firing off T-shirts into the audience
Everything is in good humour. An initial hint of animosity towards Michael Bublé, plus the joke – frequently quoted elsewhere – that he had been tempted to call his Christmas album "Achtung Bublé" is repeated, but then quickly dismissed as pure banter: "I have a huge man-crush on Michael Bublé." Rod Stewart is also singled out for gushing praise. Controversial subjects, unsurprisingly, are studiously avoided. There is to be no mention of his headline-grabbing dispute with Jimmy Page, for example. Or any politics.
Instead we have lengthy, entertaining monologues about children's bedtimes and how the presence of little ones "keeps you honest" as a preamble to the new song "Home". We have accounts of his previous life with the "ruddy nightmare" of drugs and anger. The new song "Time for Change" gets an extremely optimistic preamble, with the – probably completely misplaced – hope that it might one day become a Christmas classic.
He has a powerful band with dancers and backing singers. The whole thing has a Vegas showband vibe to it. There needs to be special praise for the heavy lifting from the bass and particularly from drums of the superb Karl Brazil (pictured below // Sabian). They provide the constant anchor for songs which randomly glide across styles. "Snowflakes", for example, morphs curiously from a Chuck Berry electric feel into a lift from George Formby's "When I'm Cleaning Windows".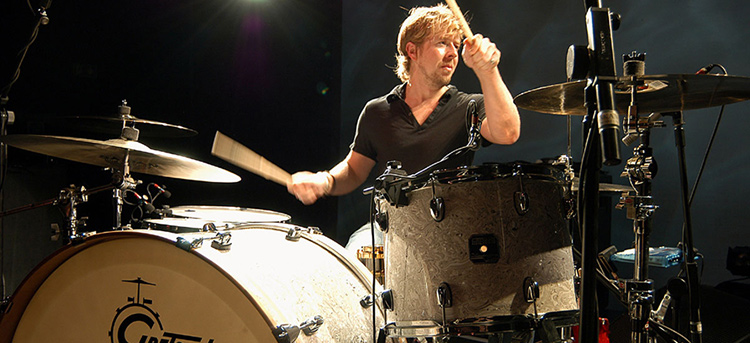 Robbie Williams' Christmas album is populated with guests, but last night they were in very short supply. There was a mercifully brief cameo from Williams' father, stage name Pete Conway. Although a highlight did come right at the end with an enjoyable guest appearance from Jamie Cullum on Slade's seventies hit "Merry Christmas Everybody". He really should have had more to do.
The Wembley audience was out for a good time. The entire row I was sitting in was populated with Santa hats. The problem, for my ears, was coming when they joined in for the singing and the shouting. Williams' own intonation is so ropy, there are moments when he loses all sense of pitch, such as the toe-curling ending to "Love My Life". At the end of the show he came back to lead impromptu sing-song reprises of songs like "Angels".
So, unfortunately, all that seems to stay in my mind from the Wembley Arena show is that one final memory and one groaning pun to go with it: the sound of 12,000 people at Wembley Arena having a bawl.
The heavy lifting by drummer Karl Brazil was superb
rating
Explore topics
Share this article