A salute to Dave Swarbrick's singing |

reviews, news & interviews
A salute to Dave Swarbrick's singing
A salute to Dave Swarbrick's singing
The legendary Fairport Convention fiddler also had a voice to reckon with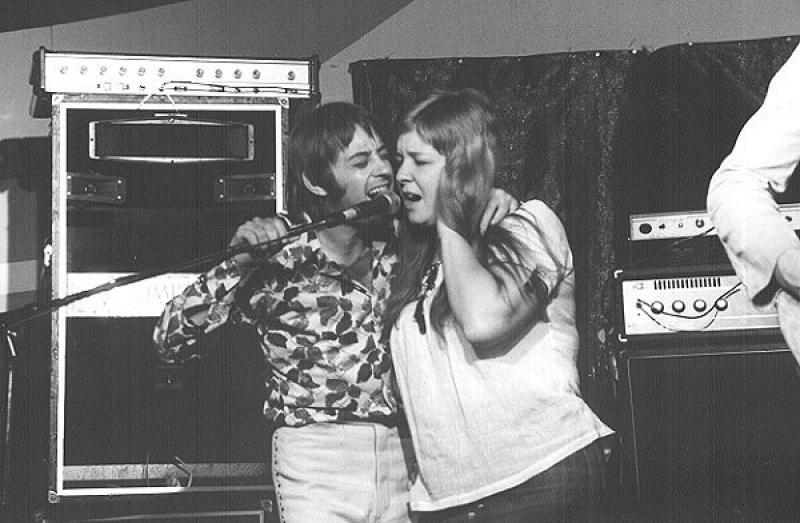 Come all ye: Dave Swarbrick and Sandy Denny share the mic
When folk rock's demon fiddler Dave Swarbrick died at 75 on 3 June, it was barely noticed that Real Gone Music released Fairport Convention's Live in Finland 1971 the same day. Featuring the lineup of Swarbrick, Dave Mattacks (drums), Simon Nicol (guitar), and Dave Pegg (bass), which performed at the annual Ruisrock festival that 22 August, the disc features seven songs played with such force and briskness you'd think they wanted to get the hell away from the Archipelago Sea.
Either that or they wanted to show the Finns that they could rock as hard as fellow festival acts the Kinks, Canned Heat, Jeff Beck, and the Pink Fairies. Live in Finland is a much punchier set – if a little less ethnic-sounding – than House Full: Live at the L.A. Troubadour (the 10-track 2001 reissue), which had been recorded on the Full House tour in September 1970 and had featured Richard Thompson on lead and Nicol on rhythm. (Pictured below right, back row, Pegg, Nicol, Thompson; front, Mattacks, Swarbrick)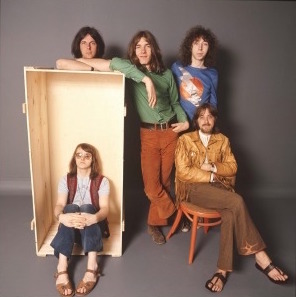 Live in Finland emphasizes Fairport's musicianship – Swarbrick's violin duetting with Nicol's viola on "Bridge on the River Ash" and racing his guitar to the death on "Matty Groves". But the character of Swarbrick's singing on "The Journeyman's Grace" and "Sir Patrick Spens" indicates – as the latter number and "Staines Morris" had done on "House Full" – how his vocal delivery, more than Nicol's deadpan voice or Pegg's yokelly one, was coming to define Fairport's folkiness as much as his plangent, eldritch, and jaunty fiddle-playing (or his mellower mandolin-twanging). Sandy Denny had left Fairport (for the first time) after recording 1969's epochal Liege & Lief and no one was capable of matching the melancholy beauty of her singing. Yet Swarbrick's gave the band's traditional songs and new compositions a dangerous masculine timbre that often conveyed the fatalistic aura of betrayals, seductions, military defeats, and other calamities in Old Albion, or off its shores.
He could sing tenderly: "Now Be Thankful" – worth hearing beside "Benedictus" by Denny's pals the Strawbs – is simultaneously a song of gratitude (for the "red, red rose" – a symbol of life's bounty or something else?) and, per Thompson, a plaint for the English capacity for medieval suffering. Tenderest of all is "Rosie" – the Fairport perennial that bowed as the title track of their 1973 album, featured Denny on backing vocals prior to her rejoining the band, and was subsequently performed by Swarbrick's post-Fairport combo Whippersnapper. He had supposedly written the pseudonymous song about trying to help one of his wives (not his widow Jill) through drug addiction. It could apply equally well to Denny's fatal drift into alcoholism. He once said he never got over her early death.
Swarbrick could sing mirthfully. "Angel Delight" – which commemorates the Hertfordshire pub where the band was staying when a lorry crashed into Swarb's room – is one of the most affectionate autobiographical comic songs ever written about a chapter in a group's career. "I quite like a breast of chicken /And I'm crazy about aspic and roast quails /But the sight to make my pulse rate quicken /Is a dozen nice fat snails," Swarbrick salivates before the others join in: "On the other hand, there's Pegg on the bass /Whose tastes in food are very much wider /You'll see a smile light up his face /At a couple of kippers and a glass of cider."
He could also sing with urgency and tension. Words recounting a thrice-bungled execution tumble out of him as his bow-scraping becomes hoarse to the point of Hendrix-y on "The Hanging Song," the climax of the "Babbacombe" Lee concept album. Frequently, he sounded crafty – and, with that dangling fag (pictured above left), he looked it, too: you can see the randy hunter ogling the "maiden" he comes across in the fields in "The Bonny Black Hare"; ironically, she exhausts him so quickly he has to promise to come back the next day. Folk revivalist Bert Lloyd sang the 1966 version that Swarbrick played on; Martin Carthy was the singer when he and Swarbrick teamed up (though in later years they traded vocals on it); but Swarb made it his bawdy (and strangely sinister) own on 1971's Angel Delight.
Toward the end of Swarbrick's decade with Fairport (1969-79), he led the band on two traditional songs transformed into epics – and included on otherwise mediocre albums – that should by now have elevated him to the pantheon of electric folk's masters of vocal phrasing. His almost a cappella rendition of the 12-minute "The Bonny Bunch of Roses" (a 1977 LP title track) mournfully recounts an overheard conversation between the deposed French empress Marie Louise and her son Napoleon II about his exiled father's failure to overcome the unity of the English, Scots, and (some) Irish. It's an aching dirge about the part destiny plays in the roll of history.
Swarbrick's final Fairport masterpiece was "Jack Orion". Fourteenth-century in origin, the tale of a harper whose lady love is raped by his servant was rediscovered (as "Glasgerion", Child Ballad 67) by Bert Lloyd, whose 1966 version replaced the harper with fiddler Jack and featured Swarbrick's playing; Swarbrick subsequently accompanied Martin Carthy on their 1968 cut. Lloyd also introduced it to Bert Jansch, who played it solo and on Pentangle's nearly nineteen-minute 1970 version. (Pictured below: life after Fairport)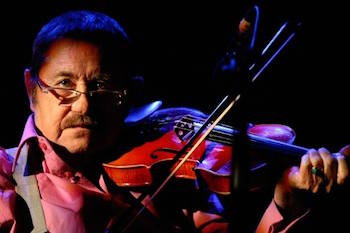 Though the Fairport "Jack Orion" that appears on 1978's Tippler's Tales is seven minutes shorter than Pentangle's, it's more dramatic thanks to Swarbrick's forging it from five differently paced tunes that build symphonically toward a chilling climax. His singing shifts from jaunty (Jack entertaining the castle court) to inviting (the virginal princess), merry (Jack), sly (Tom, the servant), to tormented (the princess on discovering it was Tom not Jack who penetrated her in the darkness of her bower). The final shift is from rage – "Tom, m'boy come here to me," Jack howls – to matter of fact: "He hung him from his own gatepost /High as a willow tree," after which the song fades on Swarbrick's throbbing fiddle. "M'boy" is the capper. "My boy" would have sounded stern, schoolmasterly, not aplopectic with sexual jealousy.
The only member of Fairport Convention I've ever spoken to is Dave Pegg, who at the time was playing bass with Jethro Tull; their publicist had got me backstage after a 1993 concert in Jones Beach, Long Island, New York. Pegg seemed pleased I wanted to talk about Fairport. I told him I thought Swarbrick was a great singer. "Well," he said, not wishing to offend his old mate, "...a great musician." "Swarb the Voice" is an acquired taste, I allow, but he filled the air with more devils and angels than most.
Frequently, he sounded crafty – and, with that dangling fag, he looked it, too
Share this article