Seasick Steve – A Myth Unravels |

reviews, news & interviews
Seasick Steve – A Myth Unravels
Seasick Steve – A Myth Unravels
The author of the hobo-bluesman's new biography scrapes his chin from the floor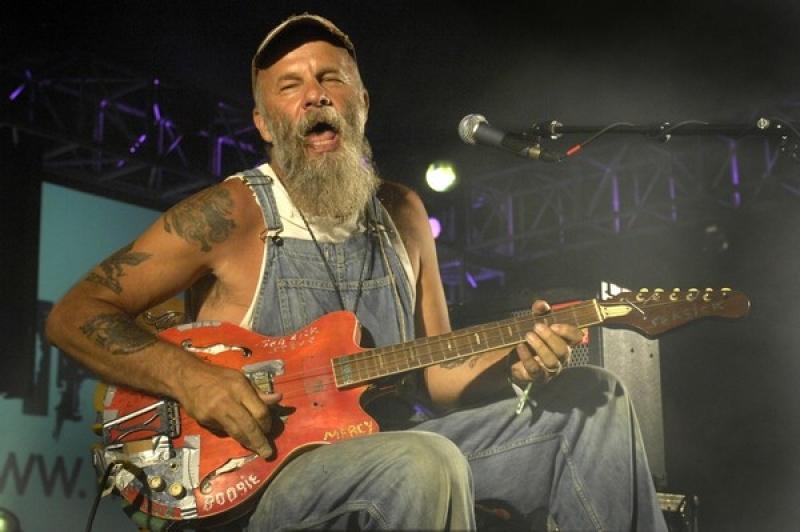 Three-string guitar – 'his gimmick'?
Life and art have generally had a troubled relationship. In the case of former hobo and punk-blues singer Seasick Steve, however, it all seemed so simple. When he sang "Dog House Boogie" on his extraordinary Hootenanny debut nearly a decade ago, it was his grit and authenticity, even more than his musical skills – though the two go hand-in-hand – that the audience fell in love with.
Read any fan forum and it's clear that Steve is loved because most audiences believe he's experienced exactly what he sings.
The official biography, documented repeatedly in the hundreds of press interviews Steve has given in the past decade, recalls a teenage escape from an abusive step-father, followed by a youth spent on the road, then a marriage and kids in the 1970s, and another marriage and more kids in the 1980s – all of which Steve supported with a succession of grimy, blue-collar jobs, which gave, he's sometimes said, very little time for music. Whether this environment was likely to nurture a guitarist of Steve's sublime skill and generic dexterity, clearly versed in both blues and rock, was never questioned, so colourful and romantic was the initial proposition.
Setting out to document this life, the immediate difficulty would, I imagined, be how to locate any objective verification for the life of a 1950s Mississippi hobo. I can categorically report that evidence for Steve's existence on the post-war Delta railroad was, indeed, very hard to come by, but that's mainly because he wasn't born until 10 years later than usually reported (1951 not 1941), only lived homeless for a brief period, and even then stayed mostly in California. How did I find that out? In the first instance, because he said so himself: in interviews with both the American and Norwegian press, conducted before he became famous, he's openly stated an accurate age, original surname, and his presence in Haight-Ashbury in the mid and late Sixties.
Shanti's dates are smack in the middle of when Steve was, apparently, riding trains To begin with, the evidence that Steve was a committed, career-long music professional, not a blue-collar amateur, was patchy. But by the time I'd discovered, in an obscure interview with The Tremens (a favourite band he'd recorded at his studio in Olympia), the definitive documentary evidence that he'd spent years continuously in San Francisco 1965-72, the game was up for his hobo lifestyle. The Tremens were especially impressed by Steve's involvement in a band called Shanti. I will never forget reading that line.
Shanti wasn't a blues band, nor was it rock, or any of the related genres one might imagine Steve to be associated with. It was an Indian-American fusion outfit, dedicated to the promulgation of Transcendental Meditation. While that philosophy was, of course, widespread among musicians at the time, it was less prevalent among the homeless population, and Shanti's dates - 1970-2 - are smack in the middle of when Steve was, apparently, riding trains. Shanti's members were all already part of the TM community, and must have known each other for some time before they teamed up. Given Steve's claims in the Norwegian press that he was, for example, at the Fillmore almost daily during the Summer of Love, he must have been living in California the whole time, mostly playing music.
The evidence for Steve's involvement in Shanti (pictured below, Steve back left), when it arrived, could hardly have been more mainstream. Shortly before the band split in 1972, Rolling Stone staff writer Charles Perry, who later composed the history of Haight-Ashbury, wrote an effusive profile of the band. This whole-page tribute oozes glorious hippie details. At one point, Steve is heard to remark, "I've had this deep insight about the group. All our drummers were breast-fed, and all our bassists were bottle-fed." Down-home hobo lore it isn't.
The band's only album was reissued last year on Real Gone Records. Anyone still doubting Steve's identity need only read the liner notes, by distinguished music writer Richie Unterberger, who confirms explicitly who the band's bassist Steve Leach has become. Six months after my jaw first hit the keyboard on reading all of this, it still astonishes me that Steve has been able to hide in plain sight for 10 years, despite being a major star with a substantial fan base, and the tabloid profile that entails.
The psychological impact of stardom on Steve has been curious. Before his breakthrough, the idea of being a star appalled him: according to The Tremens, he used to say, "God forgive the soul who wants to be a rock star." Having become a rock star, unexpectedly, overnight, at least part of the reasoning for the smokescreen his fans received was the opportunity to create an alter-ego for himself, so the real Steve could remain private. Of course, it was partly also a PR scheme to prolong his popularity as a singer of apparently autobiographical hobo blues.
Yet even before he became famous, there were instances when Steve has massaged his personal history for the sake of his image. He told a Seattle magazine in 2000, for example, that he'd run a studio in Europe before his move to Olympia, when in fact the studio had been in Tennessee. It had failed because of what Steve memorably described as the "Christian bullshit thing", whereby several of the previously independent music radio stations around Nashville were bought by Christian Gospel radio networks, and so were no longer interested in broadcasting his studio's indie music.
During the early stages of his performances as Seasick Steve, with the Level Devils, he created his own record label, There's A Dead Skunk Records, to release their first album Cheap. According to Steve's Norwegian manager at that time, this label (now officially incorporated into Steve's intellectual property) had no legal status to begin with, yet was given a "false address" in Clarksdale, Mississippi, as if to authenticate Steve's blues credentials. (Even more curiously, in 2009 BBC Four took Steve to Mississippi to make a documentary, Bringing It All Back Home, even though Mississippi has almost certainly never been Steve's home in any regular sense of the word.)
He is, then, a proud man, always keen to manage his own image to his advantage, even before he became famous. What he says about his past is complex and multi-layered, even when it's also wrong. After his hobo past, the most iconic part of his current image are those trademarks of his recent performances: the three-string guitar, stomp box and other assorted DIY instruments. These are what I'd expected, when I set out to write his life, to spend much time investigating. According to his son, they're "his gimmick".
Overleaf: watch Shanti perform
It still astonishes me that Steve has been able to hide in plain sight for 10 years
Explore topics
Share this article