Sergio Mendes, RFH review - tight discipline, exceptional musicianship |

reviews, news & interviews
Sergio Mendes, RFH review - tight discipline, exceptional musicianship
Sergio Mendes, RFH review - tight discipline, exceptional musicianship
The man who brought the bossa nova beat to the USA returns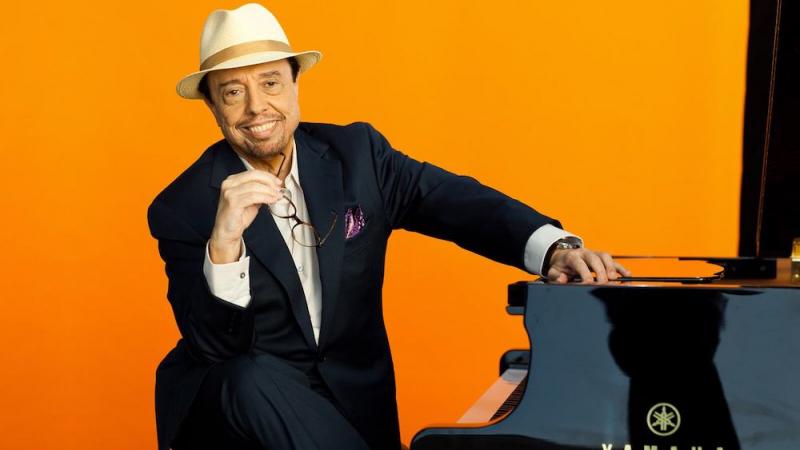 Sergio Mendes: recently reinterpreted
He shakes his head in wonder at the memory, though it's not so long ago in the scheme of things – his career started in the late 1950s.
The audience is an age-spanning mix: aficionados of his Sergio Mendes & Brasil 66 LPs from the Sixties and Seventies as well as fans of the recent Timeless and Encanto albums, on which he's reinterpreted his songs with musicians like the Black Eyed Peas, Erykah Badu, India.Arie, Fergie and John Legend. Mendes has mentioned how moved he was when will.i.am turned up at his door in LA holding all his records and telling him he'd been a fan since he was 16.
This tight show was flexible enough to allow moments of flight
Everyone in this classy nine-piece band of six Brazilians and three Americans – he calls it his best ever, and has said that changing the line-up keeps complacency and boredom at bay – is wearing white, except for 78-year-old Mendes, looking dapper in a red check jacket and a jaunty Panama hat. Beside him are singers Gracinha Leporace (Mendes's wife, who's been singing with him since the Seventies) and Katie Hampton, in floaty sequinned tops and red flowers in their hair, whose voices blend effortlessly together.
They kick off with "Magalenha" from his Grammy-award-winning 1992 album Brasileiro. There's something irresistible about the contrast between the sensual Portuguese language and this slick, disciplined show. People are itching to get up and dance but this is the Royal Festival Hall. And photography is banned – hooray.
Mendes moves swiftly on from song to song without much talk. "The Girl from Ipanema", co-written by Mendes's mentor, the great Antonio Carlos Jobim, pioneer of the bossa nova 60 years ago, whizzes by and Leporace and Hampton feminise the lyrics a touch: "Each day when he walks to the sea, he looks straight ahead not at me." Before "Fool on the Hill", Mendes says Paul McCartney wrote him a letter saying it was his favourite version of the song. You kind of wonder why: it's glossy, hollow, easy-listening, but it and "Scarborough Fair" and "The Look of Love" were all songs that made him and his Brasil 66 band superstars in 1968 and brought the bossa nova beat to the USA.
On "Agua de Beber", another Jobim song, Oakland rapper Harrell Harris Jr, who's also toured with the Black Eye Peas, infuses the show with new energy and showcases Mendes's love of reimagining his own material. Harris works the audience well though musically he can't compare with Gibi Dos Santos, the percussionist who's worked with Mendes since 2008, and the dazzling Scott Mayo on sax, keyboards, flute, and also on vocals with Katie Hampton, now wearing a shoulder-baring lime-green top, with "Never Gonna Let You Go". This song, says Mendes, reached number two in 1983, when Michael Jackson's "Thriller" was number one. Mayo has worked with everyone from Dr Dre to Earth, Wind and Fire and, recently, Paul McCartney on Egypt Station.
And for one of the encores, the massive "Mas Que Nada", everyone was on their feet. Even if you've never heard of Sergio Mendes, you know this song, like it or not, with its Oriá raiô, Obá obá obá chorus, a smash in 1966 – the first song in Portuguese to be a hit in the US – and again in 2006 with the Black Eyed Peas' collaboration. Here Harris provides will.i.am's rap, "Rhythmically we massage ya/with hip-hop mixed up with samba."
This tight show was flexible enough to allow moments of flight and Mendes gave most of the band – Dos Santos and Mayo particularly, but also Alphonso Johnson, the bassist, and Kleber Jorge on guitar and vocals - a slot to flex their muscles. And Anglo-Brazilian Nina Miranda, with her experimental fusion of bossa nova, trip hop, electro and dub, was the perfect support act ("I discovered Sergio Mendes in the Oxfam shop in Sheen. Life-changing," remarks one of her band). She has a beautiful, fluid voice that veers between two microphones, one for ordinary vocals and one for strange, clacking, bird-like percussive effects, and her version of "Julia" set the tone for this joyful, timeless show.
Mendes calls this classy nine-piece band of six Brazilians and three Americans his best ever
rating
Explore topics
Share this article