theartsdesk Q&A: Musician Thea Gilmore |

reviews, news & interviews
theartsdesk Q&A: Musician Thea Gilmore
theartsdesk Q&A: Musician Thea Gilmore
On looking forwards, not back; and why 'female singer/songwriter' is not a genre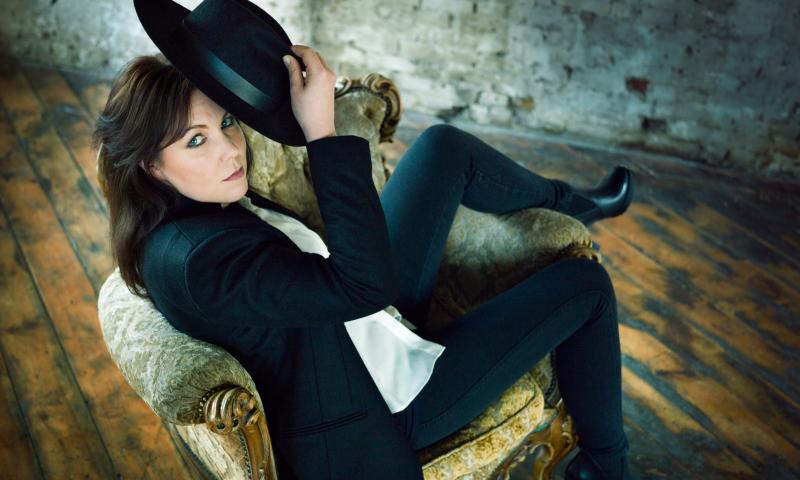 'I like the idea that I can literally just do anything': Thea Gilmore
It takes a particular combination of talent, guts, perseverance and sheer bloody-mindedness for an artist to take the creative decisions that Thea Gilmore has across her approaching 20-year career and get away with it – thankfully, all qualities that the Oxford-born songwriter has in spades.
Since the release of her debut album,
Burning Dorothy
, when she was still a teenager, Gilmore has won admirers ranging from Bruce Springsteen to Joan Baez, re-recorded an entire Bob Dylan album, pioneered fan-supported songwriting and even flirted with the UK Top 40 on her 14th album.
If you thought that the time was right for a retrospective, you'd be in agreement with record labels and fans alike. But Gilmore, whose last-project-but-one was an album made up of long-lost lyrics by folk rock icon Sandy Denny set to Gilmore's own compositions, had bigger plans in mind. While the resulting collection, Ghosts & Graffiti, gathers some of her more recent radio hits in one place, they're augmented and accompanied by new songs and re-recorded versions of some of her oldest and best-loved material. They include "Inch By Inch", a song written on the day Barack Obama was elected in 2008 featuring vocals by Joan Baez; one of Gilmore's political poems recited by John Cooper Clarke over a minimalist electro backdrop; and a new version of 2001's proto-feminist anthem "This Girl Is Taking Bets" performed with Joan As Police Woman.
From the mouthy young songwriter challenging the music industry with her desire to "make lightning" rather than "swim in the mainstream", to the just as mouthy mother of two penning scathing lyrics about contemporary politics and growing old disgracefully, Thea Gilmore's work has always been personable, passionate and thought-provoking. And, on the strength of this new collection, seems likely to stay that way for many years to come.
Watch the making of Ghosts & Graffiti and hear new song "Coming Back to You" below
LISA-MARIE FERLA Did the time seem right to you to do a retrospective?
THEA GILMORE I've been making albums for a long, long time now and I've had people interested in the past, the old record label, say come on, let's put a "Best Of" out. I hate Best Ofs – I just think they're horrible. They sound like a bit of a death knell for somebody's career, and I much prefer looking forward.
But when I thought about the idea of revising songs that I wrote years and years ago, I kinda liked that. I didn't want to produce them as they were when I released them – I wanted to bring something new to them. Songs have lives: they are characters and personalities in themselves, and I didn't want to ignore that. They develop as time goes on, as you play them, and as different people interpret them as an audience. I think I wanted to reflect that a song is a living, breathing beast.
So, that was the reasoning behind it. That, and I was trying very hard to avoid anybody releasing a "Best Of".
But did it still feel like producing a standalone album when you put it together?
I didn't want to feel like I was harking back to the old days, or trying to recapture what I felt like or how I sounded when I was 21, because that's a pointless exercise. It was important to me that it did feel like a standalone album, that the whole thing had a really new vibe to it and that it didn't feel like I'd just covered songs to stick together to tell a story. There are a lot of diehard fans out there who'll say, "Yeah, but you missed off a particular song that I liked" – but there's a lot of them out there, and it was really hard to choose which songs to actually do. Even now I think I could make another one, and make it completely different, and tell a completely different story.
There are so many interesting collaborations on the album. How did these come about?
It came about because I'm really indecisive, and because there were so many different albums I could have made out of this. Over the years I've been really lucky and basically been inspired and nourished, I suppose, by contact and unexpected support from other artists. I wanted to connect with those people: people who have become, in some cases, friends and in other cases really solid supporters, by asking them what they thought I should record and, if they liked it, to record it with me.
In a lot of cases, for example with someone like Mike Scott from the Waterboys (who appears on a new version of "Glistening Bay" from the Sandy Denny album), it probably wouldn't have been a track that I'd have chosen if I'd been left to my own devices. It has a very personal space on the album, the way that he's done it. That really helped me out – I think it gives the album a bit more life, and makes it take a deeper breath somehow.
There's quite a strong political undercurrent on some of the new tracks, and with us speaking a couple of weeks before the election I was wondering whether you set out to make an album with a timely political focus?
If the question is, did you know it was going to be released before the election and, if so, is that the reason that you put political songs on it: no, I had no idea. In terms of the political songs, they were songs that were out there in the world. "My Voice", the song that I do with Billy Bragg, was actually written in 2010 and the Joan Baez song was written on the day that Obama was elected. They're historical in a way, but have never quite found a home.
It wasn't intentional: I wasn't thinking oh, we're got an election coming up, this is going to be really good for PR if I put these political songs on it. It was more that the songs seemed to speak to the rest of the album. I knew that Joan Baez wanted to work with me, and I knew that Billy Bragg liked that song. I wanted to give them a life and a home outside of occasional playing when it felt necessary.
Maybe it's because we've kind of grown up together, but I feel as though you embraced the current trend of artists building a community directly with their fans through social media and crowdfunding before everybody else did. Has that connection always felt important to you?
It's massively important. It is literally the difference between me being able to do what I do and me having to get a job in a supermarket – not that there's anything wrong with that, let me just state that clearly. It enables me to be an artist.
Really, it's a very simple transaction: I make music and there are, I'm lucky enough to say, people out there who listen to it. It is that simple. With music, it's almost more simple than anything else because you have such an emotional connection with people when you create music, when you send it out into the world and people adopt it into their lives.
I think that big record labels and big conglomerates choose to distance their artists from the audience, and I think that putting a distance between those two sets of people was folly from the start. We live in a world now where we have a young, entire group of music consumers who don't really feel in any way personally connected to artists anymore; but then there's another set, who are passionate and who buy into the personal connection that we can now achieve more than ever because of the internet and social media.
It's so important for me as a kind of mid-range artist, someone who's probably never going to be selling One Direction-style sales: I know so many of my fans by name. I see them at gigs all the time and I know who they are, I know what they're about and what they like and what they don't like. It keeps what I do vital, and it keeps me interested. It's just a joy to see them. It's the most important thing about what I do, because without them I couldn't do it.
You've been releasing and recording music professionally for almost 20 years now. Presumably your approach to songwriting has changed over time; but how, and have your influences remained the same?
The influences are the same. I'm very driven by injustice, and I suppose I consider myself to be an angry person in some ways. That always inspires me to write. It's quite a rare songwriter who will write when they feel literally happy. Sadness or anger, negative emotion, will always inspire you more.
My songwriting has changed a lot. I think when you're in your teens, you don't realise it at the time but you've got so much time on your hands. You just open your eyes and get up in the day, and the day can take you wherever it wants. Obviously, I've grown up. I've worked at this job and in order to maintain any sort of sense of career in it you can't just drift around and think the world owes you a living because it doesn't. I have to work really hard. I've got two children. The main way that my songwriting's changed is that I have to be extremely disciplined.
I was always disciplined to a certain extent in that I would always write a lot, but there was never a need for me to go out and write 10 songs because if I didn't I would't have time to do it. I never had that sort of pressure on me, but nowadays I do. When I started doing a subscription site a good few years ago, that was a great discipline – having an audience waiting for a song at the end of every month, and if you didn't do it you were basically breaching a contract you had with them. People have a view of what being a musician should be like but, realistically, if you look at successful musicians they work so much harder than a lot of people just in order to keep their head above water.
In your case, it's almost like the family business [Gilmore's husband, Nigel Stonier, left, with Gilmore, is her musical partner and producer]. How do you manage to separate your work from your family life?
I'm really lucky in that I don't have to. I suppose that when you work in a creative business, your work is your life. If it's not, then you're doing something wrong. If you're writing songs, or you're creating art, or you're writing novels, you have to be living it. You're not really inhabiting the work that you're putting out there if you don't.
Combine that with the fact that although there's a lot of hard work, it's flexible. I can call the shots. I am my own boss. It means that my children can be very much part of what I do, and I like that. I like them seeing that creative industry is as hard work as anything else out there, and I like them feeling like it's do-able as well. I remember as a kid, I looked at people writing songs and making music and thought, well, that's not a real job, nobody can actually do that for a living. But it is quite possible these days to make a living out of being creative. You just have to be very dogmatic about it and very tenacious.
You've embraced so many interesting projects, like a Christmas album and the Sandy Denny album. Do you feel as though there's a pressure on you to keep reinventing the album format, to keep it interesting?
I don't tend to feel pressure. Well, I feel pressure all the time but probably not that sort of pressure because it's a difficult market. We're heading back to the beginning of rock 'n' roll, aren't we, where albums were literally that: a collection of singles. I feel like with downloads now making up such a huge proportion of music sales, we're heading back to a situation where people can literally just choose the songs they want. The album itself, as an art form… it's not irrelevant, but it's kind of heading in that direction.
I don't mind it, really. I'm not celebrating it either, but I think that music and the music industry is very cyclical in nature. It's natural, really, for every generation to want to connect differently. I love the album as an art form, but I'm not worried if it disappears for a while. I think it's interesting. Change and movement always is, particularly in music. We have to feel like we're constantly in motion because that's what creativity is about. I think it might make some writers, including myself, work a bit harder to make sure that every song they write counts, and there's no filler. I kind of like that idea as well.
Does it feel strange to still be performing a song like "This Girl Is Taking Bets" this far into your career and at a different place in your life? Or has its meaning changed to you over that time?
It doesn't feel strange at all. The songs, they evolve and become something different, with every person who listens to them and every person who comes up and talks to me about a particular lyric in a song. I'm one of those writers – and I think there are a lot of us about – who will write a song and have absolutely no idea what it means until you've played it 70 times. And once you've played it 70 times and think you know what it means, you'll play it another 70 times and it'll mean something else.
To me, singing that song feels just as vital as it used to when I was… however old I was when I wrote that song, 21 or whatever. Obviously my focus on various different bits of it has changed. I hope I feel like I understand what I was trying to talk about a little bit more now than I did then.
The friend who got me listening to your music in the first place used to give different friends a line from that song. Perhaps it's like the line that describes you has changed over time.
Absolutely. I think I'm the tag on the toe right now. That's my line right now.
Hear "This Girl is Taking Bets" as recorded in 2001
You've been in the music industry now for a long time, and as feminist discourse has become increasingly a part of the media conversation. Do you feel that much has changed for women over the course of that time – and have attitudes towards you from elsewhere in the industry changed?
I think very little has changed. The music industry is very much full of sexism, and we still haven't come very far. I think that, personally, no matter what your gender you gain a sense of confidence as you get older, and I think that's changed things for me personally to a certain extent. But I still come up against the "no, we can't take her, we've already had a female singer on this month". Ugh.
But that is absolutely endemic in the music business. The idea that "female singer/songwriter" is a genre literally hasn't changed since the days that I started in the music industry. Pick up any glossy music magazine. Obviously we've got some great female-centric blogs and online brilliance in the media, but trying to get any sort of coverage for female artists is so hard because if a publication has had one, or already has one, it's just not interested. It's like they've ticked that box. The idea that women are a box to be ticked drives me fucking insane.
Now that you've done a retrospective, what's next for Thea Gilmore? Is this album a full-stop on a particular phase of your career, or a reappraisal?
That's a good question. I've got plenty of plans at the moment. Nothing formulated. I keep saying that this album makes me think "end of side one" on a tape, you know, because I'm that generation. I like the freedom that that allows me. I like to think that I'll probably start thinking about what I'm doing next in the middle of the year. I like the idea that I can literally just do anything.
It's looking at what I've done so far, thinking about what got me here and the luck that I had as well – being grateful for it, but also thinking, right. Go out there and do something different if you want to. Or not. I think that for me that's just a beautiful situation to be in. I really do count my blessings for that.
It's quite a rare songwriter who will write when they feel literally happy. Sadness or anger, negative emotion, will always inspire you more
Share this article