theartsdesk in Reykjavík: Iceland Airwaves 2014 |

reviews, news & interviews
theartsdesk in Reykjavík: Iceland Airwaves 2014
theartsdesk in Reykjavík: Iceland Airwaves 2014
Breathtaking live orchestral film accompaniment, new punk and high-profile visitors at hectic musical feast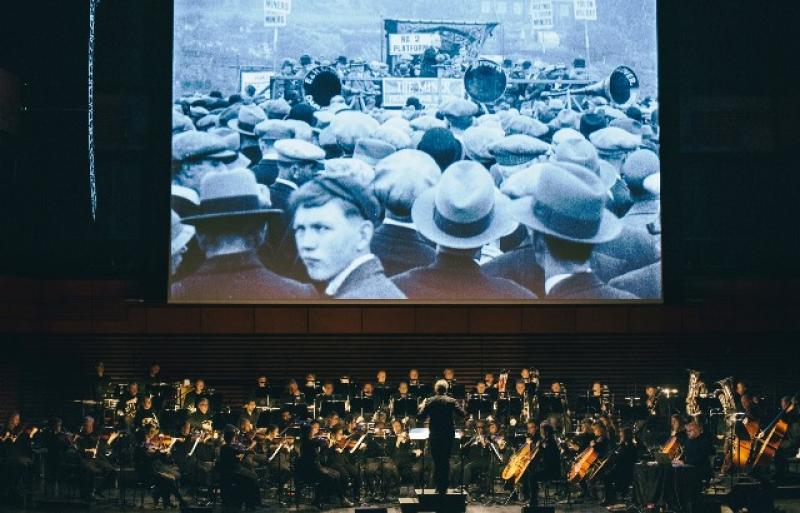 Jóhann Jóhannsson and the Iceland Symphony Orchestra soundtrack 'The Miners' Hymns' at Reykjavík's Harpa Concert Hall
A slim 69-year-old man in a rumpled sports jacket looking like a gone-to-seed history lecturer with the colour-clash dress sense of Michael Portillo is gripping a microphone so hard it's a wonder it hasn't been crushed. He is barking lyrics in Icelandic so gruffly that this could be any Celtic or Nordic language.
This is Megas – born Magnús Þór Jónsson – the Icelandic poet, singer and cultural icon who has been ploughing this particular and peculiar furrow since the early Seventies and, in 1977, helped kick-start Icelandic punk. In Iceland, he is an enduring presence.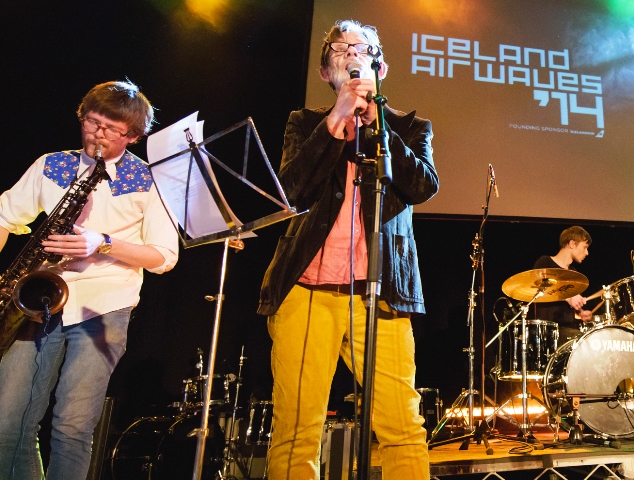 Here, at the 1920's cinema Gamla Bíó, he is intoning over a musical backdrop provided by the equally nuts up-and-coming Icelandic band Grísalappalísa. Their own two singers are matching Megas for sheer bonkers force of delivery and trying out some crowd surfing. Musically, when it does lurch towards the familiar, The Fall, Killing Joke and Can – all at once – hove into view. It is very cross sounding. (pictured right: the colourfully clad Megas with Grísalappalísa at Iceland Airwaves 2014 © Matthew Eisman)
This is delivered to an audience which is neither arty or indie. It is a boisterous young crowd which has grown up with Megas. Asking a local about one of the songs brings the answer that it was popular in 1979. At this moment the realisation dawns that what is popular in Iceland – of the music which has not drifted away from its rocky shores – can be very strange.
If this year's Iceland Airwaves had just been about the Megas/Grísalappalísa show, that would have been enough of a coup. But it would not have been a sound commercial decision and limited ticket sales, and Airwaves casts its net wide with more than enough to sate most musical tastes.
For anyone with Fear of Missing Out, Iceland Airwaves is the stuff of bad dreams. When in full swing, the city centre Reykjavík festival presents the FoMO sufferer with the irresolvable. On Saturday afternoon at 4.30, do you go and see our very own PINS at a coal-hole-sized cellar bar or Canada's Thus Owls at a coffee shop? At that moment, 28 other bands and solo singers are playing elsewhere in the city in anything from a hotdog stand to a banking hall. The off-festival free shows are a head-spinner. (Pictured left: The Knife at Iceland Airwaves 2014 © Alexander Matukhno)
In the evening, the FoMO afflicted have to make even tougher choices. Laying out money for tickets means that the right decision has to be made. But what is right? Anna Calvi, local minimalist folk sensation Ólöf Arnalds or the Iceland Symphony Orchestra performing Jóhann Jóhannsson's music to the film The Miners' Hymns in collaboration with the composer while the film screens? Or perhaps less well-known locals like Hafdís Huld or Young Karin?
Every festival presents difficult decisions and ultimately there is no right or wrong. But with Airwaves there is always the nagging thought that the next startling Icelandic act to break through might be within sniffing distance. This is a main driver of the festival – it's designed to showcase the local alongside carefully chosen visitors. It must be doing it right. This year the sell-out event drew crowds from – based on voices overheard – America, Canada, Germany, Norway, Russia, Spain, Sweden and no doubt elsewhere as well as Iceland itself.
Among the big international draws were Calvi, The Flaming Lips, Sweden's The Knife, billed as playing their last show, The War on Drugs and the Jóhannsson/Iceland Symphony Orchestra concert. As it doesn't coincide with the summer festival season, whoever is appearing is unlikely to have been exposed elsewhere earlier in the year. Airwaves is not about doing things the same way as anyone else. (Pictured right: The Flaming Lips at Iceland Airwaves 2014 © Matthew Eisman)
And with the magnificent multi-venue, dock-side concert hall Harpa as its main evening venue, it couldn't be. Elsewhere, the festival takes place across Iceland's compact capital at the sadly no-longer seated Gamla Bíó, the charming late 19th-century banqueting hall and theatre Iðnó, the cavernous, echoey main hall of The Reykjavík Art Museum and a raft of bars. For five days, Airwaves defines Reykjavík.
Reykjavík, and Iceland of course, is also partly defined by Björk who was seated in the seventh row of the stalls of Harpa's Festival Hall-like Eldborg auditorium to take in the collaboration of Jóhann Jóhannsson and the Iceland Symphony Orchestra (main picture). What she heard and saw was breathtaking. Under conductor Guðni Franzon, the successive waves of Jóhannsson's score for Bill Morrison's film on the fate of Britain's mining industry seamlessly supported and enhanced the images on screen. At points, awareness of the presence of the orchestra was almost nil. The moving Miners' Hymns had a living, breathing soundtrack.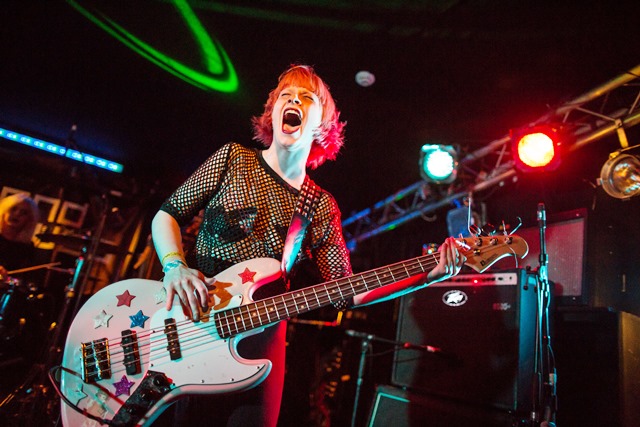 The same could not be said for The Knife at Harpa's smaller Silfurbeg hall. Packed to over-capacity it was, indeed, hard to breath. As for being a living band, as theartsdesk noted before on witnessing their current incarnation on stage – there were no actual musicians or instruments in any form being played. Nonethless, what was effectively a playback show with dancers went down a storm, even with the tiresome faux-aerobics intro. As meta-concerts go, The Knife have now patented a version which out-metas all previous.(Pictured left: Kælan Mikla at Iceland Airwaves 2014 © Daníel Starrason)
On the edge of the city at the Vodafonehöllin sports hall, The Flaming Lips were also about to show with their own patented brand of circus-concert. There were the expected giant suns and turtles. Frontman Wayne Coyne rolled around atop the crowd inside a transparent sphere. A fine giant blow-up sign saying "Fuck Yeah Iceland" (pictured above with Coyne) was tossed about. Support act The War On Drugs were more reticent, peeling off their now very deft melding of Dylan, Springsteen and Krautrock.
Classicism in another form helped define this year's Airwaves. Punk has reared its head again. The Megas/Grísalappalísa show proved a taster for what emerged as a prime musical theme. Another helpful local, when asked about this, declared "it's 1982 all over again." Boy, no denying it. There really is a groundswell of powerful, off-the-wall punk-influenced bands the festival had found to prove the point.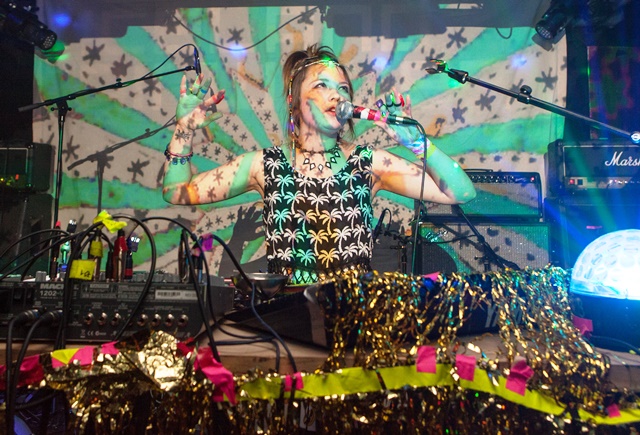 Among the punky highlights were the wild Elín Helena, fronted by two bellowing men (one a ringer for a slimmer Matt Berry). The well they drew from was Orange County hardcore circa 1982, while the fabulous Pink Street Boys took odd dashes of Ohio's The Pagans and Fun House Stooges, and revved them up to a velocity faster than a volcano hurls rocks into the air. Fantastic. The equally striking Börn put "Love in a Void" Siouxsie & the Banshees and The Poison Girls in a food processor to invent one of the most jarring bands it's possible to witness. The trio Kælan Mikla were best of all though: a drummer, bassist and singer who could barely play with poetry on their minds – a very, very angry and very, very dark Delta 5. Should these all be evidence of where Iceland's music is heading – or at least where some of it is heading – next year will be very interesting. (Pictured above right: dj. flugvél og geimskip at Iceland Airwaves 2014 © Rúnar Sigurður Sigurjónsson)
There were though, less in-your-face treats which related more closely to how Iceland's music is seen from the outside. dj. flugvél og geimskip (translated as DJ Airplane and Spaceship) looks about 14 years old and sings in Icelandic about cats taking over the world and the weird world below the surface of the ocean to a bloopy, rickety, roller-coaster electropop she bills as "horror electronic music from outer space." Utterly charming and hugely entertaining, she could have taught The Knife a thing or two about staging and The Flaming Lips that spectacle can also work on an intimate scale (watch the video for her "Glamúr Í Geimnum!" below).
Whatever the different strands it pulls together, Iceland Airwaves 2014 confirmed that music can still delight and still confound. But please, do take care to watch out for the hordes of fired-up Icelandic punks which may soon be heading our way in a new Viking invasion.
Watch the video for dj. flugvél og geimskip's "Glamúr Í Geimnum!"
Watch out for the hordes of Icelandic punks which may be heading our way in a new Viking invasion
Share this article