Tom Russell, 100 Club review - tales from a time-honoured troubadour |

reviews, news & interviews
Tom Russell, 100 Club review - tales from a time-honoured troubadour
Tom Russell, 100 Club review - tales from a time-honoured troubadour
Bridging the great divide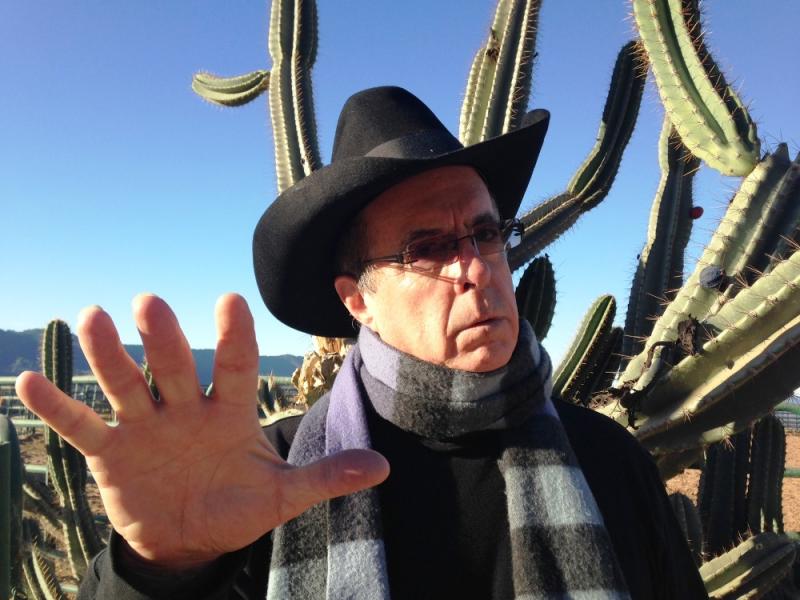 Forty years in the saddle with the Renaissance cowboy
Nothing beats a great singer-songwriter live and unadorned. So it was with Tom Russell at London's 100 Club on the penultimate night of his UK tour. Accompanied by his faithful friend the brilliant Milanese Max Bernadino on guitar, the man whom Lawrence Ferlinghetti describes as "Johnny Cash, Jim Harrison and Charles Bukowski rolled into one" gave a brilliant performance which was a masterclass in audience engagement.
Russell's most recent album Folk Hotel featured prominently, already very familiar to everyone present it seemed, and there was an early dip into his 2015 folk opera The Rose of Roscrae. He pretended for five minutes to be the warm-up act, offering snatches of songs such as "Pancho and Lefty" and "The Tower of Song" and asking the audience to name the writers (Townes van Zandt and Leonard Cohen FYI) before offering a short hommage to the hallowed ground on which he, and we, stood – the Kinks, Iggy Pop and Keith Richards being among the distinguished multitudes who had planted their feet on the 100 Club stage down the decades. The amazing photos which festoon the walls speak volumes.
"Hair Trigger Heart", "Leaving El Paso", "Rise Again, Handsome Johnny" (in which he recalls a teenage handshake with JFK) and the exquisite "Guadalupe" were early highlights in an evening that repeatedly touched the heart, lyrically and musically. "Blue Wing" and "Veterans Day" prompted stories of the great Johnny Cash, whose magnificent voice – craggy, as if echoing round the canyons – Russell's own often recalls. The style and influence of Roy Orbison, Marty Robbins and Kris Kristofferson are also easily discernible: giants all who bridged folk and country and rock, breaking down barriers to create what we now call simply Americana.
Russell's reverence to these and other greats is ever evident, from the Mississippi John Hurt style of "Handsome Johnny" to "The Last Time I Saw Hank", and "I'll Never Leave These Old Horses", a tribute to Ian Tyson, co-author (with Sylvia) of "Four Strong Winds". Russell proclaims that the greatest song to come out of Canada (check out his album-length tribute: Play One More: The Songs of Ian and Sylvia), though "Morning Dew" – widely covered, not least by the Grateful Dead – surely ranks high. Its writer, Bonnie Dobson, who features on The Rose of Roscrae, was in the audience.
Russell's songs can be angry – "Who's Gonna Build Your Wall has special resonance these days, the audience joining in with gusto, though the album on which it features, Wounded Heart of America, predates Trump by a decade. More often they are tender and poignant. Each is like a novella, or a short movie: keenly observed; rich in imagery and allusion and emotion; often mixing the sacred and the profane. One minute we're in El Paso, with images of the drying Rio Grande; the next in New York as Dylan Thomas down his last drink, the next in Joyce's Dublin, or driving Britain's A1 with images of the Angel of the North, "the Iron Lady".
"You keep on singing, for in singing is eternity," Russell intones in "The Light Beyond the Coyote Fence". A Renaissance man who's also a painter and an author of detective fiction, he's been singing and writing for more than four decades, creating a catalogue of work that's been recorded by the likes of Cash, K D Lang, Nanci Griffith and Ramblin' Jack Elliott, with whom he'll shortly embark on a Ramblin' on the Rails tour. He should be better known, more widely appreciated and filling major concert halls, though the fabled 100 Club fits Russell the Outlaw perfectly.
He closed with Tyson's "Navajo Rug", replete with memories of "two eggs up on whiskey toast/ Home fries on the side… And a waitress I did love". The song's Canyon-Colorado Diner was several thousand miles behind as he and his Swiss wife hit the road for Farncombe, Surrey, and a final UK gig at St John's Church.
Each song is like a novella, or a short movie: keenly observed; rich in imagery and allusion and emotion; often mixing the sacred and the profane
rating
Explore topics
Share this article