UK Festivals 2011 Round-Up |

reviews, news & interviews
UK Festivals 2011 Round-Up
UK Festivals 2011 Round-Up
The comprehensive clickable guide to all the festivals, from pop to opera
T in the Park: One of the top half dozen festivals in the country
It's time to dust down your tent and ice-box and plan some summer breaks with theartsdesk's definitive clickable festival guide - listings and links for all the UK festivals this summer, from rock by the lochs to DJs in London parks, and catching classical and opera on the way. See theartsdesk's invaluable European festivals 2011 guide too.
SCOTLAND
Knockengorroch World Ceilidh, 26-29 May, Drumjohn, Galloway
Secret Scottish streams and woods resound to roots music sounds, with Adrian Edmondson & the Bad Shepherds,
Salsa Celtica, Horace Andy & Dub Asante, DJ Yoda, Russkaya & Modhan indicating the range you'll hear from your yurt. www.knockengorroch.org.uk
Rock Ness, 10-12 June, Dores, Inverness-shire
Kasabian, The Chemical Brothers, Two Door CInema Club (see video below), Paolo Nutini, Bombay Bicycle Club (and Nessie? Who knows?) are among the big attractions at a cracking loch-side rock line-up. www.rockness.co.uk
T In The Park, 8-10 July, Balado, Kinross-shire
Beyoncé, Tinie Tempah, Arctic Monkeys, Foo Fighters, Plan B, Devlin - global headliners at the biggest festival north of the border. www.tinthepark.com
Wickerman, 22-23 July, East Kirkcarswell, Dumfries & Galloway
Feeder, Echo & the Bunnymen, The Damned, Noisettes, Hoosiers etc in a generous weekend packing out tents and inns with dozens of bands www.thewickermanfestival.co.uk (picture right)

Northern Lights, 30-31 July, Aberdeen
New northern festival with chart favourites Madness, Maximo Park, the Waterboys and Paloma Faith alongside a forceful Scottish contingent headed by Edwyn Collins. www.northernlightsfestival.co.uk
Edinburgh Fringe Festival, 5-29 August, Venues around Edinburgh
Thousands of hopeful comics, dancers, actors, stilt-walkers, refugee trumpeters, every kind of deluded showbiz nut at this endlessly fascinating and frustrating parade of world humanity. Programme out on 9 June. www.edfringe.com
Belladrum Tartan Heart, 5-6 August, Beauly, Inverness-shire
Headliners Texas, CW Stoneking (pictured left), Kassidy, Anna Calvi, Deacon travel to the top of the island for a mainstream gathering. www.tartanheartfestival.co.uk
Edinburgh International Festival, 12 August-4 September, Venues across Edinburgh
Asia meets Europe in the 2011 theme for the most globally famous UK arts festival with literature, theatre, dance, classical music and pop, and venues ranging from castles to pubs. See theartsdesk's full guide to events. www.eif.co.uk
Wizard, 26-27 August, New Deer, Aberdeenshire, Scotland
The Stranglers, indie supergroup Cast and The Saw Doctors top the far-northern festival. www.wizardfestival.com
Watch Two Door Cinema Club perform 'I Can Talk' (see Rock Ness)
NORTH
Evolution Weekender, 28-29 May, Newcastle, Tyne & Wear
Iggy and the Stooges, Katy B, Plan B, The Kills, Two Door Cinema Club, Tinie Tempah at a top-notch quayside urban festival. www.evolutionfestival.co.uk
Night & Day, 11-12 June, Kirkstall Abbey, Leeds
Two days of great music and a food village boasting everything from hog roasts to curries. Headline acts include the Waterboys, the Hothouse Flowers, Karine Polwart and Ukulele Orchestra of Great Britain. www.tribecaevents.co.uk
Africa Oyé, 18-19 June, Liverpool, Merseyside
UK's largest annual celebration of African music, food, smells and sounds, now in its 20th year, with musicians from Mali, Benin, Western Sahara, Cameroon, Mozambique and closing with the Sierra Leone Refugee Allstars. www.africaoye.com
Camp Zombie, 16 July, Blackpool, Lancashire
Zombie heaven, with goth tips, horror workshops and unhinged dressing up, and music from Uncle Rotter, Brud and the Drop Out Wives. www.campzombie.co.uk
Kendal Calling, 29-31 July, Kendal, Cumbria
Blondie, The Cribs, Chase & Status (pictured right) and House of Pain plus "Soviet Diskotheque" and its very own Olympics - all in a deer park in Wordsworth country. www.kendalcalling.co.uk
Burton Agnes Jazz Festival, 5-7 August, Driffield, E Yorkshire
Oli Brown, Jacqui Dankworth, Nicola Farnon and Claire Martin feature in a family-friendly jazz-funk outing at Elizabethan mansion complete with walled garden, maze, etc. www.burtonagnes.com
Beacons Festival, 12-14 August, Skipton, N Yorkshire
Jamie Woon, Jamie XX, Summer Camp, Frankie & the Heartstrings top the successor to Moor Music Festival that celebrates indie. www.greetingsfrombeacons.com
Tribfest, 19-21 August, Tickton, E Yorkshire
Mentallica, Lady Gaa Gaa and Prodigy tributers Jilted Generation are headliners in Britain's largest event devoted solely to tribute acts - more than 100 this year. www.tribfest.co.uk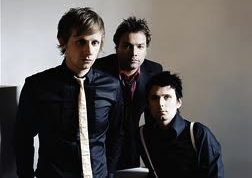 Leeds/Reading, 26-28 August, Leeds, W Yorkshire/Reading, Berkshire
Muse (pictured left), Elbow, The Strokes (see video below), My Chemical Romance, Pulp top billing in perennially popular sister festivals that showcase the biggest names in popular rock. www.leedsfestival.com/ www.readingfestival.com

Solfest, 26-28 August, Silloth, Cumbria
The Damned, Pikey Beatz, The Stranglers, The Saw Doctors lead 5000-capacity shindig that harks back to the original Seventies festival blueprint. www.solwayfestival.co.uk
Watch the Strokes' video for 'Under Cover of Darkness' (see Leeds/Reading)
CENTRAL
National Forest Folk Festival, 1-3 July, Ashby de la Zouch, Leicestershire
Salsa Celtica, Seize the Day, Ukulele Orchestra of Great Britain, Demon Barber Roadshow top a folk staple based at the National Forest Visitors' Centre. www.affc.demon.co.uk

Cornbury, 1-3 July, Charlbury, Oxfordshire
Headliners James Blunt, Eliza Doolittle, Status Quo, Cyndi Lauper make cosy listening - but Cornbury is as much about chilling with a picnic as it is the music. www.cornburyfestival.com
Buxton Festival, 9-37 July, Buxton, Derbyshire
Spa town with a tradition for sought-after stagings of unusual operas - this year Donizetti's Maria di Rohan, Handel's Saul, Ambroise Thomas's Mignon, Mark-Anthony Turnage's Greek, Cimarosa's The Italian Girl in London, Telemann's comic opera Pimpinone and a new confection, Kit Hesketh-Harvey's tribute Monteverdi's Flying Circus - plus a goodly selection of recitals, including Seckou Keita on kora, unexpectedly. www.buxtonfestival.co.uk
Truck, 22-24 July, Steventon, near Abingdon, Oxfordshire
Rootsy festival that always boasts a line-up of hot up'n'coming names as well as names like Bellowhead, Gruff Rhys, The Go! Team (pictured right) and ex-Radioheader Philip Selway. www.thisistruck.com
Silverstone Classic, 22-24 July, Silverstone Circuit, Northamptonshire
Icons of motor racing on the track and icons of popular music, including Suzi Quatro, 10cc, electric string quartet Tetra Electra and tribute band The Rolling Stoned. Added classical-crossover acts include Tenors Un Limited and the 40-person strong Amadeus Orchestra. www.silverstoneclassic.com
Standon Calling, 12-14 August, Standon, Hertfordshire
Spiritualized Battles, Hercules and Love Affair, Penguin Café and Howard Marks headline this party, and the dressing-up theme this year is "Gods and Monsters". www.standon-calling.com
Fairport's Cropredy Convention, 11-13 August, Cropredy, Oxfordshire
UB40, Seasick Steve (pictured left), Horslips, Badly Drawn Boy and naturally Fairport Convention headline the Croppers for the annual pilgrimage for folk fans and rustic revellers. www.fairportconvention.com/cropredy.php
Summer Sundae Weekender, 12-14 August, Leicester, Leicestershire
Leicester's city centre bonanza fields bands, comics and choirs on half a dozen stages - with big draws such as Bellowhead and Jon Richardson, but more to the point emerging talents. www.summersundae.com
V, 20-21 August, Chelmsford, Essex + Weston-under-Lizard, Staffordshire
One of the great festivals in twin venues. This year it's Eminem, Rihanna (see video below), Arctic Monkeys, Dizzee Rascal, Duran Duran and Plan B who top bills that provide a one-hit banquet of what's popular today. www.vfestival.com
Shambala, 25-28 August, Secret location in the Midlands
Despite a policy of not revealing much about themselves, Shambala has an enviable reputation as a "proper" uncommercialised festival. This year ticketbuyers get to choose some of the acts by online voting. www.shambalafestival.org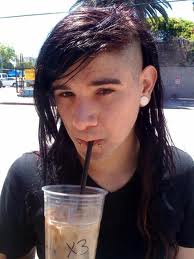 Creamfields, 26-28 August, Daresbury, Cheshire
Massive DJ rave-up in the fields with expected talents including Armin van Buuren, Skrillex (pictured right), Swedish House Mafia, Markus Schultz and many more.
www.creamfields.com
Twinwood, 27-29 August, Clapham, Bedfordshire
The ultimate vintage dance music festival celebrating the music that came before rock'n'roll, notably 40s and 50s swing and jive - with dance lessons and historic film too. www.twinwoodevents.com
Oxford Lieder Festival, 14 October, Oxford, Oxfordshire
The UK's biggest celebration of song will announce its programme later this year - Sir Thomas Allen, Dame Felicity Lott, Eugene Asti, Wolfgang Holzmair, Sarah Connolly, Håkan Hagegård, Florian Boesch and Roger Vignoles are already down for it. www.oxfordlieder.co.uk
Watch Rihanna's video for 'Only Girl (In the World)' (see V)
WEST
Bath Music Festival, 25 May-5 June, Bath
From Ceilidh dancing to Paul Robeson history, from Ute Lemper to the Tokyo String Quartet (pictured left), this civilised and eclectic festival in one of the UK's architectural urban gems ranges eclectically through tastes. www.bathmusicfest.org.uk
Wychwood, 3-5 June, Cheltenham, Gloucestershire
Three Daft Monkeys, the Waterboys, the Charlatans and the Wurzels headline one for funky families - not just music but children's activities organised by the Roald Dahl Museum. www.wychwoodfestival.com
Glastonbury, 24-26 June, Pilton, Somerset
This legendary annual occasion has a sporting chance of being sunny for once, which won't affect fans' enjoyment of Coldplay, Beyoncé (pictured right), U2, Tinie Tempah, Morrissey, Rumer etc on stages jampacked with top bands. www.glastonburyfestivals.co.uk
Dartington HOME, 24-25 June, Dartington, Nr Totnes, Devon
Suzanne Vega headlines the HOME world music festival, plugged as "the perfect antidote to Glastonbury" - with acoustic performances by world musicians from Argentina, the Gambia, Portugal, Senegal and Wales. www.dartington.org
Cheltenham Music Festival, 29 June-10 July, Cheltenham, Gloucestershire
Percussionist Evelyn Glennie (see video below), cellist Natalie Clein, Vladimir Jurowski conducting Wagner, Mark-Antony Turnage's opera Greek, Stile Antico are among high-profile artists at this broad-ranging classical music festival. www.cheltenhamfestivals.com
Farmfestival, 29-30 July, Bruton, Somerset
Dodgy, Doyle and the Fourfathers, Man Like Me play a local indie festival on a working farm with a hog roast. www.farmfestival.co.uk
Global Gathering, 29-30 July, Long Marston, Warwickshire
Tinie Tempah, Pendulum, Chase & Status, Underworld in a giant dance rave in 14 stages - expect glowsticks and top-notch beat bombardment. www.globalgathering.com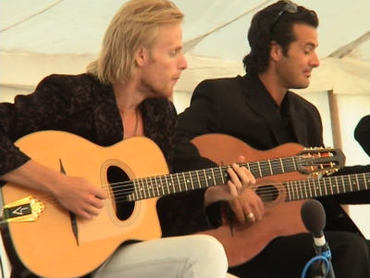 International Gypsy Guitar Festival, 29-31 July, Gossington, Gloucestershire
The Belle Vie Band, Sarah Smith, La Bouche Manouche (pictured left) and Gypsy Kings are big draws, plus a Gypsy Idol evening fielding 10 bands seeking aficionados approval for a paid slot next year. www.iggf.co.uk
Big Chill, 4-7 August, Eastnor Castle, Herefordshire
A feisty line-up includes Kanye West, Rodrigo y Gabriela, Chemical Brothers, and a castle deer park. www.bigchill.net
Three Choirs Festival, 6-13 August, Worcester, Worcestershire
World-famous classical music festival rotating between cathedral cities of Gloucester, Worcester and Hereford and showing major artists alongside local ones. This year - the last by retiring artistic director Adrian Lucas - includes The Dream of Gerontius with Sarah Connolly and the Philharmonia, the Shakespeare Globe Hamlet, cellist Jamie Walton, Mahler 3 conducted by rising Finnish star Suzanna Mällki, Sir Thomas Allen and organ recitals www.3choirs.org
Tribe of Doris, 9-14 August, Black Down Hills, Devon
Not exactly a festival but a vibrant intercultural exchange of dance, acoustic music, song and ceremony. Primarily participatory, it specialises in drumming from around the world. www.tribeofdoris.co.uk
Beautiful Days, 19-21 August, Ottery St Mary, Devon
Main stage headline acts Carter USM, Big Audio Dynamite, Gogol Bordello and Pop Will Eat Itself spark up this year's Levellers festival (the Levellers pictured right) emanating punk-folk good cheer and named after the Levellers' biggest hit. www.beautifuldays.org
Aeon, 26-28 August, Crediton, Devon
Cheap'n'cheerful event featuring DJ Vadim, avant-jazz, oddball electronica and a smidgeon of indie. www.aeonfestival.com
Shrewsbury Folk, 26-29 August, Shrewsbury, Shropshire
Oysterband, Cara Dillon, Bellowhead lead an event taking folk festivalling back to its roots, with a facelifted dance tent and some of the best Morris dance troupes in the UK promised. www.shrewsburyfolkfestival.co.uk
Watch percussionist Evelyn Glennie perform 'Rhythmic Caprice' on the marimba (see Cheltenham)
WALES
Coastline Bluegrass, 3-5 June, Dolwen, Llanddulas
Bluegrass Band, Longway and Homemade Jam top Wales's premier banjo-pickin' mandolin-swingin' deep south hoedown. www.coastlinebluegrass.co.uk
Gottwood, 30 June-3 July, Llanfaethlu, Anglesey
Wills and Kate should look out - their island hosts a cutting-edge electronic party with Jamie XX (pictured right), A Guy Called Gerald, Round Table Knights, Kollectiv Turmstrasse and much more. www.gottwood.co.uk
Isle Of Man Bay Festival, CANCELLED, Douglas, Isle of Man
Sign of the economic times - the 2nd Bay Festival has been cancelled because of poor advance ticket sales, coming on top of the debts from last year's inaugural event. Refunds on www.bayfestival.im
Wakestock, 8-10 July, Cardigan Bay
Find the world's best wakeboarders, Biffy Clyro, The Wombats, Ellie Goulding and others at surf-centric event sponsored by an energy drink and jammed with young club sounds. www.wakestock.co.uk
National Eisteddfod of Wales, 30 July-6 August, Wrexham
The national Welsh-language festival of poetry, singing, drama and visual art. www.eisteddfod.org.uk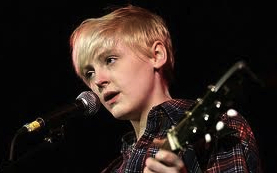 Green Man, 19-21 August, Glanusk, Powys
With headliners including the mighty Fleet Foxes and Explosions in the Sky, 2011 promises to be another splendid affair in the Brecon Beacons. Laura Marling (pictured left), the Avett Brothers, the Bleedin' Noses (see video below) and the Ramshackle Union Band are among the other attractions. www.greenman.net
Festival in the Shire, CANCELLED, Pontrhydfendigaid, Dyfed
A celebration of all things Tolkien-inspired in mid-Wales - but like the Bay Festival, it's suffering in the economy and is "postponed" to 2012. www.festivalintheshire.com
Watch The Bleedin' Noses at Glasto 2010 (see Green Man)
SOUTH
Isle Of Wight, 10-12 June, Newport, Isle of Wight
Kings of Leon, Foo Fighters (pictured right), Pulp, Kaiser Chiefs, Beady Eye, Kasabian, Jeff Beck… the names go on at the famously massive family festivals. www.isleofwightfestival.com
Blissfields, 30 June-3 July, Alresford, Hampshire
Tricky, Frank Turner, Fenech-Soler, Gold Panda at bouncy bash that doesn't take itself too seriously. www.blissfields.co.uk
Sonisphere, 8-10 July, Knebworth, Hertfordshire
The British stopover for this travelling heavy metal rock train headlines Motorhead, Anthrax, Slayer, Metallica, Megadeth, Limp Bizkit... Bill Bailey and Biffy Clyro too. You can also catch the noise in 11 other countries. www.sonispherefestivals.com
Swanage Jazz Festival, 8-10 July, Swanage, Dorset
22nd year for the Dorset jazz festival, with John Maddock's Jazzmen, Terry Seabrook Milestones, Gill Manly, Andy Dickens Quintet, Martin Litton's Red Peppers and Christine Tobin Quartet among many. www.swanagejazz.org.uk
Larmer Tree, 13-17 July,near Salisbury, Wiltshire
Krystle Warren, Seasick Steve, Jassi Sidhu, Imelda May, Asian Dub Foundation, DJ Derek, comedian Arthur Smith, Jools Holland and even Sandie Shaw are on the attractively varied bill. www.larmertreefestival.co.uk
Marlborough Jazz Festival, 15-17 July, Marlborough, Wiltshire
Founded in 1986, the festival attracts 6,000 people to watch a range of famous touring acts as well as British jazz musicians, including saxophonist YolanDa Brown (see video below), Al Marconi, Swing de Bois and the Filthy Six. www.marlboroughjazz.co.uk
WOMAD, Malmesbury, Wiltshire
Dub Colossus, CW Stoneking, Penguin Café, Booker T Jones, Axel Krygier (pictured left), Susheels Raman, The Nextmen and MC Wrec lead Peter Gabriel's original world music celebration, still going strong after 29 years. Also at Bristol Zoo on 11 June, with Biram Seck and Alejandro Toledo & The Magic Tombolinos. www.womad.org
Camp Bestival, 28-31 July, Lulworth Castle, Dorset
Primal Scream, Laura Marling, Blondie, House of Pain, ABC are featured attractions at not so much a music festival as a family festival with music. www.campbestival.net
Rewind '80s Festival, 29-31 July, Scone Castle, Perth Scotland / 19-21 August, Henley-on-Thames, Oxfordshire
Packed with Eighties pop stars like the Human League, Toyah, Rick Astley, Billy Ocean, Village People, Bananarama - the ultimate feast of guilty pleasures. www.rewindfestival.com
Jersey Live, 3-4 September, Jersey, Channel Islands
The Channel Islands more than holding their own in the festival stakes with Madness and The Streets among main stage attractions and Zane Lowe, Annie Mac and Mr Oizo heading the dance stage. www.jerseylive.org.uk
Bestival, 8-11 September, Robin Hill Country Park, Isle of Wight
The Cure, Pendulum (pictured right), P J Harvey, Primal Scream are top fare on 15 stages - this year there's a Roller Disco Ballroom Field and a Swamp Shack too among Bestival's top-notch frolics. www.bestival.net
End Of The Road, 2-4 September, Tollard Royal, Dorset
A group of alt-Americana fans set up their own festival and found a devoted audience - big names include Lykke Li, Beirut, Joanna Newsom, Mogwai and Midlake. www.endoftheroadfestival.com
Watch a film of saxophonist YolanDa Brown playing the Fela Kuti classic 'Lady'(see Marlborough)

LONDON
Sydenham International Music Festival, May June, St Bartholomew's Church, Sydenham, South London
Opera singer Sir Willard White and the Endellion String Quartet among the classical artists in the 8th Sydenham festival. www.sydenhammusic.net
London Review Bookshop World Literature Weekend, 17-19 June. London Review Bookshop
The only UK festival to specialise in literature in translation. The theme of this year's festival is history and memory. Guests include novelists Cees Nooteboom and Javier Cercas, novelist and activist Manuel Rivas and Dutch poet laureate Ramsey Nasr. www.lrbshop.co.uk
Blaze Festival, 19 June-28 July, Barbican and East London venues including Hackney Empire, Gillett Square, Wilton's Music Hall and Rich Mix.
Hugh Masekela, Basement Jaxx, Ryan Adams, Gregg Allman, Esperanza Spalding, The Unthanks, Ludovico Einaudi and Bill Evans are among those taking part in the third instalment of the eclectic music festival featuring new commissions www.barbican.org.uk/blaze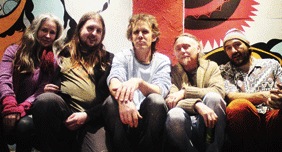 City of London Festival, 26 June-16 July, Various London venues including Barbican Theatre, Guildhall, and outside St Paul's Cathedral
International dance and classical music festival on a theme of Australia, New Zealand and the South Pacific, performers including Rambert Dance, the LSO, City of London Sinfonia, and Kangaroo Moon (pictured left) at Liverpool Street station. www.colf.org
Greenwich+Docklands International Festival, 24 June-2 July, National Maritime Museum, Greenwich Park, Royal Observatory Gardens, Canary Wharf and other localities.
Free events majoring in "seriously spectacular street theatre", including fireworks, art installations, all-day outdoor attractions and a "Dancing City" dance day on 2 July. www.festival.org
Hard Rock Calling, 24-26 June, Hyde Park, London
Rod Stewart, The Killers, Bon Jovi, Kaiser Chiefs head festival for older tastes with a fatter pocket. www.hardrockcalling.co.uk
Wireless, 1-3 July, Hyde Park, London
Black Eyed Peas, The Chemical Brothers, Ke$ha, Pulp, Chipmunk and Grace Jones (see video below) are some of the attractions at the slightly younger, cheaper Hyde Park event. www.wirelessfestival.co.uk
Lovebox Weekender, 15-17 July, Victoria Park, London
Affordable East London festival stars Snoop Dogg, Scissor Sisters, 2 Many DJs, The Wombats, Blondie, Robyn (pictured right). www.lovebox.net
Shoreditch Festival, 15-24 July, Shoreditch Park, New North Road, N1
Free events involving East London and international talent focusing on the canals and waterways and a day called the Shoreditch Games, to entice young people into trying out various sports. www.shoreditchfestival.org.uk
L.E.D., 11 August, Victoria Park, London
deadmau5 and Calvin Harris - night-clubbing in daylight in a south London park is more fun than it sounds. www.ledfestival.net
South West Four, 27-28 August, Clapham Common, London
Above and Beyond, Richie Hawtin (pictured left), Group Therapy, Judge Jules - night-clubbing in daylight in a south London park is more fun than it sounds (part two). www.southwestfour.com
Watch Grace Jones's 'La Vie En Rose' video (see Wireless)
SOUTH-EAST
Brighton Festival, 7-29 May, Brighton, West Sussex
Increasingly looking like the south's Edinburgh rival, with edgy dance, theatre as well as music contemporary and classical - this year's theme of Burmese heroine Aung San Suu Kyi attracts headliners like Mulatu Astatke, John Cale, Laurie Anderson and Sidi Larbi Cherkaoui. www.brightonfestival.org
Glyndebourne Festival, 21 May-28 August, Lewes, East Sussex
The world-famous countryhouse opera-with-picnic festival shows Wagner's Die Meistersinger (see video below), Mozart's Don Giovanni, Donizetti's L'elisir d'amore, Handel's Rinaldo, Dvorak's Rusalka and Britten's The Turn of the Screw. www.glyndebourne.com
Fuse Medway Festival, 17-19 June, Chatham Riverside, Rochester Castle Gardens, high streets in Strood, Gillingham, Chatham, and other outdoor localities. High street circus and acts, video installations, audience-participation cycling events, hip hop and all sorts of wacky family things to see and join in. www.fusemedwayfestival.wordpress.com
International Youth Arts Festival, 1-18 July, Kingston, Surrey
Festival produced and performed by young people from all over the world, with indoor and outdoor events in theatre, film, visual arts, dance and music. www.iyafestival.org.uk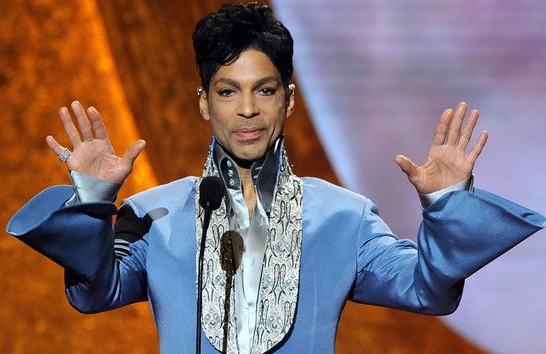 The Hop Farm, 1-3 July, Paddock Wood, Kent
Prince (pictured right) will allegedly make his only UK appearance here, and other iconic attractions include Lou Reed, The Eagles, Morrissey, Brandon Flowers, Manu Chao and Bryan Ferry. www.hopfarmfestival.com
Lounge On The Farm, 8-10 July, Canterbury, Kent
The Streets, Ellie Goulding, Echo & the Bunnymen, Katy B and Devlin are among the eclectic selection of bands amid hay-bales, cowsheds and gorgeous food. www.loungeonthefarm.co.uk
GuilFest, 15-17 July, Guildford, Surrey
Roger Daltrey, Razorlight, Chipmunk headline the only place you can catch Adam Ant sharing a stage with N-Dubz. www.guilfest.co.uk
Redfest, 22-23 July, Redhill, Surrey
Another farmland setting, but this one with noisy, ebullient crossover of indie and electronic dance, headlined by We Are The Ocean, Futures, Ed Sheeran and Modestep. www.redfest.co.uk
One Love, 19-21 August, Hainault, Essex
Britain's only reggae camping festival comes round for the fourth year. Acts confirmed include Finley Quaye, Dennis Alcapone, David Rodigan, Dub Incorporation, Macka B & the Roots Ragga Band and many more. www.efestivals.co.uk
Weyfest, 2-4 September, Tilford, Farnham, Surrey
Main acts Newton Faulkner (pictured left), The Blockheads, Focus, Martin Turner's Wishbone Ash aim at the kind of fellow who likes real ale. www.weyfest.co.uk
Offset, 3-4 September, Redbridge, Essex
Atari Teenage Riot, Mystery Jets, Liquid Liquid, Caribou and avant-indie take centre-stage at this imaginatively programmed event. www.offsetfestival.co.uk
Windsor Festival, 17 September-2 October, Windsor, Berkshire
Spectacular Windsor Castle locations for classical events with opera bass Sir John Tomlinson, the Philharmonia, the Choir of St George's Chapel among attractions. www.windsorfestival.com
Watch Johan Botha sing the 'Prize Song' from Wagner's opera 'Die Meistersinger' (see Glyndebourne)
EAST
Ely Folk Festival, 8-10 July, Ely, Cambridgeshire
Top of the bill are The Men They Couldn't Hang, Three Daft Monkeys, Dervish, Martin Simpson Band and Shooglenifty. Folk is a core staple of Brit festival culture and Ely is the folk festivaller's folk festival. www.elyfolk.co.uk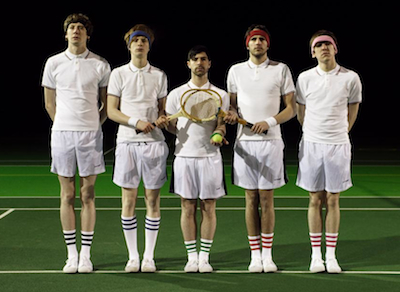 Latitude, 14-17 July, Henham, Suffolk
The National, Suede, Paolo Nutini, Foals (pictured right) and Eels typify the range at this high-end weekend where rock and pop meet comedy and cabaret - DJ Annie Nightingale hosts a woodland stage for new talent too. www.latitudefestival.co.uk
Secret Garden Party, 21-24 July, East Anglia
The Jim Jones Revue, CW Stoneking, Smoke Fairies, Skip McDonald and Secret Sisters are among acts at this quirky independent fest. This year august forums on science and the origins of life intersperse with SGP's homespun wisdom. www.secretgardenparty.com
Cambridge Folk, 28-31 July, Cambridge, Cambridgeshire
Line-up for this global folkfest includes Laura Marling, Richard Thompson, Rumer (see video below), Chris Wood, Villagers and Home Service, www.cambridgefolkfestival.co.uk
Harvest At Jimmys, 9-12 September, Ipswich, Suffolk
Eliza Doolittle, Fat Freddy's Drop, The Feeling, chef James Martin and the British Street Food Awards combine top tastes at this food and music festival. www.harvestatjimmys.com
Watch Rumer sing 'Aretha' (see Cambridge Folk)
Subscribe to theartsdesk.com
Thank you for continuing to read our work on theartsdesk.com. For unlimited access to every article in its entirety, including our archive of more than 10,000 pieces, we're asking for £3.95 per month or £30 per year. We feel it's a very good deal, and hope you do too.
To take an annual subscription now simply click here.
And if you're looking for that extra gift for a friend or family member, why not treat them to a theartsdesk.com gift subscription?