Unknown Mortal Orchestra, O2 Shepherd's Bush |

reviews, news & interviews
Unknown Mortal Orchestra, O2 Shepherd's Bush
Unknown Mortal Orchestra, O2 Shepherd's Bush
Assured and compelling show emphasises the band's extraordinary diversity
Thursday, 24 September 2015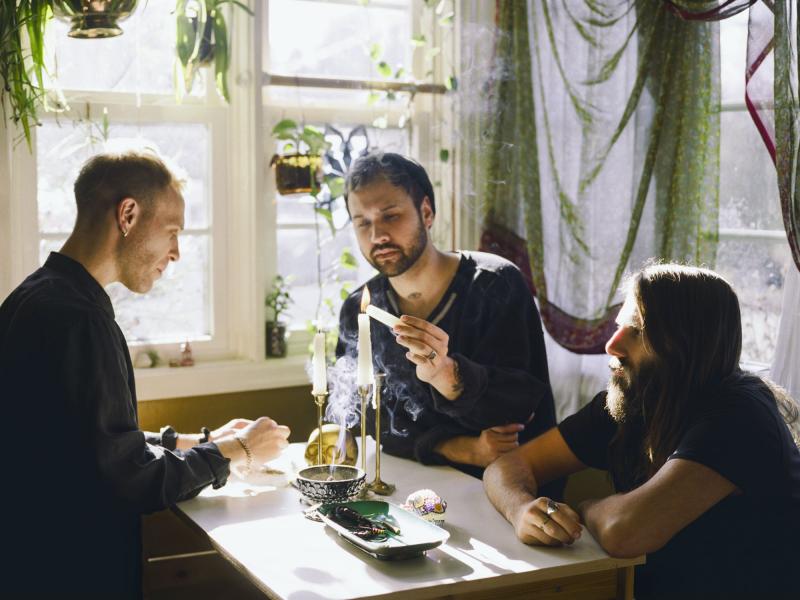 Ruban Neilson (centre), singing about his old flames
Stylistically, they're a psychedelic kaleidoscope of a band, but that didn't stop Unknown Mortal Orchestra getting the O2 Shepherd's Bush swaying hypnotically last night. Their jagged, breaking grooves, burnished analogue synth and drone-like choruses take in everything from Stevie Wonder to Captain Beefheart, via a slew of indie, garage and psychedelia, but the effect is unique and compelling.
Last night's show included songs from all three albums, with three distinct sounds; three is also important for front-man Ruban Neilson's writing on the latest release, Multi-Love, which tells the story of a period of polyamory in his marriage, during which he and his wife both loved the same woman. The band played most of that album, interspersed with pieces from their eponymous debut and 2013's second album II (for creators of such complex music, they keep the titles self-explanatory).
Though there are some fairly clear progressions in style from album to album, last night's running order, starting and finishing with songs from Multi-Love, made a good case for the coherence of their style and sound. Discontinuity and diversity are their style, from the anguished, angular drums and falsetto of "How Can U Luv Me", from 2010, to the distorted ballad sounds of "Stage or Screen" or "Ffunny Ffrends". The piano on "Multi-Love", meanwhile, worked even better live than on the album, having an outrageous stride quality that contrasted even better with the break-beats' sense of emotional fragmentation.
We were like still-twitching sardines listening in their small, reverberating tin
As for Multi-Love, polyamory is not the only modish contemporary reference: the encore was "Can't Keep Checking My Phone", for which a mind-warpingly strange, though oddly fascinating video has recently been released, featuring examples of phenomena such as Capgras Syndrome, malignant hum, and temporal lobe therapy. Live, it's inevitably a bit less visually exciting (if, perhaps, more coherent artistically), but the overlapping textures of acoustic percussion, soft-edged synth and subtle disco effects, and Nielson's falsetto chorus, make it a low-key hit.
Ruban Neilson has claimed to prefer "analogue" to "lo-fi" to describe their latest sound, though a brief consultation with Google will confirm that the lo-fi label has stuck. Vocals, effects, but most of all the gorgeous analogue synths had a deeply satisfying, saturated quality. Where I was, standing under the low overhang of the theatre circle in a packed crowd, we were like still-twitching sardines listening in their small, reverberating tin. If that's not to everyone's taste, it's still one of the most original sounds on the scene today.
Watch the video of Unknown Mortal Orchestra's "Can't Keep Checking My Phone"