'We wanted to make a record we really love': The Rolling Stones at Hackney Empire |

reviews, news & interviews
'We wanted to make a record we really love': The Rolling Stones at Hackney Empire
'We wanted to make a record we really love': The Rolling Stones at Hackney Empire
Mick, Keith and Ronnie at their Hackney Diamonds press conference on Wednesday
Friday, 08 September 2023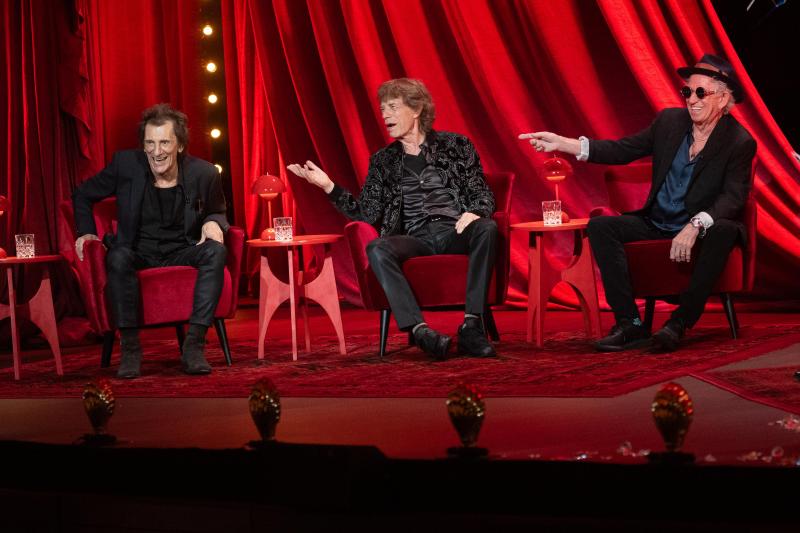 One day, someone will compile a full illustrated history of Rolling Stones press conferences, going right back to Mick and Keith in 1964 buying a couple of pints in a pub in Denmark Street for journalists from the NME and Melody Maker – both now in the dustbin of history – and telling them, "here's our album, have a listen" and leaving them to it.
"The reviews were mixed – but it sold well," laughs Jagger from the stage of the Hackney Empire, some 59 years later. Keith and Ronnie are sat either side of him, the three of them ineffably cool, relaxed, funny, and absolutely within their element, with each other and separately – old men in black, for sure, but old men with the air of eternal champions, in least when it comes to the otherworldly realms of rock n roll, its sulphurous glow still flickering decades after the explosion of its first impact, and that's still being felt today, inside and around the Hackney Empire, when the Rolling Stones are in town.
As press conferences go, this was on a far larger scale than those first couple of pints on Denmark Street in 1964, but with Ye Old Ship next door to the theatre cordoned off for the press – and full of it – I can happily report that the Rolling Stones are still footing the bar bill for thirsty journalists. And while the size of Wednesday's media contingent indicates they'll need to sell plenty of product to break even, judging by the worldwide media reaction since Wednesday afternoon – front-page news everywhere, 10 million views of their new single "Angry" on YouTube within a day or so, and you get the feeling they'll cover their expenses once Hackney Diamonds, and its associated merch, finally lands on 20 October. "We wanted to make a record we really love ourselves," said Jagger of the album, adding: "Without being big-headed, we're quite pleased with it. And we hope you all like it."
What's remarkable is how out of synch it feels in our dystopian present, as if the vibe of a looser, more louche and spirited time snuck in and for a short while put our discontents to sleep. The basic news is that some octogenarian men have been in 'a studio', cut some 'tracks', and they're putting out 'a record', and here's the single, and a few snippets on how they made it. It's all so 20th century, so far from how 21st century life is run. And in that way, it's so refreshing to be a part of, to witness. It's refreshing, too, to find out that when the Rolling Stones come to town, pandemonium still ensues.
After picking up a wristband at Ye Old Ship, and having a few drinks on Mick, Keith and Ronnie, I made my way out to the front of the Hackney Empire to see what the public thought about it all. Camera crews a-plenty were packed on a raised platform in front of the red carpet, and a lively, spirited crowd of several hundred – comprising locals, the curious, and Stones fans – were primed to go mental when the band finally appeared. It's a great thing to witness that kind of behaviour, and remarkable that the Rolling Stones can still evince that kind of response. But they do, and they wear it well.
Seeing them together in one room – and not a recording studio – makes this gathering, their first since the death of Charlie Watts, such a headline event
Inside the Empire, their stage is well appointed, with great crimson curtains flowing either side of band's new shattered tongue logo, all aglow under red boudoir lights, with broken chandeliers stage left, three spotlit chairs and side tables for the three Stones – set just within touching distance - and Jimmy Fallon acting as compère more than questioner, giving them the casual sense of space to tease the room with snippets of info about their first album of new songs in 18 years.
There's footage to be found of legendary Stones press conferences past – the raucous Beggars Banquet one at Gore's Hotel in 1968, complete with food-throwing; or announcing their 1975 Tour of the Americas on flat-bed truck in Manhattan, playing "Brown Sugar" live on the streets of New York as the press chase after them. In more recent decades, seeing them together in one room – not a recording studio – has been exceedingly rare, which made this gathering, their first since the death of Charlie Watts, such a headline event. Their mood, their interactions, their humour and ease with each other, themselves, their legend and their new work felt palpable, right down to the impromptu trio performance of one of their first self-penned numbers from Rolling Stones No 2 "Off the Hook".
While the remarkable ongoing mythology of The Rolling Stones as a band, a brand, and an event may be as much a mystery to those three on stage as it is all their fans, you also get the feeling that they know what they have, even if they cannot name it. It's as if together they are guarding their own secret flame, and inhaling its vapours, preserving a space only they can enter, and at whose doors and windows fans and hangers-on like us gather, to hear what comes out.
Watch the Rolling Stones press conference in full

It's as if together they are guarding their own secret flame, and inhaling its vapours
Explore topics
Share this article