Skippy: Australia's First Superstar, BBC Four |

reviews, news & interviews
Skippy: Australia's First Superstar, BBC Four
Skippy: Australia's First Superstar, BBC Four
40 years on, Skippy the crime-fighting kangaroo is still treasured by nostalgic TV viewers
Tuesday, 16 February 2010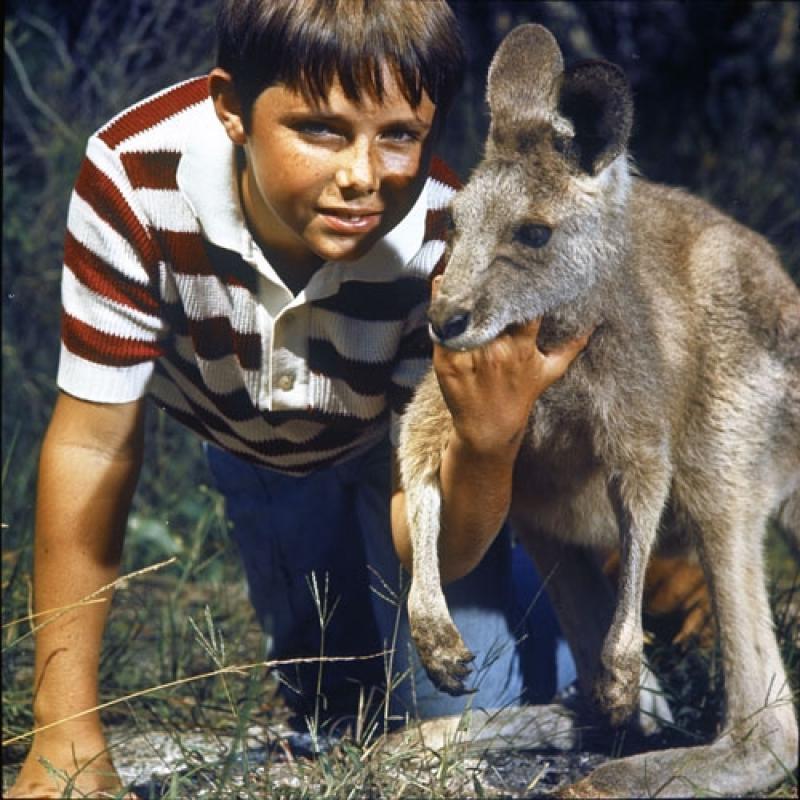 Garry Pankhurst as Sonny Hammond, with Skippy the kangaroo
Though children's TV series Skippy The Bush Kangaroo was only in production from 1966 to 1968, it continues to resonate deafeningly with Australians, who are still apt to break into the theme tune or start doing kangaroo-hops round their living rooms. In fact it isn't just Australians, since its 91 episodes were shown in 128 countries and dubbed into numerous exotic languages. Swedish was not among them, since Swedish child psychologists were violently opposed to children being encouraged to believe that animals could talk. But for many viewers, Skippy put Australia on the map in the most literal sense – one Germanic-sounding interviewee admitted she'd never heard of Australia before the show appeared on her TV.
Subtitling this documentary "Australia's First Superstar" seemed a bit hard on Don Bradman, Jack Brabham and Rod Laver, sporting legends who were all world-beaters before the advent of the crime-busting marsupial, but it fitted the programme's facetious tone. For the first few minutes the project looked doomed to expire in a puddle of bathos, as we learned how Skippy's creator Lee Robinson pinched his concept from Flipper the super-smart dolphin, and how Skippy was nearly christened Jumpy, Hoppy or Springy.
It went up a gear with the appearance of Liza Goddard, who became the first female on the show (apart from Skippy, always a female even if many viewers kept referring to her as "him") when she bagged the role of Clancy Merrick. She was 15 at the time, and had moved to Oz when her father became Head of Drama at ABC television.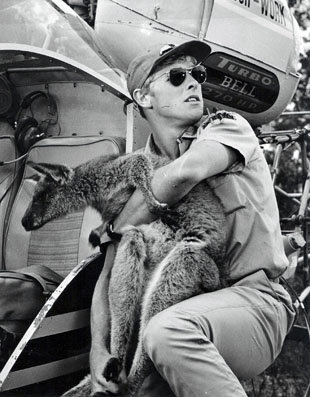 She peeled off a string of splendid anecdotes, like the one where a possum and "a ferociously bad-tempered wombat" pee'd all over her during a take, as well as infesting her with lice. She also recalled with horror the way the robustly chauvinistic crew would film any females on the production when they went to relieve themselves in the bushes. On the other hand, she was astounded when she climbed off a plane in Japan and was mobbed by screaming hordes of Skippy fans (Skippy prepares for take-off, pictured right).
Another unexpected guest was Germaine Greer, who reminisced about the impact Skippy had on her when she saw it on British TV. Its shots of brilliant Australian skies and rugged outback landscapes affected her profoundly. "I watched it absolutely hypnotised, 'cos I don't think I even realised how homesick I was," confessed Dr Greer. "Thereafter I used to hunt it all over the schedules." However, she added, many aspects of the show were "obviously awful".
There were some treasurable behind-the-scenes revelations. Apparently kangaroos are notoriously thick ("dumber than sheep," as somebody put it), and impossible to train. The solution was to keep a troupe of a dozen or so 'roos on permanent standby, so there was always a replacement handy when one of them went bouncing off into the bush, never to be seen again. Nobody bothered too much about whether they were the same size or colour. Another trick was to keep the animals in a hessian sack until just before filming. Then they'd tip them out and roll film while the kangaroos were still too dazed to make a run for it.
Hardly anything about Skippy would have met the BBC's current guidelines about "Safeguarding Trust". Skippy's "chick-chick-chick" language was supplied by producer Dennis Hill smacking his lips into a microphone, while the crew would give the animals rubber bands to chew on to make their mouths move. Skippy's astounding dexterity (playing the drums, bolting doors, making phone calls) was made possible by a technician manipulating a pair of fake kangaroo paws. "Television itself wasn't that sophisticated at the time," commented Professor John Hartley of Queensland University of Technology, sagely. Yet for many a nostalgic viewer, Skippy will always remain "a true bloody Australian".
Programme repeated on BBC Four at midnight on 17 February, 3.30am on 17 February and 10.30pm on 19 February
Subscribe to theartsdesk.com
Thank you for continuing to read our work on theartsdesk.com. For unlimited access to every article in its entirety, including our archive of more than 10,000 pieces, we're asking for £3.95 per month or £30 per year. We feel it's a very good deal, and hope you do too.
To take an annual subscription now simply click here.
And if you're looking for that extra gift for a friend or family member, why not treat them to a theartsdesk.com gift subscription?