theartsdesk in Galle: Beer and Roving in literary Sri Lanka |

reviews, news & interviews
theartsdesk in Galle: Beer and Roving in literary Sri Lanka
theartsdesk in Galle: Beer and Roving in literary Sri Lanka
Wendy Cope and Gillian Slovo mingle with Sri Lankan authors at a lively literary festival
World-beating deadpan tone: Wendy Cope is a hit in Sri Lanka
Thursday
Never been to the Galle Literary Festival before. Very excited. A long weekend of bona fide book-nerdishness is just what I need – if only to stop me lying on the roof for three days with a book. Also I have one-on-one time lined up with Wendy Cope and Rana Dasgupta. Wendy Cope is my heroin(e), the woman who showed me that poetry could be funny. Dasgupta is Delhi's enfant génial, or so says Sir Salman Rushdie. I'll take his word for it.
Also, a splendid opportunity to get out of Colombo and mooch around, boozing and breakfasting with Sri Lanka's great and good, in the intensely leisurely atmosphere of Galle's Portuguese/Dutch/British fort (according to your colonial preference: pictured below). There is more to the Galle metropolitan area, of course; but no one (white or wealthy) ever goes there.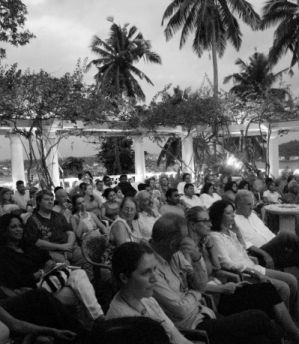 Have failed to pack Dasgupta's Solo; Cope's If I Don't Know; Michael Frayn's Travels with a Typewriter and Stage Directions; Sarnath Banerjee's Corridors (I don't really get what he's up to, but anyone who writes graphic novels in which Karl Marx rubs shoulders with blue movies and constipation is fine by me). In short, all the books I've paid for recently and fancied having autographed.
Tremendous writers' welcome booze-up on the lawns of a fancy Dutch-period bungalow. Had hoped I might casually offer Wendy Cope a glass of free wine; but no sign of her. I remember myself to Michael Frayn. He does not remember myself: cue lengthy story about door-knobs and novels he didn't adapt for the stage. He tells me Geoff Dyer is here, and I get very excited; but turns out Frayn's brain's still on Jaipur time (it must be very tough, all this foreign travel and drinks parties).
Am introduced to Ru Freeman, Claire Tomalin, Shyam Selvadurai. I keep my head down, having read not one word between the three of 'em. Tomalin and husband Frayn are here coutesy of the British Council: elementary market research reveals that, notwithstanding their combined output of some 50 books, they are basically unknown in this part of the world. Tomalin fully aware that the inevitablity of school syllabuses mean she will doubtless end up speaking on her not-so-recent Austen biog.
Catch up, less bashfully, with Ashok Ferrey (humorist), David Blacker (soldier novelist) and Michael Meyler (whose Dictionary of Sri Lankan English is short on car chases but long on geeky linguistic trivia). Lots of fun gossip going round. Someone leaks the rumour that the "special festival rate" at the high-end Lighthouse hotel is actually higher than the usual price.
After-party with Rana and his wife, the artist Monica Narula, Diran Adebayo, and Ulrik Plesner, great Dane and former colleague of Geoffrey Bawa, Sri Lanka's architect sine qua non (or so the Lonely Planet would have you believe). Ulrik slips me a draft of his forthcoming memoir of working with Bawa: there will surely be a price on my head before the weekend is out!
Friday
Monstrous hangover. Opening event in the Hall de Galle prefaced by David reading a short story, Our Secret Island, the winner of some local schools competition. Pretty good, in the surreal, Maurice Sendak vein. Event proper – "Who Do You Think You Are?" – overstocked with panellists: five (not incl. moderator) is two too many. Lal Medawattegedara (short-story writer) deeply unconvincing on subject of authorial responsibility. Gillian Slovo surprisingly light-hearted. She quotes a poet: "If I knew where I got my ideas from, I'd go there more often." (Didn't John Cleese used to say he got his ideas from a wholesaler in Brighton?)
Off through the cross-cross of narrow lanes to Pedlar's Inn Café for hangover cure with Pradeep Jeganathan, renowned anthropolgist, foodie-blogger and short-story writer (shortlisted in 2004 for Michael Ondaatje's Gratiaen Prize). Can't write straight enough to review coffee and tuna toastie. Eventually find relief with two litres of water, under a tree by the ramparts. Thankfully today is a Poya festival (=no booze).
Head back to hear Slovo talk about her mother, Ruth First, but am waylaid by call from Rana. "Interview" degenerates into lunch/photo-shoot… with beer.
Seek sanctuary at Mac Barnett's talk on the legendary McSweeney's publishing empire. The astonishing dead heat of the barn-like Maritime Museum aside, a superb event: one to make even the grimmest Cassandras of the publishing industry optimistic. From the carpenter-turned-editor to the appeal/sale that reversed their imploding fortunes, everything McSweeney's touches seems to turn to gold. In the Q&A, one woman asks Barnett straight out for a job. Another chap offers his monograph on Buddhist humour for publication.
To Wendy Cope's poetry reading. Wonderful. Poems alternately funny and touching, and classic anecdotes, with a world-beating deadpan tone (she has, as she makes clear, a real beef with the establishment-type poets who dismiss her as fundamentally unserious). Much laughter as she talks about aspiring to found the Women's Merchant Navy, making a small fortune out of Jools Holland, and how a change in pub licensing laws ruined the punchline to one of her poems. When the microphone comes round, I consider declaiming my great passion for her through the medium of a tribute poem I happen to have on me… but chicken out.
Head out of the fort to Closenberg hotel, to moderate Ashok's readings from his new novel, Serendipity (a book which I edited… two months after it was published). The plan was to leaven – or, in fact, unleaven – the humorous fare with a few semi-serious questions in between readings. The plan backfires, and the audience is painfully unreceptive to our attempts to bluff our way out. Horrible.
Dinner at Mama's Rooftop Café, high above even the sea-walls of the fort. Most of the meal spent defending Wendy Cope against Rana's exacting high-lit. standard, and analysing why Diran should never have been listed as one of London's 100 Most Influential People. "It's a load of bollocks," avers the man himself.
Saturday
Exhausted. Conclude it is not possible to attend, participate in, and cover a literary festival all at once. Adrenaline injection in the form of a phone-call from Wendy Cope, scheduling interview for tomorrow. My heart pounds. Not at all convinced I'll make it to tomorrow.
Kaveri Lalchand's Pulp Fiction talk is just the ticket for a 10am session. Blaft, the pulp-fiction publishing house she (a garment manufacturer) and a friend (who edits maths textbooks) set up in Chennai, is like an Indian McSweeney's. Many superb stories about how they begged tiny-money translation deals from million-selling Hindi authors, and why their Tamil folk-tale anthology has an adult section, tied up in a red ribbon, at the back. All very non-literary (from what I could gather, Indian pulp fiction has all the literary clout of an episode of Neighbours) in all the right ways.
Brunch with Sarnath, Pradeep and Smriti Daniel (colleague on the Sri Lankan Sunday Times), then stroll over to check out the Rampart Hotel, the venue for my own "fringe" event.
3:30pm – panel discussion on "The Literature of Post-War Sri Lanka", featuring Pradeep, David, Malinda Seneviratne (prolific journalist, poet, and brother of Ru Freeman) and Neluka Silva (short-storyist and Professor in English at University of Colombo). Chaired by – ahem – ASH Smyth. Goes very well, though I say so myself. Rampart bar basically full, several journalists and other notables present, and a gratifying number of people joining in the Q&A and/or voicing their opinion that this topic should have been included in the festival proper.
To the Lighthouse terrace - amid glorious Indian Ocean sunset - to hear Rana talk about his second novel, Solo. Or not talk about it, instead telling the parallel story of his father's migration from India to the UK. Smart move. Nothing worse than authors regurgitating stuff their fans have already read.
Closenberg again, for what Ashok sold to me as an open-mic session for "up-and-coming" writers. The company turns out to be a Who's Who of SL literary talent (at all levels), and I have nothing written for the occasion. I wing it, with a two-year-old piece about morris dancing from the Spectator. After two hours of Ceylon-era cliché, though, I am muttering dark things about writers who try to get symbolic mileage out of monsoons, fruit, or Tamil next-door neighbours. Find relief chatting to Shehan Karunatilaka, winner of last year's Gratiaen (for Chinaman: The legend of Pradeep Mathew).
Festival party at Lighthouse. Fifty-year-old expats chicken-dancing to Michael Jackson. Ian Rankin stalking about. A Colombo society matriarch stumbles over. "You were crap last night," she begins, before the look on my girlfriend's face drives her to more flattering (and less ambiguous) chit-chat.
Sunday
Drop in to see Jehan Mendis moderating Rana, Diran and Claire Tomalin in "The Lives of Cities", then on to Galle Fort Hotel, for interview and coffee with Wendy Cope. We talk mostly about teaching. Wendy likes my tribute poem and inscribes it. (Dictaphone shows Lo Batt but who cares? My quest is complete!) She is less enamoured of the faded photocopy Jehan's mum (also a teacher) wants signed, and I have to do some quick talking to defuse a major international copyright dispute.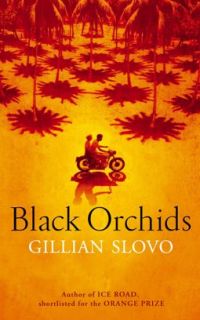 Tail end of Sarnath's graphic novels workshop at Amangalla hotel (the old New Oriental), interrupted by a call from the Festival press office. A scheduling screw-up looks like leaving me interviewing Gillian Slovo, off the cuff. I try to play the Seffrican connection – which Slovo has, after all, been highlighting at the festival – but she makes it clear that she considers this old news. Truth is I'm trying to avoid discussion of her recent Ceylon novel, Black Orchids, which I have not read and which was not well received here. Massively relieved when the right interviewer finally turns up.
Sarnath, Mohammed Hanif and Louise Doughty in conversation about "Endings". A propos of something (I don't recall) Doughty makes a remark to the effect that a lot of late Philip Roth is "not very good", but I Married A Communist is "rather fine". Not sure which is worse.
Interview Rana, at Fort Printers hotel. He signs my copy (unread) of Tokyo Cancelled, using a Mont Blanc. I ask if it was a gift for his first novel, or some such momentous occasion. No, he says, his father got it as a corporate freebie and passed it on. But then he lost it and, too ashamed to confess, forked out £400 for a replacement. Ouch.
One last boozing session with the Good People, before moving out. Emotional farewells, and threats to crash on each other's floors in the not-too-distant. On the road back, news comes through that after two years in charge the Festival Director, Sunila Galappatti, is moving on.
Monday
I submit my application for the post of Festival Director, 2011.