La Traviata, Chelsea Opera Group, QEH |

reviews, news & interviews
La Traviata, Chelsea Opera Group, QEH
La Traviata, Chelsea Opera Group, QEH
Concert performance of Verdi's tearjerker proves more than just a star vehicle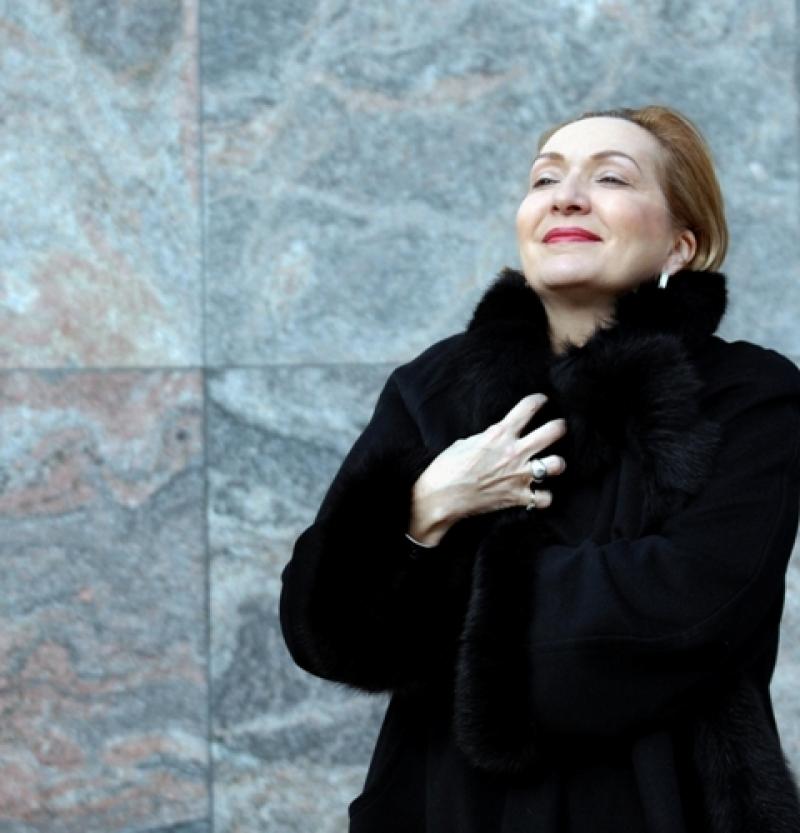 Nelly Miricioiu: veteran of bel canto returns to her favourite role
Marie Duplessis, Alexandre Dumas the Younger's real-life "lady of the camellias", was only 23 when consumption finally claimed her. Ignore a few lines about youth in Verdi's operatic treatment, though, and there's no reason why courtesan Violetta shouldn't be a woman of advancing years who finds true love with a man half her age or more; think Chéri (Colette's novel, not the film if you please).
Yet the real prompting for that stalwart of the London amateur and semi-professional music scene Chelsea Opera Group to choose Romanian-born diva Nelly Miricioiu as its
traviata
in concert was because they adore her, she loves them and all they've put on for her, and so her request to impersonate opera's most heartrending fallen woman one more time, and in concert, was not hard to grant.
Miricioiu is perhaps the last great exponent of old-school bel canto after Renata Scotto but, as she well knows, reprising a former cornerstone of her repertoire - I first saw her Violetta, and wept, back in the early 1980s - carries its risks, especially when you're only just recovering from a heavy cold in the head. She knows how to pace herself, can still toss off a stylish run or two, and remains unsurpassed in pointed, meaningful delivery of Italian recitative. It was clear that the furious coloratura desire to forsake the prospect of true love and to plunge into the vortex of Parisian sensuality, "Sempre libera", was going to be a challenge, and it was, for all of us; Nelly didn't have to take the optional E flat at the end, but she did, and she might have regretted it.
Never mind; the wronged woman sacrificing herself on the altar of father Germont's respectability was bound to be plangent, and the arching phrases of "Dite alla giovine" were as affecting as they can be. The farewell of the last act proved stylish, if artful - at that pace, we could have had both verses rather than just the one among most of the usual cuts - and, yes, she died in style. But how truthful was it? Time has moved on; while not every Violetta has to be a raven-haired beauty like Gheorghiu or Netrebko, we've come to expect honesty in the courtesan's consumptive desolation. Miricioiu's grand manner, all beseeching arm gestures and careful wrap-adjusting, is very much old-school, and a little self-contained; she could have made eye contact more often with her fellow singers.
After all, the Alfredo, her 32-year-old compatriot and Vienna State Opera regular Cosmin Ifrim, seemed to be crying out for greater engagement. He finally got it as he leaned over his seated, dying mistress in "Parigi, o cara", a hallowed phrasing of all four lines in one breath which would have made stones weep, and certainly brought out the best in Miricioiu. This had to be the evening's biggest moment of grace. Earlier, Ifrim was allowed his baby-tenor moment in the sun, capping his buoyant, charming aria of soaring spirits with a ringing top C that deservedly stopped the show.
His supportive conductor, Gianluca Marcianò, was another revelation: getting the best out of veiled Chelsea Opera strings in a Prelude which immediately drew us in, chamber-wise; bouncing the party music and the choral diversions along at brisk but never forced speeds, mouthing every word and keeping every bit-part singer in order. Some needed it, and none should have used the music once they saw that the three principals were doing without scores, but among them there was at least a very distinguished Flora who would certainly pass muster as top party hostess, ENO mezzo Anne-Marie Gibbons.
Alan Opie completed the line-up as a Giorgio Germont of the right dark Verdi-baritone timbre, a little too unyielding and self-regarding perhaps for the father who should eventually unbend. Otherwise, here was a vindication of how Verdi's masterpiece can pass in a flash given masterful conducting, how exciting it is to hear a real light Italianate tenor at a time when they're not exactly in plentiful supply, and how much we can still learn from Miricioiu. I wasn't quite inspired to stand along with the many Nelly queens in the audience, but it was certainly an evening of top-notch surprises.
Chelsea Opera Group's next concert performance will be of Rossini's Guillaume Tell at the Queen Elizabeth Hall on 23 May
Explore topics
Share this article